How to Do Hair Spa At Home: Step By Step Tutorial
Easy Home Hair Spa For Dry Hair: Step & Step

Out of everything, the one thing, on which women can never compromise, is their hair. After all, a good hair day is all it takes to put us in an exuberant mood. The alluring, long tresses are epitome of healthy hair. However, pollution, stress coupled with harmful chemical products and poor diet can damage and make our hair frizzy. In such a scenario, hair spa is no longer just an option but a necessity. A good hydrating hair spa is an antidote to damaged hair. It nourishes the hair follicles, cleanses hair, keeps split ends at bay and ultimately helps restore your tresses to their former glory. However, with the sky rocketing prices of hair spas at salons, it becomes a bit difficult to get them done regularly. But one can do a hair spa at home easily and readily. Here is a step by step tutorial on a homemade hair spa for dry hair.
How To Do Hair Spa At Home Naturally For Dry Hair
1) Massage: This is the first step of a hair. Massage your hair well with warm olive oil or coconut oil. The hair massage should be done gently in circular motions for 15 to 20 minutes. Leave it on for a minimum of 1-2 hours and if possible, overnight for maximum benefit. The massage boosts blood circulation which promotes hair growth. Alternatively, you can also do hair spa at home with some hair spa creams like L'Oreal Deep Nourishing Hair Spa Crème, The Body Shop Rainforest Radiance Hair Butter, Matrix Hydra Crème Intense Moisture Masque, Keratastase Elixir Ultimo Beautifying Oil Masque, Schwarzkopf Spa Essence Enriching / Hydrating Cream Mask etc. The provide vitality and hydration to damaged hair.
2) Steam your hair: Steaming opens the unclogged pores of the hair follicles and lets the moisture penetrate deep into the scalp. It also eradicates the toxins and cleanses the hair from within. Take warm water and dip a towel in it. Then, squeeze the excess water from the towel and wrap it up on your hair for 15 to 20 minutes. This will help in retaining the moisture.
Also Read: Natural Home Remedies for Hair Loss
3) Wash: The third step of the home hair spa is is to wash your hair gently with a mild shampoo. Avoid using hard or chemically laden shampoos as they do more harm than good. Also, if you are washing the hair right after steaming, remember to use lukewarm water.
4) Conditioner: Conditioning provides hydrating to the hair and makes it soft and nourished. Choose a conditioner which is in sync with your hair type. Like hair masks, you can also make a conditioner at home by simple natural ingredients. To make a natural conditioner at home for dry hair all you need is a banana, 1 tbsp honey and 1 tbsp of olive oil. Just blend all these ingredients together and apply it to your hair for about 10 minutes.
Easy Hair Spa at Home For Dry & Damaged Hair
5) Hair masks: A good hair mask can do wonders to your hair. Just like conditioners, they should be chosen according to one's hair type. Here are some of the most effective homemade hair masks to be used in a natural hair spa.
Also Read: Premature Grey Hair: Causes & Natural Remedies
Ripe Banana Hair Mask: Banana is packed with natural oil, vitamins and potassium which softens the hair and keeps split ends at bay. Peel a ripe banana and put one cup of olive oil and egg white in a blender. Blend it well and apply it properly. Keep it on for 20-25 minutes before washing it with a mild shampoo.
Egg Mask: Eggs have been in use for hair since time immemorial. Apart from softening your hair, it also strengthens your locks and makes it look shiny and voluminous. Take two eggs and mix it well with either olive or coconut oil. Take an egg white if you have oily hair and egg yolk for dry, brittle hair. Apply the mixture, leave it for around 30 minutes and rinse it off with a mild shampoo.
Milk and honey: The advantages of both honey and milk are umpteen and the blend of the two makes for an excellent hair pack. Take one tablespoon of honey and mix it with a glass of raw milk. Apply the mixture from root to tips and keep it on for half an hour before washing it off.
Apple Cider Vinegar: There are a gazillion benefits of apple cider vinegar. Being rich in acetic acid, it makes for a good hair pack too. Take apple cider vinegar and mix it with equal quantity of water. Apply the mixture on your hair for 40 minutes and rinse it off with lukewarm water and a light shampoo.
Coconut cream: Laden with saturated fats, the coconut cream is an outstanding homemade hair pack. Make a fine paste of coconut cream and warm it up. Then, gently apply it on your hair and massage it well. Cover your hair with a towel and let the mask penetrate deep in the roots. After an hour, wash it off with a mild shampoo and lukewarm water.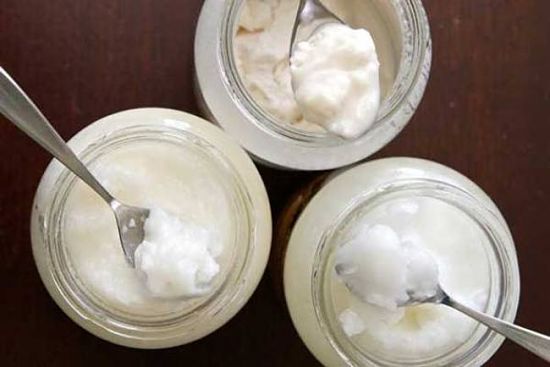 For an express hair spa at home, you can skip the massage and apply the hair masks as the first step.
Being exposed all the time, our hair has to bear the brunt of dust particles and pollution which makes it vulnerable to damage. Shield your hair from sun by covering them whenever you go out. You can don a hat or simply carry an umbrella. Keep the use of chemically laden products to minimal as they not only damage your hair but also steal natural sheen of your locks. Also, combing your hair wet and blow drying it should be avoided.
Also Read: How to get long thick hair
So this was an easy step by step guide on how to do hair spa at home naturally. Hope you find this helpful!