Best VLCC Products in India: Our Top Picks!
Best VLCC Products in India: Reviews & Prices
Nowadays, many people prefer using natural or herbal products over those laden with chemicals. These products are not only enriched with potent natural ingredients but are also great for the skin and have zero side effects. One of our favorite natural brands in India is VLCC which has a wide variety of products for all skin types including those with sensitive or acne prone skin. So, today we handpick our favorite, tried and tested products which we highly recommend.
Must Haves from VLCC: Reviews & Price
1) VLCC Facial Kits – Starts from Rs. 250
Doing a facial at home is not only convenient but also easy on the pocket. VLCC Facial Kits are extremely easy to use with each sachet detailing every step. These facial kits help to lighten blemishes, minimize enlarged pores and fade superficial pigmentation. It also provides even skin tone and fairer complexion. Out top favorites are the VLCC Instaglow Facial Kit which is great for events & parties, Anti Tan Facial Kit as it helps to reduce the effect of UV rays on the skin, leaving it looking softer, radiant and hydrated. We also recommend the VLCC Gold Facial kit which has anti ageing properties making the skin soft and smooth. It adds a nice glow to the complexion and is perfect for a big day or event. The best part? You can get it at a 36% discount and earn additional cashback via Cashkaro here http://cashkaro.com/brands/health-and-beauty-brand/vlcc-india
2 VLCC Face Scrubs- Starts from Rs. 155
Regular exfoliation is imperative for smooth and glowing skin. VLCC offers various face scrubs for different skin types which are gentle yet effective. The Indian Berberry Face Scrub is suitable for oily to combination skin as it helps to get rid of blackheads while rejuvenating and exfoliating the skin gently. Their Skin Defence Rose Face Scrub is another good product which removes dead skin cells, oil and exfoliates the skin really well. It has a beautiful fragrance as well which is a delight to the senses. For pesky blackheads, we recommend the VLCC Walnut Skin Defense Face Scrub that is best suitable for normal to dry skin and removes blackheads, and unclogged pores extremely well.
3) VLCC Face Packs: Starts from Rs. 125
If you are a face mask junkie then you certainly cannot miss trying out the VLCC face masks. Their Clear Tan Fruit Face Pack helps clear the skin of impurities and is great at removing sun tan. It has skin lightening properties which improve the complexion, leaving the skin radiant and supple. To control sebum, you should opt for the VLCC Mud Face Pack as it cleanses, tightens and brightens the skin. This is one is suitable for normal to oily skin type.
4) VLCC Bleach: Starts from Rs. 120
Finding a face bleach which is effective yet does not burn the skin can be quite a task. There have been many times where one of us has tried a new bleach before some wedding and ended up with horrible zits or burns. However, VLCC is one brand that we can trust when it comes to their bleach creams. Their Insta Glow Gold Bleach purifies the skin and makes it radiant with a beautiful glow. It is very gentle and does not irritate sensitive skin. If you have an event or a party coming up then we recommend the VLCC Insta Glow Diamond Bleach that brightens and polishes the skin and also provides a youthful and glowing skin. Another popular variant is the VLCC Insta Glow Oxygen Bleach that gives a fresh flawless glow and reduces the tan. It is a mild bleach which can be used on sensitive skin and also featured in our top 8 Face Bleach in India list.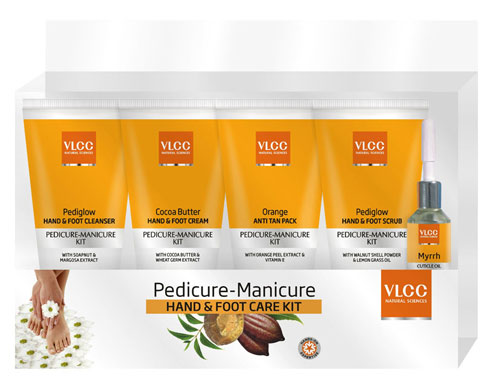 5) VLCC Manicure & Pedicure Kits: Rs 480
VLCC Pedicure & Manicure Kit is superb DIY kit at home use. It contains a cuticle oil to nourish the nails, cleanser to cleanse the skin, a scrub to exfoliate the dead cells and a nourishing cream and tan pack. Overall, it smoothens, retextures and softens the skin on hands and feet while reducing the sun damage on the skin.
So these were our highly recommended products from VLCC. We always recommend buying VLCC products online as websites like Amazon & Snapdeal usually offer some great discounts. Now apart from these discounts you can also earn additional cashback while using Cashkaro. Yes, this is in addition to the already running offers and is in the form of real cash. We at HBM, have been consistently using Cashkaro for our online purchases and we have saved considerably over the past few months.
About the website –
Cashkaro has partnered up with over 1500+ retailers like Myntra, Snapdeal, Nykaa etc. and every time you shop through them, they pass on the commission earned from your order, back to you. Usually this commission provided by the shopping websites is kept by other coupon or price comparison websites in India. Notably in the beauty segment, Cashkaro currently offers Rs. 350 cashback on a minimum order of Rs. 1000.
The website has as very user friendly interference and the various tabs like 'deals by brand', 'deals by products' or 'top offers' helps you to find the perfect way to shop. The search bar, on the top centre, helps you to look for anything you wish.
How the website works?
All you need to do is sign up at Cashkaro and search for any coupon or website you wish to shop from. Click through to the retailer's website via Cashkaro and shop there as normal. The cashback will be added to your account within 72 hours of placing the order. Once you have Rs. 250 in your cashback account, you can redeem it as real cash back into your bank account or a cheque.
Amazing offers and perks of CashKaro –
Apart from the amazing discounts from the online shopping site, you get additional cashbacks.
It is not just applicable on national brands but for international brands as well like Expedia, Hotels.com, Hilton and many more. This is because their parent company is based in the UK.
Most importantly, there are no charges for signing up at the website. You simply have to register and login.
The referral program is also wonderful as you get a lifetime referral bonus of 10%.
We recently had the chance to meet the Cashkaro team at the bloggers meet held at their headquarters in Gurgaon. It was an engaging experience #TalkingCash, the future of e-commerce and digital media with their founders, Swati & Rohan Bhargava. We also played a small game where we were divided into 3 teams and the one who shops the smartest wins. Our team ended up winning which really should be taken as a testament to our smart shopping skills. Cashkaro is currently offering various offers and discounts from VLCC which we recommend checking out on their website. VLCC products are already very well priced but with the additional cashback one can earn through Cashkaro, it's certainly a deal one should not miss.