VJ Bani Silences Her Body Shamers in a Kick-ass Way!
Body Shaming: VJ Bani Speaks Out
VJ Bani has become a household name in the past few days' not because of her work which should be the reason, but due to something very demeaning. I can bet that half of us still know her as the Roadies'girl and didn't have the slightest inkling of her recent work until she pointed out herself, as we have far more important matters to attend to, like body shaming.
Her brass reproach against her body shamers in her recent Instagram post was much needed. The post, which went viral swiftly and made headlines in just a blink of an eye not only points her as a strong woman but also mirrors the deep misogyny which runs in the Indian community. And the issue is not just men but also women as pointed out by Bani herself. In an interview given to HT Brunch 'No one, neither men, nor women, could get it. Why do you work out so much? Muscles for a woman… why? Are you really okay, or do you need help?'
It is ironical that the people, who are shaming her, 'offering her help' and questioning her mental state are the ones who indeed need help. A woman's body and her choices have long been a bone of contention in our society, which is already plagued by more serious diseases like corruption and terrorism. Yet the only 'issue' which can grab attention is a 'woman's body.' We are born and brought up in a sexist society where the roles of men and women are fixed and any diversion from it by either sex is unendurable.
The whole idea of a woman's body is romanticized. Throughout the centuries, the society has been fostering an ideal body type which corners extremely thin or fat women. Our Bollywood film industry is the biggest example of body shaming, which under the guise of a 'perfect' or 'healthy' body promotes 'certain body types'. The industry has long shunned many actresses who failed to fit into the 'desired category' despite being extremely talented like Parineeti Chopra, who is still not considered as one of the top actors even though she is a national award winner.

Other equally talented actresses like Sonakshi Sinha, was referred to as a 'carb' (which is not fit to date anyone) at All India Bakchod's show or Zarine Khan, who like VJ Bani, too shared a post few months ago, where she finally spoke against body shamers. She made it clear that gaining or losing weight should be solely a personal choice. However, our society, which seems to be too busy to pay heed to public matters has surely plenty of time to intrude into the private space of a woman.
The idea of a 'perfect body' or better say 'girly body' have been doing the rounds for generations. Right from our birth, women's are dictated to wear 'certain kind of clothes' and are often ridiculed when puberty hits them and changes in the body, due to hormones, becomes palpable. It comes as no surprise that Aishwarya Rai Bachchan once was at the receiving end of her 'fans' criticism after she put on weight after pregnancy.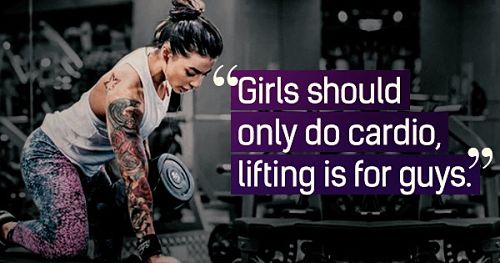 We live in a world where the third wave of feminism is at its peak and participation of men is not negligible, but there still exists a section, which is neither inconsequential nor miniscule, which ridicules women's body and puts pressure on them to stay 'feminine'and 'thin' and not try anything 'muscular' as it is the domain of 'men'.
Well we are proud of our girl, VJ Bani and she not only looks kick ass but her sheer determination to stay fit truly inspires us!