Best Aishwarya Rai Red Carpet Looks at Cannes: Our Top 15!
Best Aishwarya Rai Looks at Cannes Red Carpet
Her beauty turns heads every time she walks down the red carpet and has always left us in awe. Not only is she a successful and talented Indian actress, Aishwarya Rai Bachchan is a diva in her own right. She can graciously carry off each outfit and makeup look and has proven to her critics that beauty is ageless. No amount of praise would be enough to define her charm and with the Indian beauty celebrating 15 years of attending the Cannes Film Festival, we pick out Aishwarya Rai's Top 15 Red Carpet Looks. Her journey from the Neeta Lulla wardrobe to Elie Saab gowns has been phenomenal and here are the best 15 looks of the world's most beautiful woman.
15 Best Aishwarya Rai Red Carpet Looks at Cannes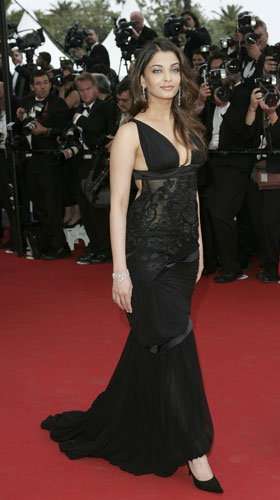 1) 2005 – Aishwarya Rai's Black Gucci Dress
After a few hits and misses from the previous year, Ash finally got it right with a black Gucci gown with a plunging neckline. The jewelry was minimal with a diamond bracelet and an elegant pair of diamond earrings. She kept her makeup simple with glossy MLBB lips that further complimented the look.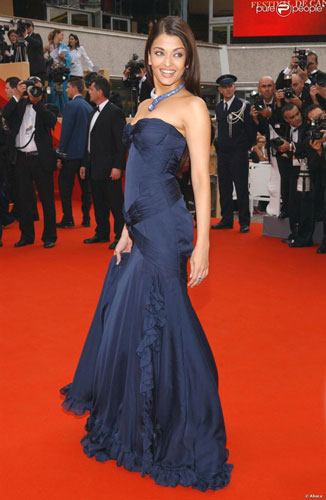 2) 2006 – Aishwarya's Elie Saab Gown at Cannes
Easily the best Aishwarya Rai red carpet appearance, she dressed in a beautiful blue Elie Saab gown at Cannes 2006. It was a royal blue, off shoulder gown which was paired with a stunning blue and silver snake like neck-piece. The makeup was minimal paired with open flowing hair. Absolute perfection.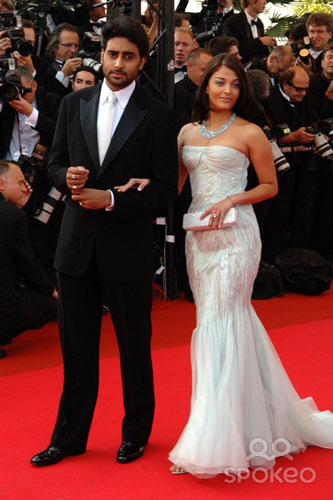 3) 2007 – Aishwarya Rai Bachchan at Cannes in White Strapless Gown
This was the first time Aishwarya Rai walked the Cannes red carpet with her hubby, Abhishek Bachchan. She wore a white strapless gown with a beautiful neckpiece. She again rocked a neutral lip color with icy blue eye shadow. With an elegant diamond neckpiece and clutch, the look was perfectly accessorized.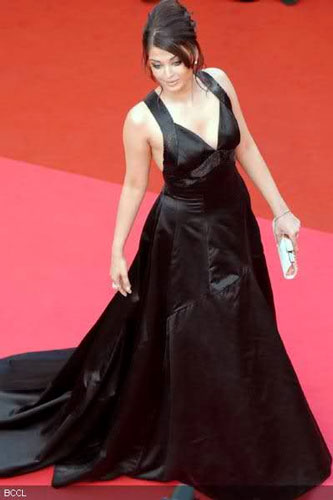 4) 2008 – Aishwarya's Black Dress
In the year 2008, at 61st edition of Cannes Film Festival, Aishwarya Rai donned a black dress at the premiere of 'Blindness' when she walked the red carpet with Eva Longria. The hair was done up in a classy French bun with a few strands left out.The makeup was slightly similar to what she rocked the previous year but the black dress made her look absolutely gorgeous.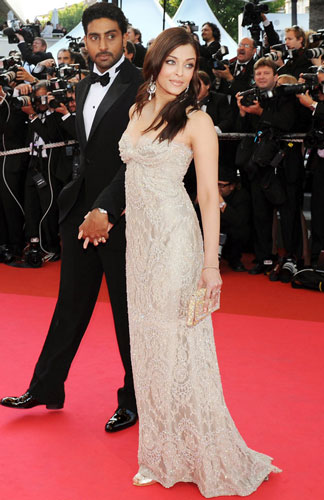 5) 2008 – Aishwarya Rai & Abhishek Bachchan at Cannes
Aishwarya Rai carried herself beautifully in a lovely gold embellished gown in 2008. It fit her beautifully and accentuated her curves. She walked hand in hand with her better half Abhishek Bachchan. We weren't huge fans of the hair but the she killed it at the Cannes red carpet with this dress.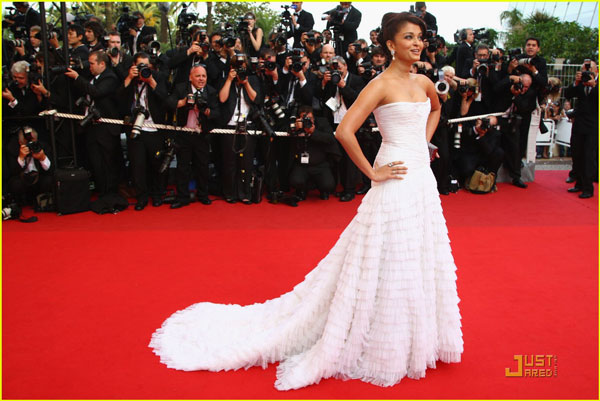 6) 2009 – Aishwarya's Pristine White Gown
At the 62nd edition of Cannes, Aishwarya Rai Bachchan attended the 'UP' Premiere wearing a floor-sweeping Roberto Cavalli strapless white gown. The tiered dress was a perfect pick along with her fresh makeup and hairstyle. The leading lady of Bollywood looked ethereal in the outfit.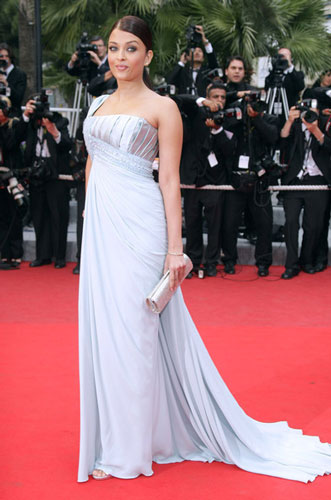 Top 15 Aishwarya Rai Looks & Images
7) 2009 – Elie Saab One-Shoulder Gown
At the Cannes Film Festival in 2009, Aishwarya looked amazingly beautiful in a violet-silver Elie Saab one-shoulder gown. It had a beautiful train and the dress fit her like a glove. The sleek ponytail with a side parting went beautifully with the outfit. From the makeup to accessories, this was easily one of the best Aishwarya Rai looks we've seen so far.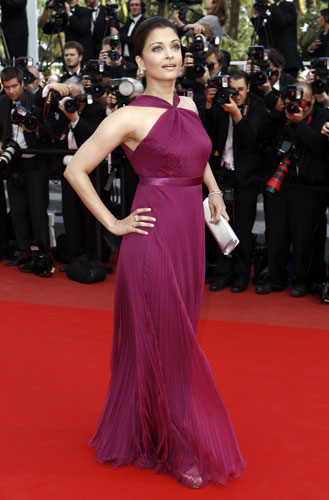 8) 2010 – Aishwarya Rai's Pictures at Cannes in a Magenta Gown
In the year 2010, Aishwarya wore a stunning Gucci magenta gownp gown with an open back and full floor length skirt. The pleated chiffon dress with a twisted halter neck looked amazing on her. The color suited her skintone really well. Her makeup was very basic with soft brown eyes and a neutral lip gloss. Her hair was backcombed and secured in a low ponytail. The Indian actress looked stunning and classy in this ensemble.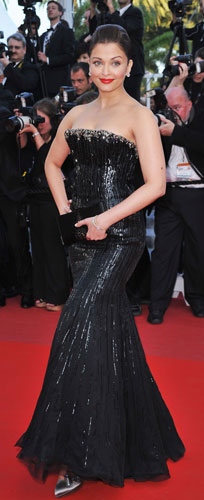 9) 2010 – Black Armani Gown at Cannes
Aishwarya Rai stole the show with her dazzling black strapless Armani Prive gown. She looked every bit the diva in this attire and the fiery red lips were a perfect match for the occasion. The hair was slicked back and the eye makeup was also minimal. The matching black clutch and diamond earrings completed the look.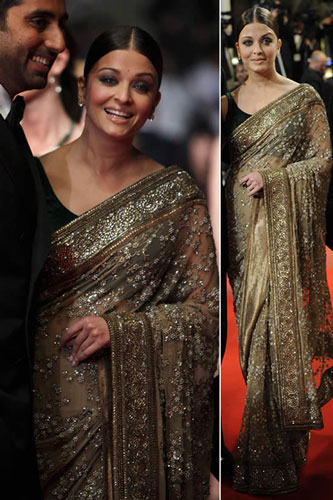 10) 2010 – Aishwarya Rai in a Sabyasachi Saree
Be it a western gown or a traditional saree, Aishwarya can carry off anything with elan. Walking the Cannes red carpet with Abhishek Bachchan, the actress wore a beautiful gold embellished saree by Sabyasachi for the premiere of her film 'Ravaan'. The black kohled eyes,nude lips and the middle parted hair made her one of the best dressed women that night!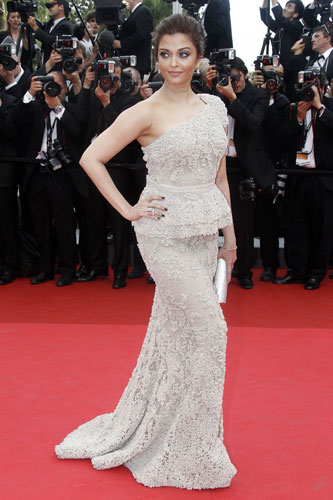 11) 2011 – Aishwarya Rai at Cannes Film Festival
In 2011, Aishwarya walked the red carpet in another Elie Saab gown. It was a one shoulder peplum dress from the spring 2011 couture line and she paired it with a Jimmy Choo clutch. Her makeup was on point with bronzed cheeks, gold smokey eyes and nude lips.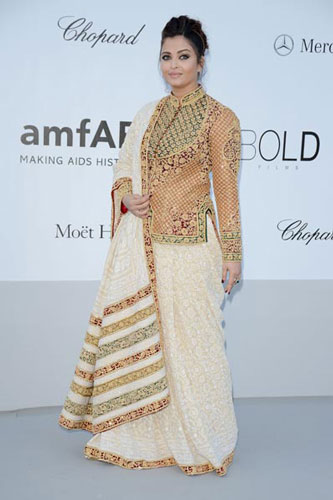 12) 2012 – Abu-Sandeep Traditional Attire
In the year 2012, there was a quite a bit of stir about her weight gain post her pregnancy which is pretty normal for every woman. Ash showed that no matter what, she can be pretty in any shape whatsoever when she sported a golden Abu-Sandeep traditional attire. The daytime smoky eyes and bun hairstyle with a puff made her look magnificent.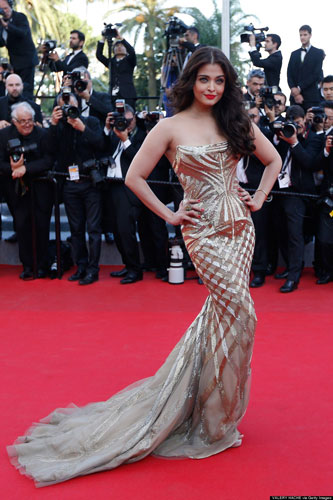 13) 2014 – Aishwarya in a Roberto Cavalli Dress
Aishwarya Rai stunned everyone when she donned this dazzling gold strapless atelier mermaid cut gown by Roberto Cavalli that showed off her curves beautifully. This dress was previously worn by Kristin Chenoweth at Oscars 2014. The loose curls and flaming red lips looked gorgeous with this dress. Everything about this look of Aishwarya Rai at Cannes was perfect!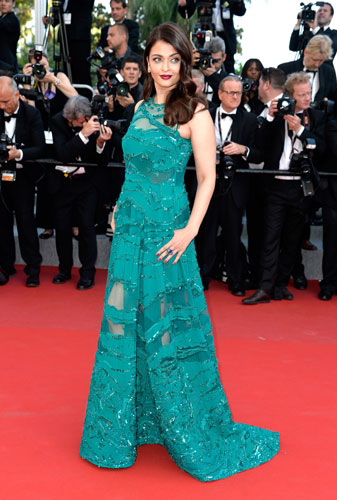 14) 2015 – Aishwarya Rai Bachchan at Cannes
Aishwarya has been an Elie Saab loyalist when it comes to her appearances at Cannes. The previous year she wore a feminine green colored lace Elie Saab evening gown. The hair was neatly done in retro Hollywood curls. As for her makeup, she rocked a deep plum lip color with a turquoise eye liner. The color was a fresh choice as she mostly favours black, white and gold.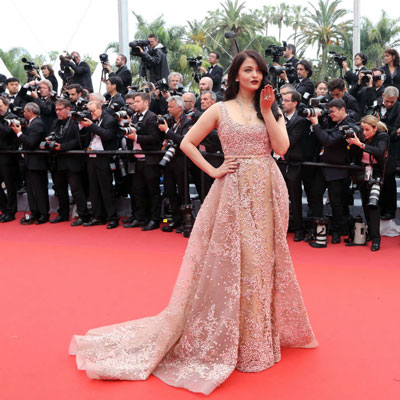 15) 2016 – Aishwarya Rai at Cannes 2016
This year, Aish celebrated 15 years at Cannes. On Day 2, Aishwarya opted for a gold gown by Elie Saab which looked extremely beautiful. She paired the dress with a stone embedded reverse neckpiece. The soft curls and dark red lips along with a winged liner was as stunning as it could be. This was her best appearance at Cannes in 2016 though Aishwarya's Purple Lips did cause quite a frenzy.
So these were the best Aishwarya Rai looks that we've seen at Cannes over the years. Do share your favorite outfits below.