Valentine's Day Eyemakeup Tutorial: Soft Brown Smokey Eyes!
Valentine's Day Eyemakeup Tutorial: Soft Brown Smokey Eyes
Hello Beauties,
With Valentine's Day just round the corner I decided to do a Valentine's Day Tutorial with step by step pictures. I was really confused over which look to do this time as I certainly didn't want to create something with pink or purple as I had already done a few looks for Vday with those colors last year. Instead I chose something that can be worn with any outfit and will flatter all complexions! This look was also requested by my dear friend Janani and I sincerely apologize to her for delaying this so much! I'm just so lazy when it comes to tutorials :p
So lets get started with the tutorial. The lighting wasn't that great and it kept on changing so please excuse the change in color temperature!
Step 1
Always start with priming your eyes to make your shadows last longer. Additionally, use a concealer to conceal you dark circles.
Step 2
Apply a deep brown eyeshadow all over your lid with a flat eyeshadow brush. It can be of any finish that you like-matte,satin,shimmer.
Step 3
Next, define the crease using a lighter chocolate-y brown eyeshadow by using a crease eyeshadow brush and also apply some on the outer corner. Make sure to blend the harsh edges properly with a blending brush.
Step 4
To smoke out the look apply a black eyeshadow in the outer corner like a V. Blend this well. If you're going for a daytime look and find this too stark then lightly apply the same brown eyeshadow used in the crease over the black e/s to subtle it down.
Step 5
Highlight your brownbone with your favorite highlighter. If you're wearing this during the day then opt for a matte highlighter or your compact for this step.
Step 6
Next, tightline your eyes ie apply kajal on both upper and lower waterline. Using a smudger brush smudge the kajal on your lower lashline. Apply the deep chocolate brown eyeshadow that you used on your lid on your lower lashline with the help of a pencil brush.
Step 7
Now this is an optional step and if you're happy with the current look then you can complete it by filling in your brows and applying loads of mascara. But if you want a more defined look then line your upper eyelid with a kajal and smudge it well. For a less intense look pat a light brown eyeshadow over the kajal and you're good to go!
Don't forget to apply loads of mascara to complete the look!
The Final Look
Since its Valentine's Day I recommend pairing brown smokey eyes with soft pink lips and cheeks. I suggest something like Maybelline Lip Polish Glam 9 or NYX Xtreme Lip Cream Pinky Nude for the lips. For the cheeks you can apply NYX Cream Blush Glow, Maybelline Cheeky Blush Peachy Sweetie or Bourjois Rose Frisson.
Here is the list of products that I used since many of you requested in my last tutorial that I start sharing this as well 🙂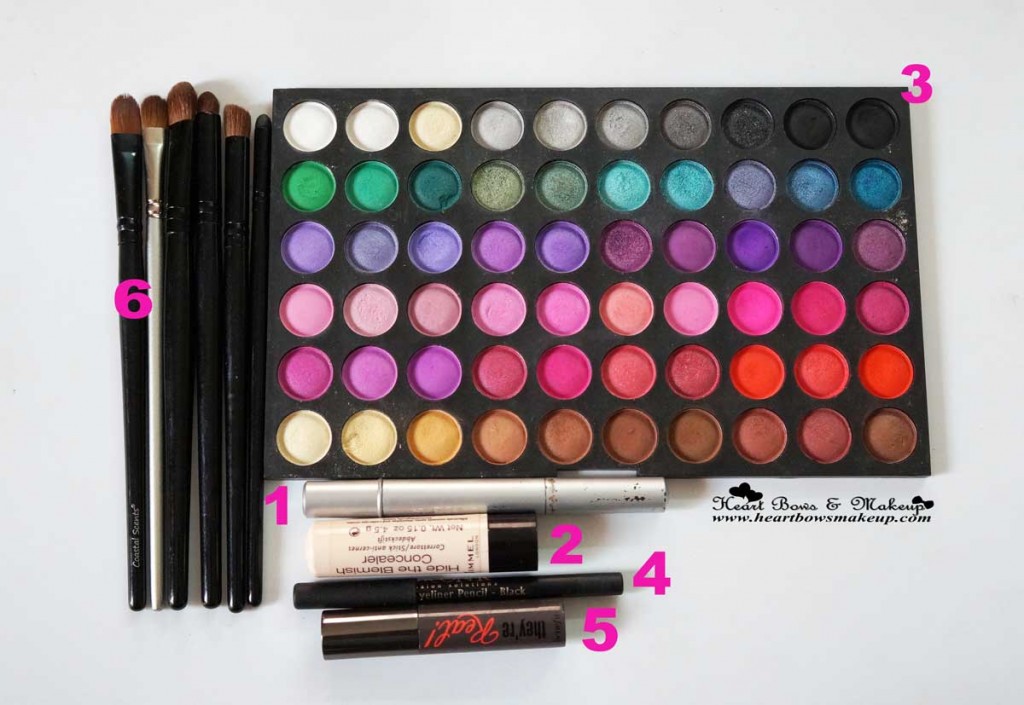 1) Kryolan Brush on Concealer- 6
2) Rimmel Hide The Blemish Concealer
3) 120 eyeshadow Palette
4) Ikonic Gel Eyeliner- Black
5) Benefit They're Real Mascara
6) Coastal Scents and Kryolan Brushes
This was my first time shooting a tutorial with my new cam and I was having a bit of an issue with the settings. Hopefully I'll get better at it with practice. Hope you all liked the tutorial and do keep a look out for the complete break down of my Valentine's Day look in the next post.
Don't forget to show some love and share the tutorial. ♥♥♥♥