The Ultimate Guide to Care for Wavy Hair
Best Haircare Routine for Wavy & Dry Hair
They say wavy hair gets the best of both worlds; you can straighten it for a sleek and polished look or curl it up for bounce and glamour. In a way that is true, plus getting natural beachy waves is much easier for girls like me who are blessed with wavy hair. However, this type of hair is also prone to frizz and dryness and can be difficult to handle. Wavy hair can be your crowning glory if cared for the right way so here are my tried and tested tips for soft and beautiful waves.
The Ultimate Guide to Wavy Indian Hair Ft. BBLUNT Products
The Right Haircut: As with any hair texture, it is always important to find the right hair stylist who not only understands your vision but can also guide you on the best cuts for your hair type. For instance, I cannot opt for bangs if I don't plan on using heat styling tools everyday however, I still ended up with it during my awkward teenage years as my stylist didn't guide me properly. It's always best to ask around especially someone with a similar hair texture for recommendations. Nowadays, most hair stylists also post pictures of their work on Instagram so you can go through that beforehand. It is necessary to do your research well before deciding on a hair stylist.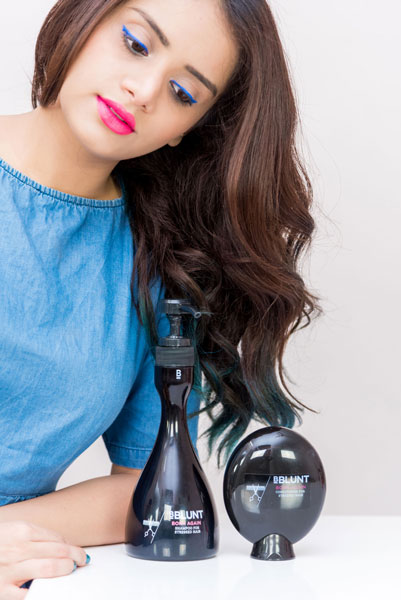 Shampooing: Wavy hair needs to be cleansed with a gentle shampoo which removes dirt, sebum and product build up without drying it out. Use a shampoo which is hydrating to add moisture to the hair without weighing it down. I recommend the BBLUNT Born Again Shampoo. The Quinoa and Hydrolized Keratin revitalize, reinforce and strengthen the hair while adding the much needed moisture to your tresses. It is specially created for Indian hair and has been more effective on my hair compared to other brands I've tried in the past. This BBLUNT Shampoo can also be used by those with colored hair.
Conditioning: Using a good hair conditioner after shampooing is extremely important to prevent frizz, dryness and to close the cuticles. Apply a deeply nourishing conditioner to mid length and ends of your hair and put it in a bun. This helps in making the natural waves of the hair most defined and prominent. I use the BBLUNT Born Again Conditioner for Stressed Hair. It has Provitamin B5 which helps prevent breakage. I love and recommend this because it is super creamy, controls dryness and frizz without weighing it down. Wash off the conditioner after a few minutes with cold water to lock in the moisture.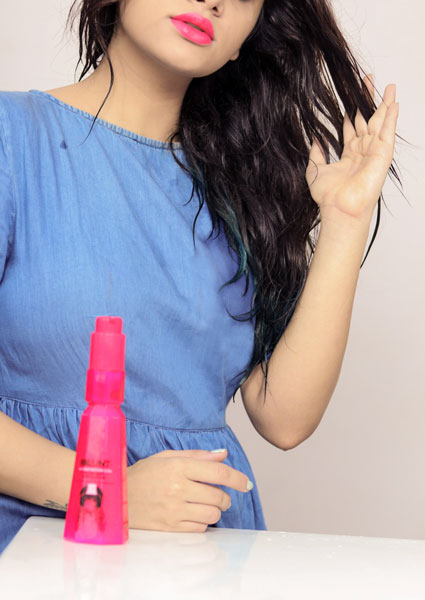 Combing: Now this is a step where many women with wavy and curly hair go wrong and something I have been guilty of too. If you comb wavy hair while dry it tends to get "poofy" and the friction leads to frizz. Also, this opens up the natural wave and you end up with hair which is neither straight nor wavy. I prefer to comb through my hair with fingers while it is still wet and put it up in a bun for more definition. Avoid combing you hair while it is dry and if you must, use a wide toothed comb instead of a paddle brush.
Leave-In Products: For hair like mine which is super dry, thick and wavy, leave in conditioners and styling products are a necessity. Using a leave in conditioner makes the hair smoother, controls frizz and reduces fly-aways even in hot and humid weather. I recommend the BBLUNT Climate Control Anti-Frizz Leave-In Cream. This is by far the best leave in product I've used which is easy on the pocket yet manages to keep my frizzy hair under control. The Hydrolized Keratin helps strengthen and smoothen the hair.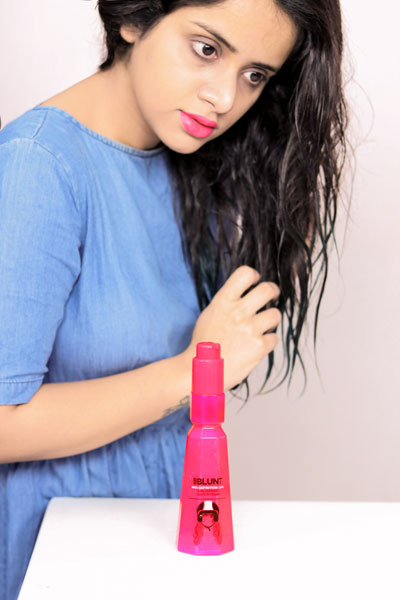 On days I require more bounce and curl I use the BBLUNT High Definition Curl Defining Leave-In Cream. This is the best product for natural, beachy waves without using any heat styling tools. Just take some product on your palm and apply evenly from roots to ends on damp hair. Next I scrunch up my hair or put it in a bun for some minutes. The Meadowfoam Seed Extract and Hydrolized Wheat Protein work very well at enhancing the curls while taming the frizz. Highly recommended!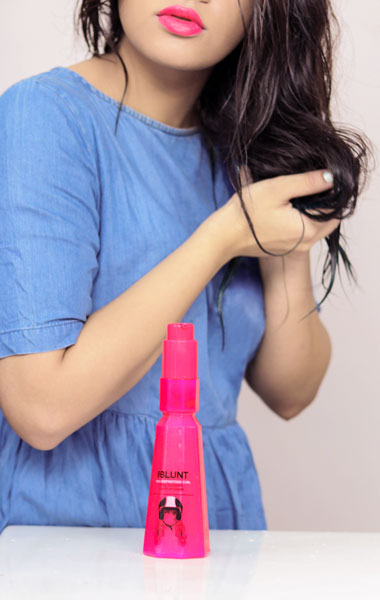 So these were my top tips for taking care of wavy hair. No matter the hair texture, if you use the right hair care products you can make it look beautiful even without using heat styling tools. Love your hair in its natural glory, be it is straight, wavy or curly but do remember to take good care of your mane.