What Your Hair Colour Says About You | BBLUNT Salon Secret High Shine Crème Hair Colour Review!
BBLUNT Salon Secret High Shine Creme Hair Colour Review, Price & Buy Online India
People experiment so often with their clothes, makeup and accessories but play it safe with their hair. However, our crowning glory is the easiest way to change our look and go from drab to fab in just a sitting. I, for one, am always up for experimenting with my hair, be it the cut or colour. Over the years, I've gone from a brunette to a blonde with a lot of back and forth. Hair colour speaks a lot about one's personality, and it's no secret that people often create a first impression based on their hair colour. Case in point, in the western part of the world, it's stereotypical for blondes to be considered as dumb, redheads as fiery tempered and brunettes as attractive. Now keeping the stereotypes aside, I like to experiment with my hair every so often based on my mood for the season.
Since I get bored oh so often, making regular trips to the salon to change my hair colour can burn a hole in my pocket. I was looking to darken my tresses a bit and just in time BBLUNT sent across their latest launch, BBLUNT Salon Secret High Shine Crème Hair Colour. This ammonia free hair colour is available in 7 shades: Coffee (natural brown), Mahogany (reddish brown), Wine (deep burgundy), Honey (light golden brown), Blueberry (blue-black), Chocolate (dark brown) and Natural black (Black). I opted for Honey for my light brown hair.
BBLUNT is one of those rare hair care brands which formulate products specifically for Indian hair at pocket friendly prices. Their new BBLUNT Salon Secret High Shine Crème Hair Colour is a revolutionary at-home hair colouring kit which gives 100% grey coverage and makes the hair soft and shiny. Many women feel colouring their hair will damage and weaken it but take it from someone who colours their hair every couple of months that this is completely untrue. If you use a good quality, ammonia free hair colour, your mane will transform beautifully.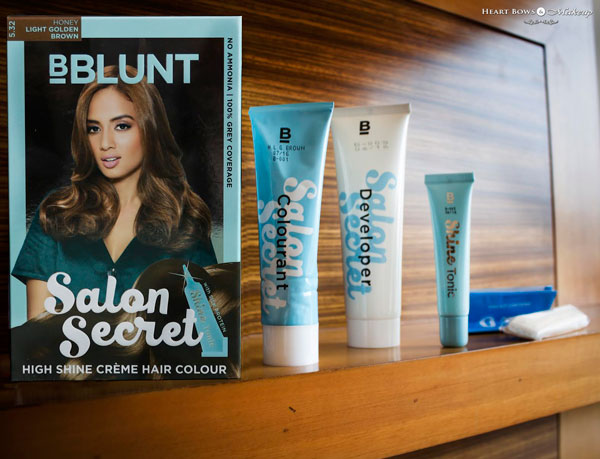 The USP of the BBLUNT Salon Secret High Shine Crème Hair Colour is that it comes with a unique Shine Tonic in addition to the hair colourant and developer. The BBLUNT Shine Tonic is enriched with silk proteins that make the hair glossy and silky like no other hair colour in the market.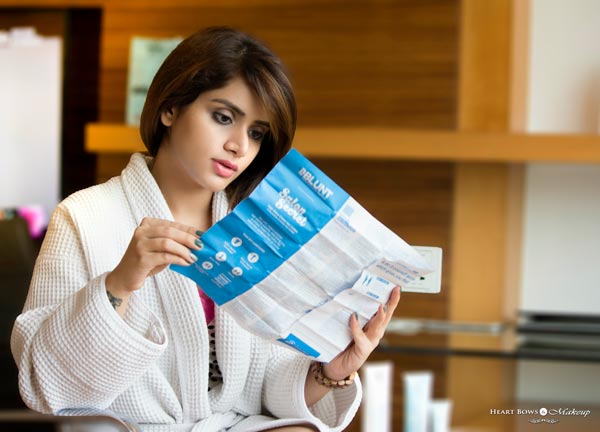 One box of BBLUNT Salon Secret contains the following products:
1 Tube of Crème Colourant 50 gms.
1 Tube of Developer 50 gms.
1 Tube of Shine Tonic 8 ml has Silk Proteins
1 Pair of disposable gloves
1 Instruction leaflet
The process of colouring the hair was super easy and every step was clearly detailed in the instructions leaflet. Starting off with wearing the disposable gloves provided in the box, I mixed equal quantities of both the Crème Colourant with the Developer.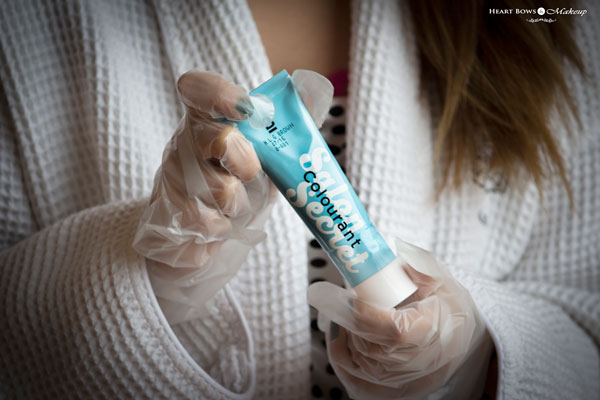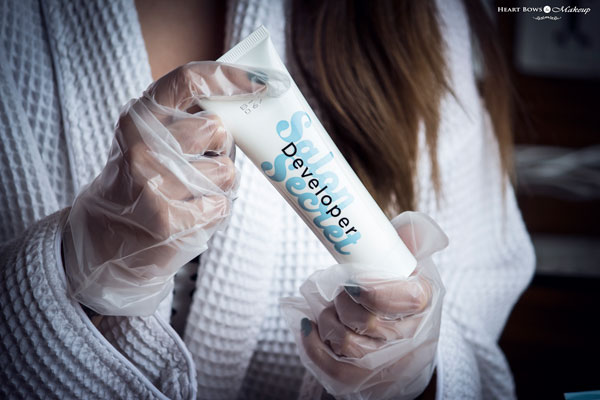 Next, I added the entire tube of the Shine Tonic and mixed the contents with a hair colour brush until it was smooth and creamy. Make sure you mix the hair colour in a non-metallic bowl as the metal and colour can react, causing an oxidization of the colour.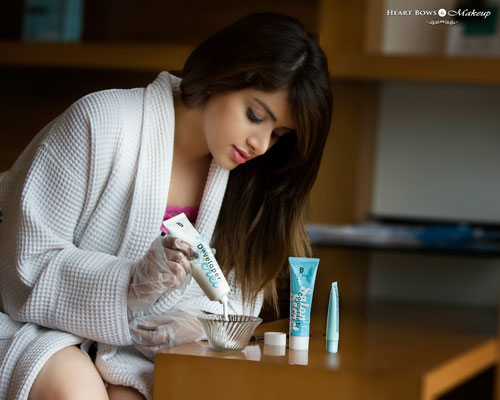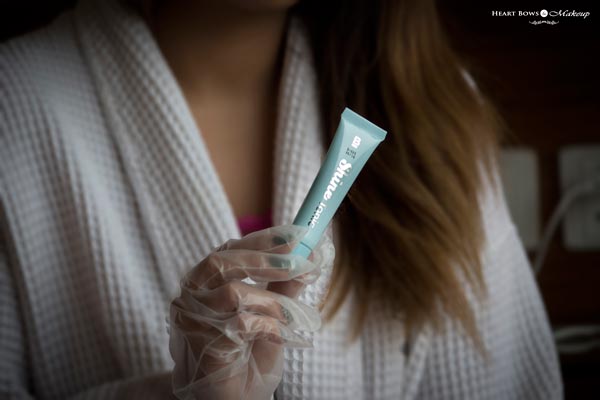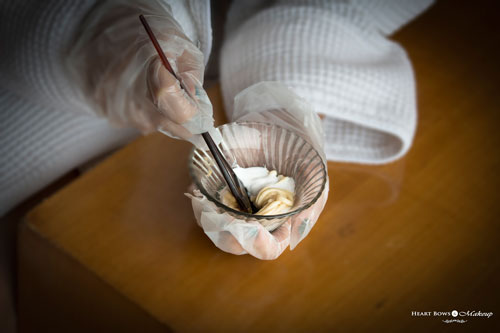 The hair colour has a non-drip formula making it very convenient to use. I went for global colouring using the brush. Once applied, keep it on for a minimum of 30 minutes or the time recommended on the box as the duration is 45 minutes for shades like wine and deep burgundy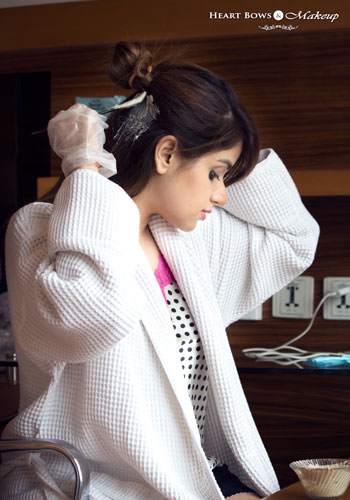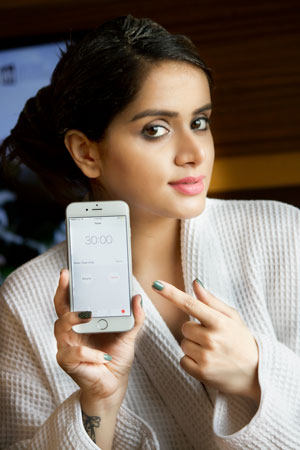 To wash off the colour, add some water and gently emulsify it for 5 minutes. Next use a colour-protect shampoo and conditioner and rinse off.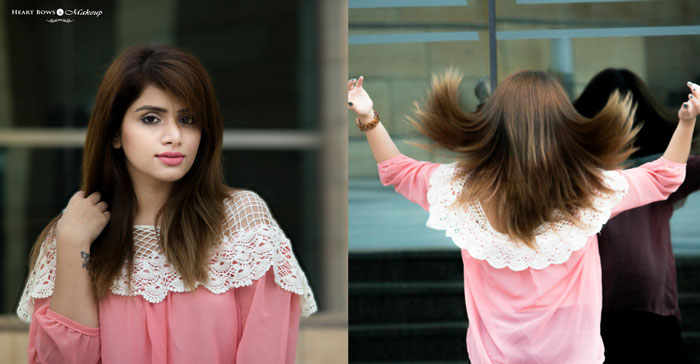 I am extremely pleased with the coverage and the end results. As you can see it toned down the orange hue in my hair, added a nice dark-brown tint to my roots and made my hair look more silky and glossy. I had a few greys on the crown area and the hair colour provided 100% coverage which should last up to 8 weeks. It's been almost a month since I coloured my hair and the hair colour is as vibrant as ever. I have very dry hair which did not worsen after using the kit and neither did I witness any unusual hair fall.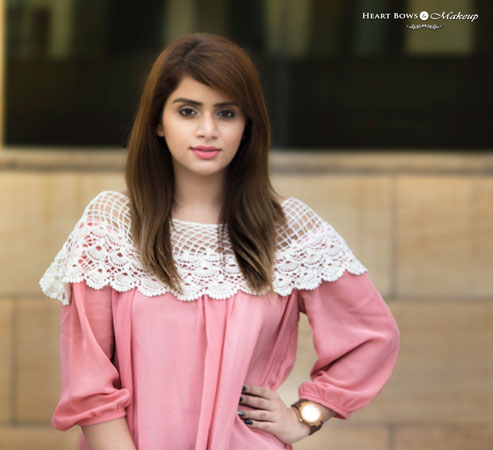 The BBLUNT Salon Secret High Shine Crème Hair Colour Kit can be used for both root touch-ups and for global hair colour. You might need 2 kits for a global colour if you have mid length to long hair like mine. Another great thing that I noticed about the hair colour was that the tubes had 25gms markers on them in case you only need to touch up your roots. This is really helpful as I always get confused about the quantity while mixing.
One is legit pampered for choice when it comes to deciding a shade with this range of hair colour. All the shades are specifically created to flatter Indian skin tones and I might give the Blueberry shade a try next! The BBLUNT Salon Secret High Shine Creme Hair Colour is competitively priced at Rs 225 but is currently available on an introductory offer price of Rs 199 making it one of the most affordable premium offering hair colouring kits in the Indian market.
If you want to change your overall look and have smooth, glossy and soft hair, give BBLUNT Salon Secret High Shine Crème Hair Colour a try. This is one secret that salons would surely like to keep from you!
Location: Courtyard by Marriott, Gurgaon