Inglot Duraline Review: A Magic Potion In A Little Bottle!
Inglot Duraline Review & Uses
Hello Dolls!
How's the month of love coming along for you? I'm surprisingly enjoying it alot despite being single and honestly it is very endearing to see so much love all around you. I do hope I get one of those squishy,cuddly and warm red heart pillows that I'm being bombarded with everywhere.
Anyway coming back to the review. Today, I have Inglot Duraline under my scanner and it is definitely one of the best products I've ever bought. Read on to know why I think this is a must have for every eye makeup lover!
Product Description
Inglot is a special transforming liquid that will turn any powder eyeshadow into liquid formulation.
Price: ₹ 490
Quantity: 9ml
Available at Inglot Stores and online at Majorbrands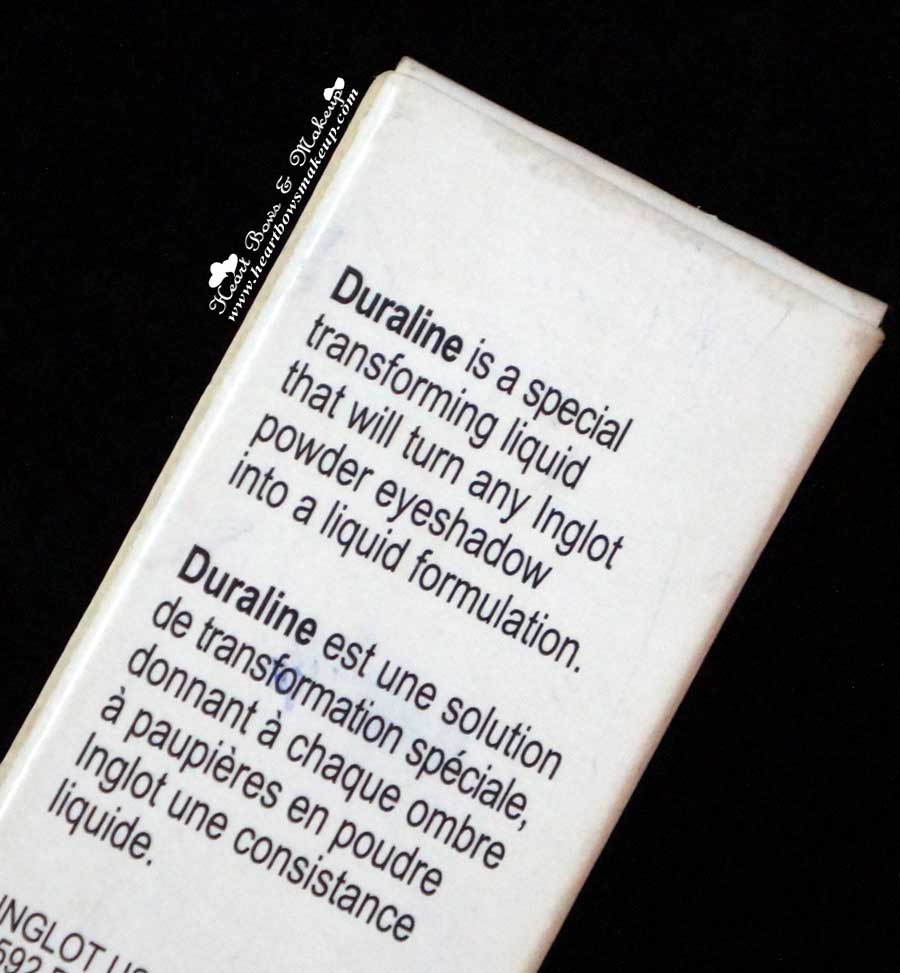 This versatile product comes in a tiny glass bottle with a dropper cap to dispense the product. Since the bottle is made up of glass it is not at all travel friendly and needs to be handled with care. Ms. Butter Fingers did drop it once and luckily it survived the fall.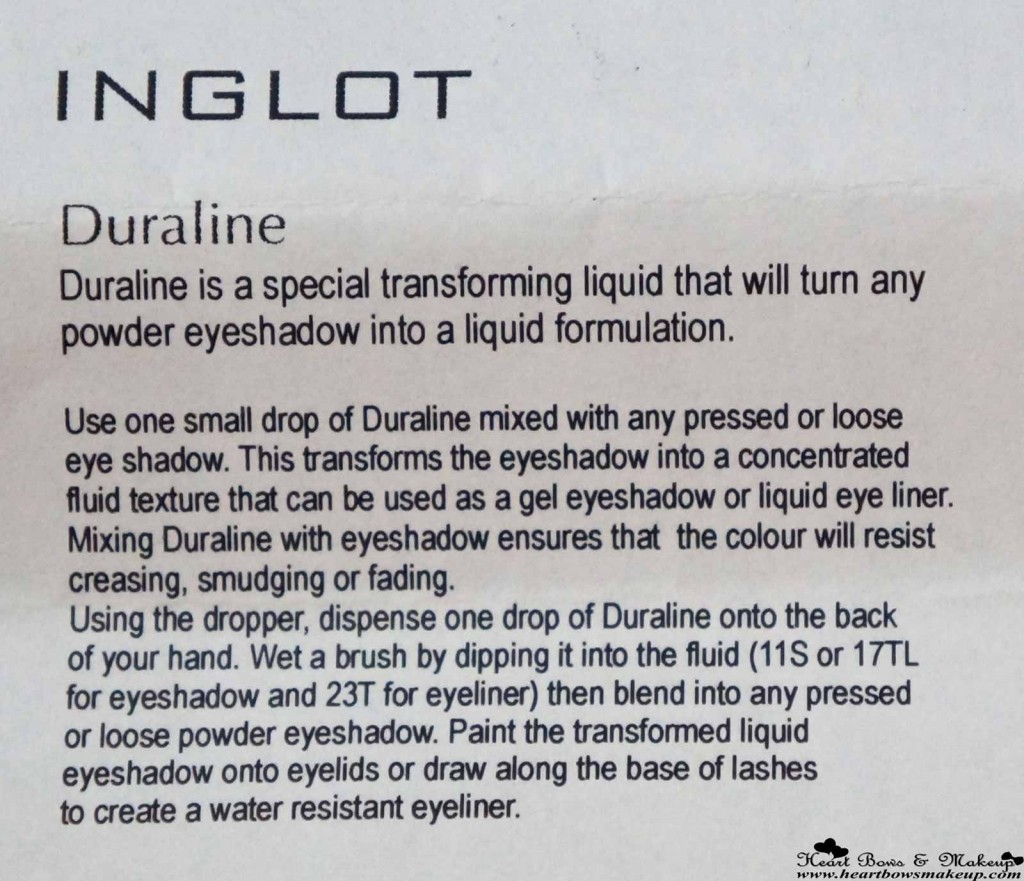 The dropper tends to dispense more product than required and needs a little bit of practice to get the hang of it.
Inglot Duraline's texture is thicker than water and feels very silicone-y and rightly so as it does contain silicones. It can be used in numerous ways. One of the most popular ways of using this is to revive dried up gel liners. I had initially bought it to restore my gel eyeliner only but it does much more than that. BTW everytime I use my gel liner with duraline , the liner does not smudge forever and requires alot more effort to remove!
Looking for an eye primer so that your eyeshadows don't budge and give you a better wear time? In comes Inglot Duraline.! Its one of the best primers I've used which not just makes the eyeshadows adhere better to the skin but also intensifies the color while increasing the staying power. We have a dearth of decent eye primers in India and I strongly suggest the Inglot Duraline for those on the lookout for a good eye primer in India.
Now coming to the best way of using Inglot Duraline– Making Liquid Liners out of your eyeshadows! You can turn just about any eyeshadow into a waterproof liquid liner with this. Isn't that so cool?? Many have of own soooo many palettes and just imagine the number of eyeliners you can make with this tiny bottle in a jiffy!! There are a few more ways of using the Inglot Duraline which I shall elaborate in another post.
You need a very tiny amount for any of the above usage so the bottle shall last you a long long time. It seems like a great dupe of Mac's Mixing Medium, Too Faced Liquif-eye or even Urban Decay's Shadow Transformer Potion that too at an affordable price. Though, please note that I haven't tried any of the above products and judging from the reviews they seem to do a similar job.
Pros
1) A multi purpose product which can be used in many ways
2) Can be used to turn powder eyeshadows in to liquid liners
3) Safe to be used on the waterline and even lips( Heard this from Inglot itself!)
4) Makes a great eyeshadow primer
5) Intensifies the pigmentation of eyeshadow and makes them last much longer
6) Revives dried up gel liner and increases their wear time
7) Affordable as little goes a long way


Cons
1) It isn't easily available.
HBM Rating






5 / 5(Reviewed by Lisha B.)Inglot Duraline Review: A Magic Potion In A Little Bottle!
HBM Recommendation: Inglot Duraline is one of the best products I've used. This versatile liquid not only revives dried gel eyeliners but also doubles up as an eyeshadow primer! It can also turn any powder eyeshadow in a liquid eyeliner. The possibilities are just endless and I highly recommend this if you like dabbling in eye makeup!