Faces Glam On Lipstick 'Fallen For A Kiss' Review & Swatches
Faces Glam On Lipstick 'Fallen For A Kiss' Review & Swatches
Hello Lovelies!
I'm finally back to reviewing products and today I'm going to review Faces Glam On Lipstick in the shade 'Fallen For A Kiss' I got this when I attended the launch of Faces Sand Coat Nail Polish. This is the first time I've tried a lipstick from Faces Canada so read on to find out how it fared with me.
Product Description
We can't seem to get our factories to make enough of them ever. Rich, Vibrant & Long Stay colors, enriched with the goodness of Vitamin E. Experience the effortless glide over lips for a smooth, rich appearance. Specially formulated to be stable at high temperatures (why do we have these Indian summers?). The most complete lipstick, ever. Period.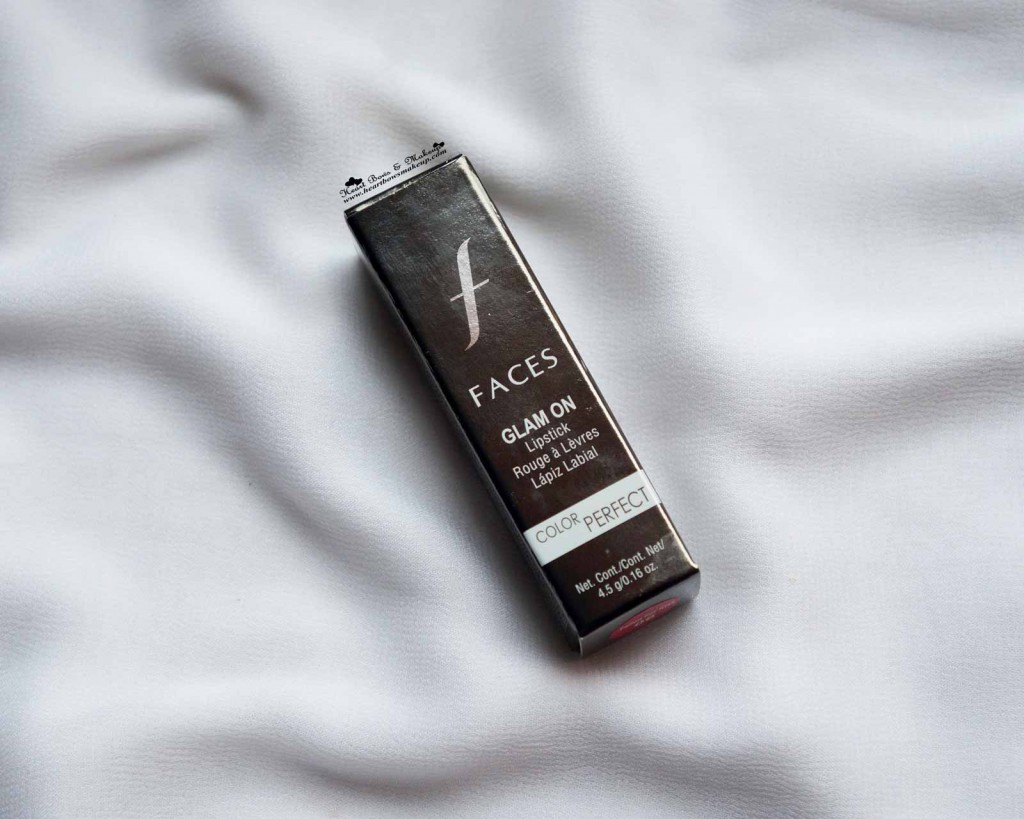 Price: ₹ 499
Quantity: 4.5gms
Available online at Flipkart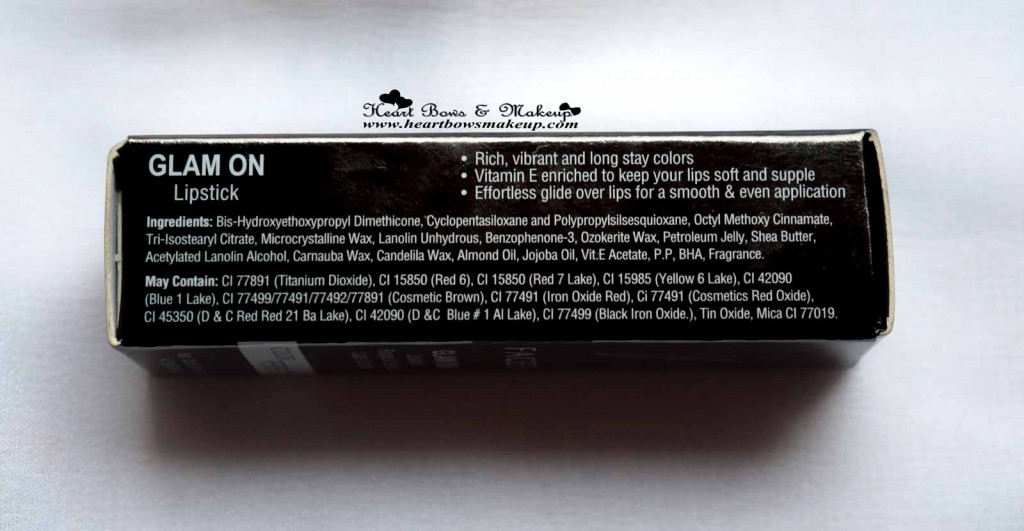 Packaging Faces Glam On Lipsticks come in a metallic packaging with a silver band. It has a color coded sticker along with the shade name below which eases identification. The lipstick shuts tightly and will not come off in your handbag making it travel friendly.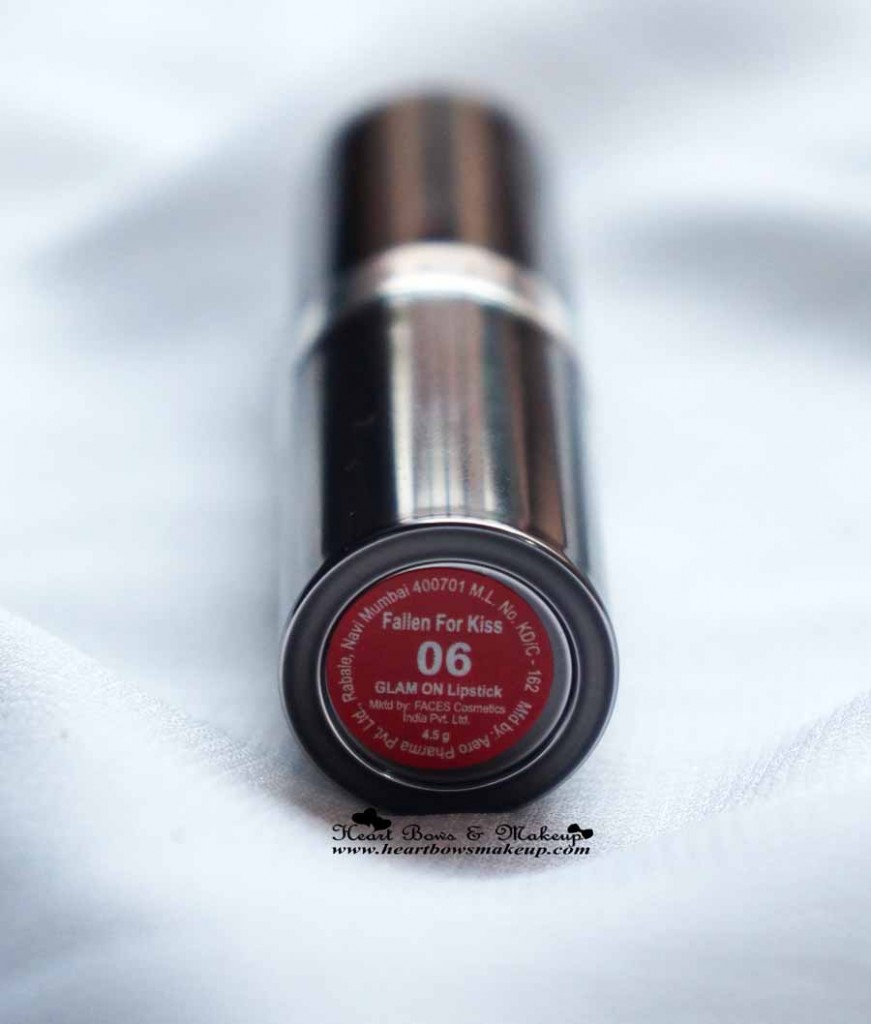 Shade Faces Fallen For A Kiss is a beautiful and bright red color with an orange undertone. Looking at the bullet and initial swatch I expected it to look alot like MAC Ruby Woo but it looks very different on the lips with the orange undertone being quite prominent.Its a very flattering red lipstick and will suit all complexions.
Texture Fallen for a kiss has a smooth texture which is not overly creamy but glides smoothly on the lips and does not tug. It has a semi matte texture which is quite comfortable to wear but those with extremely chapped lips should wear a lip balms underneath else it will settle into fine lines.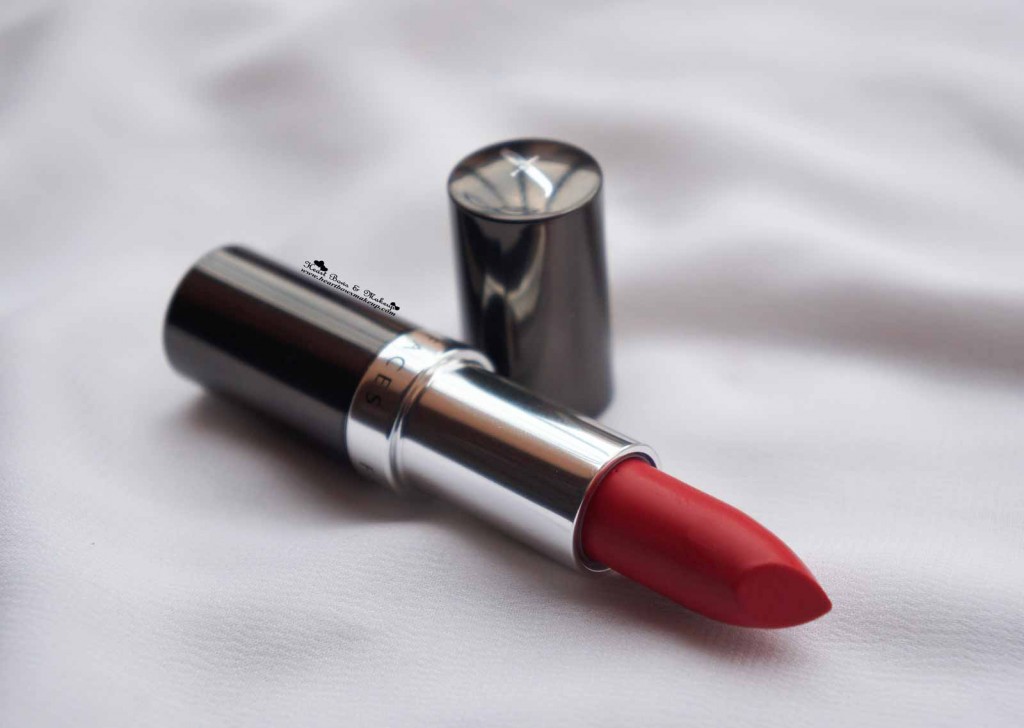 Pigmentation Fallen for a kiss is well pigmented and it neatly covers any pigmentation of lips in 1-2 swipes. Those with pigmented lips will love the coverage it offers.
Staying Power Faces Glam On Lipsticks have a superb staying power. This particular shade stayed upto 5 hours after which it left a strong red stain hence it did not require an immediate touch up. It survives snacks and meals which is just superb. Being a semi matte lipstick it does not transfer either!
Wearing Faces Fallen For A Kiss With A Lip Balm Underneath Pros 1) A bright red lipstick with an orange undertone. 2) Falling for a kiss will compliment all skintones 3) Has a smooth texture which does not tug 4) It is well pigmented and gives an opaque coverage in 1-2 swipes 5)The lipstick is long staying survives meals and snacks 6) Comes in a huge variety of 65 shades!
Cons
1) Might settle into fine lines if you have severely chapped lips
2) Priced on the higher side
HBM Rating






4 / 5(Reviewed by Lisha B.)Faces Glam On Lipstick 'Fallen For A Kiss' Review & Swatches
HBM Recommendation: Faces Fallen For A Kiss is a beautiful and bright red lipstick with an orange undertone. Its very rare to find such a bold and flattering red lipstick in a drugstore brand.Fallen for a kiss is a semi matte lipstick with a superb staying power. It might be a bit drying for you if you have severely dry lips but thats an issue you will face with all matte lipsticks. I highly recommend this if you're a bold lipstick lover!
* PR Sample. However, my review is honest and unbiased