Top 10 Cover Shoots of our Birthday Girl: Jacqueline Fernandez
Top 10 Cover Shoots Of Jacqueline Fernandez: Pictures & Images
She's confident, effervescent, a great dancer, has a strongly attractive personality and a hot bod to die for. She has proved with time that she's not here to be an eye candy or to play second fiddle. This diva has achieved great heights in Bollywood which an outsider could only dream of and that too without a Godfather. That's Jacqueline Fernandez for you. Only 14 films old, including a Hollywood project and 2 item songs in her kitty, she has never failed to impress us and how. After delivering back to back hits at the box-office this year, Jacqueline Fernandez is ready with 2 more sought after projects. As the Sri Lankan beauty celebrates her 31st birthday today, we give you a look at her best and most attractive cover photoshoots of all time, as an ode to her.
Top 10 Jacqueline Fernandez Pictures, Images & Cover Shoots!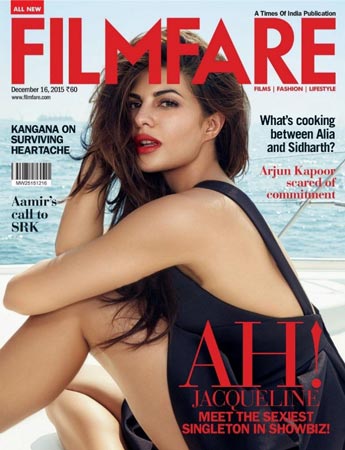 Featured in Filmfare's December 2015 issue, Jacqueline looks simple yet sultry enough to keep us wanting for more. This one's definitely her best and our favorite cover! Those red lips and soft tresses make her look beautiful than ever.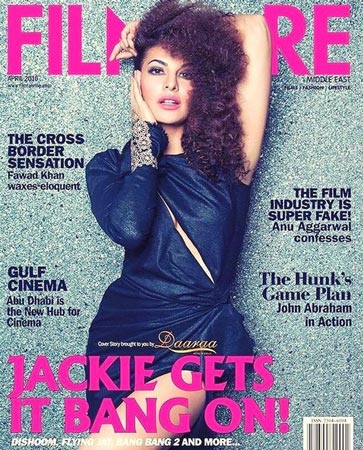 Filmfare's April cover shoot may come as a surprise for many, but this quirky and sizzling shoot had many drooling. Maybe it's because of the unconventional, wavy, curly hairdo or that metallic blue dress, but she looks electrifying like never before. The photoshoot was featured on Filmfare- Middle East edition, this year.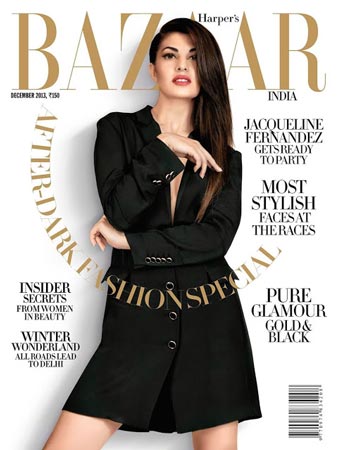 How can anyone look so good in black, that too in a simple blazer? This one's from Harper's Bazaar December edition. The button up coat style, straight hair and the matte red lips make the cover absolutely perfect.
Also Read: 10 Shocking Transformations of Bollywood Actresses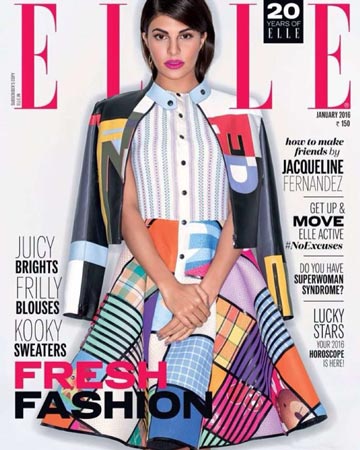 This is undoubtedly, one of the freshest and quirkiest looks we have ever seen her dwell into. The Elle India January 2016 edition spells freshness, as the cover suggests. The straight-from-the-runway attire and bright pink lips lights up the whole cover.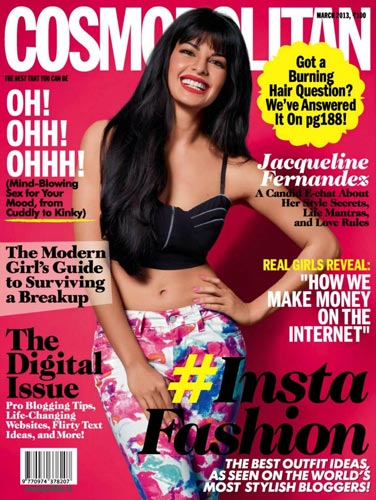 This cover shoot is a perfect example that Jacqueline Fernandez can pull off any look and mood for her photo shoots. She looks adorable, bubbly and cute and we just can't take our eyes off her. That fringe, ultra-black long hair, colorful printed trousers and black bustier looks perfect on her. Red lips and light-pink nails are bang on. This one's for Cosmopolitan India.
Best Jacqueline Fernandez Photo Shoots To Celebrate Her 31st Birthday!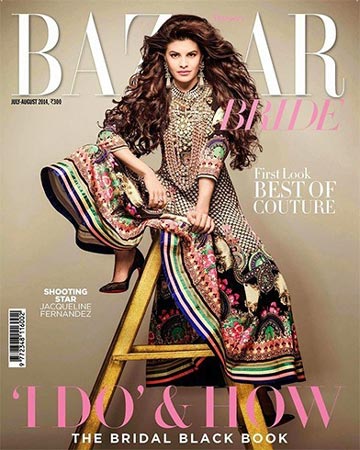 She looks amazing in this colorful and chic bridal attire for Harper's Bazaar Bride 2014 edition. The bright, couture bridal lehenga is something to die for, and Jacqueline Fernanadez makes it look even more attractive. Pairing it up with the heavy, bridal jewellery and sporting a wavy hairdo oozes up the oomph factor.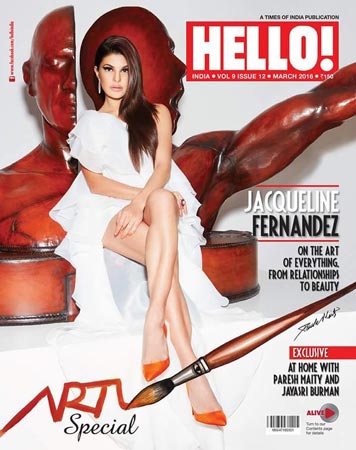 Damn! She looks like a sultry siren in cover shoot for Hello! magazine. The white dress and her ever-so-sexy, toned, long legs are definitely something to watch out for. Jacqueline's make-up, straight, shiny hair, and orange pumps are spot on.
Also Read: Top Bollywood Plastic Surgery Disasters: Before & After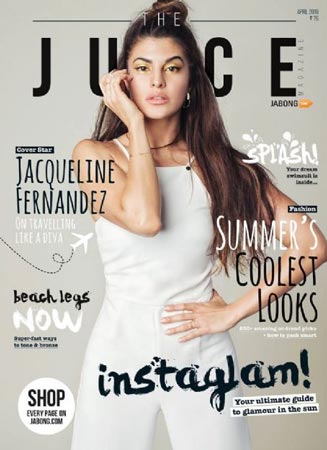 How can this cover shoot not be part of Jacqueline Fernandez top 10 looks & pictures? She looks very elegant in white and her glittering, gold eye make-up paired with a boho-chic hairdo just perfected up the look. Her expressions are spot on and her toned, fit body is definitely raising the temperature. The shoot is for The Juice India edition.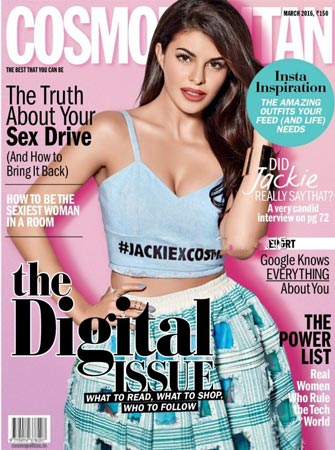 Jacquline Fernandez' cover for Cosmo's March 2016 edition looks so kitsch and bright. This one definitely one of our favourite looks. Everything is perfect. Her expression, her nails, her lips, the attire, her hairdo, the background. We are in love!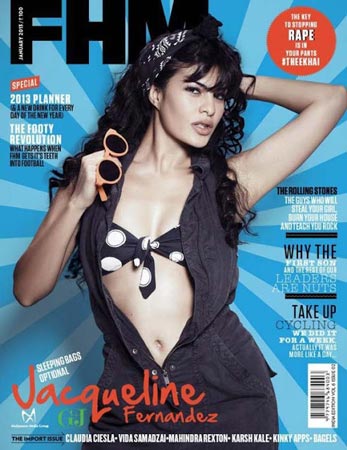 Now that's what we call a 'bang-on' bollywood diva look. The knotted, black and white bikini top paired with a dark grey jumpsuit gave us major fashion goals. She's a total stunner with this look and her expressions. Those chic, vintage sunglasses is an added attraction. Her curls and headband totally completed the look. The shoot is from FHM India 2013 edition.
So these were some of the best photoshoots of Jacqueline Fernandez. The girl has truly come a long way and we wish her all the success!