Zingo Star, M Block Market, GK 2 Review: Keepin' It Hot!
Zingo Star, M Block Market, GK 2 , New Delhi: Review, Menu & Prices
Nothing's better than spending a lazy afternoon at a nearby cafe with some great comfortable food and urban ambiance. A new cafe that perfectly fits this description is the newly opened Zingo Star in M Block Market, Gk 2. Yes Gk 2 not GK 1, many people tend to confuse that up a bit. Fast earning a name for themselves for their spicy chicken wings, we decided to try it out for ourselves and since I'm a vegetarian, I dragged my mom along for the tasting 😀
Zingo Star, M Block Market, GK 2 , New Delhi Review: Chill Out in South Delhi

Talking about the place, whats sets it apart is the relaxed and the warm atmosphere with the an open kitchen and street art on the walls around you. The wooden decor, the mason jars, army mugs for storing cutlery and even garage oil cans as oil drizzlers, not only make the place interesting but lends an American diner vibe. The staff is extremely pleasing and friendly though the service was a bit slow considering the restaurant was practically empty when we went.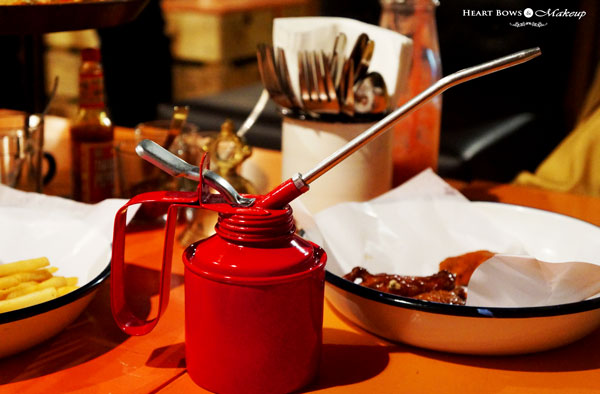 The menu is unpretentious and certainly aims at comfort food which can uplift you on any bad day. From spicy barbeque chicken wings to burger sliders and pizzas, it makes you dig in and just have a good time with your friends. We started off with The Super Snacker Veg Sampler which had some some delicious onion rings, mozzarella sticks, fried shroom and fries. The fried mushrooms were succulent and full of flavour, can't wait to go back for some more! We ordered some refreshing mocktails as well to go with the meal.
A meal just cannot be complete at Zingo Star without their hot chicken wings. You can choose from about 13 fiery sauces, they sure do have a whole lot of options for people who prefer their wings as hot as it gets 😀 The The zing, the burn and the sweet, tangy kick in the end made my mum rave that it was one of the best wings she's had in a long time.
As for the main, we tried out the Mary Poppins Pizza and the Frisco Burger. The stringy mozzarella along with the tangy fresh tomatoes , olives and the fresh italian herbs made me eat a few too many pieces though I felt the crust could've been crunchier. From the whole meal, I loved the Frisco Burger the most. I'm usually left disappointed when it comes to burgers but this one was friggin delicious!
We skipped the desserts since we were absolutely full however I will surely be going back for a lovely evening with friends. Its the perfect setting to sit back, catch up with friends with some great music and quirky ambiance. Zingo Star played the perfect hosts and you must visit them for some hot barbeque wings!