WELLA Professionals EIMI Hairstyling Range Review: Dry Me, Root Shoot & Perfect Me BB Lotion
WELLA EIMI Hairstyling Range Review, Price & Buy India: Dry Me Dry Shampoo, Root Shoot Mousse & Perfect Me BB Lotion
Being someone who loves experimenting with her hair, hair styling is an integral part of my routine. While using hair styling tools is one aspect of it, using good hair styling products is equally important to provide the perfect volume, texture and shine. Recently, one of my favorite hair care brands, WELLA Professionals launched their EIMI range which consist of a whopping 31 styling products that cater to every individualistic need! I've been trying it for some time and now that I can finally talk about this superb launch, here are my Top 3 favorite products from the EIMI range.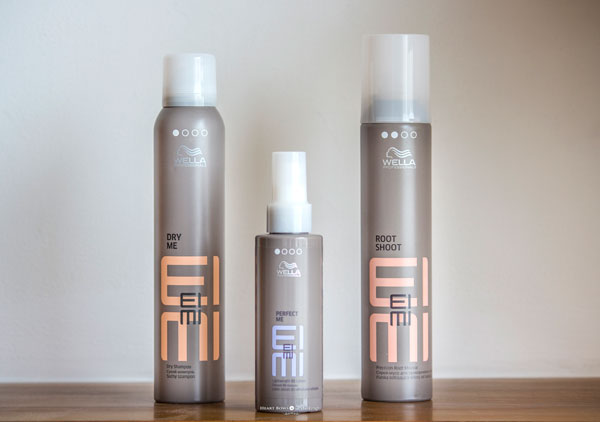 Wella EIMI Dry Me Review, Price & Buy India
Price: Rs 900
Quantity: 180 ml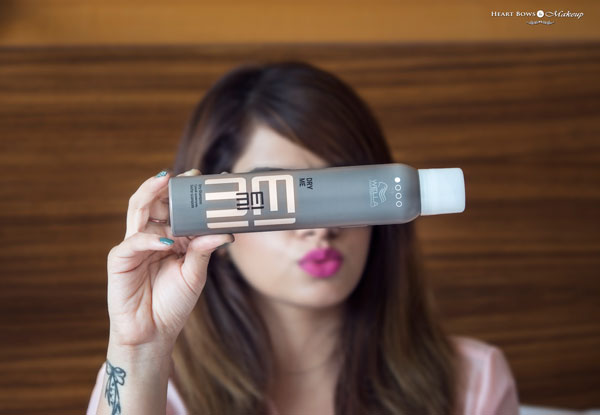 Starting off with my favorite product from the range, the new Wella Dry Me. Though there a number of dry shampoos now easily available in India, but most of them don't make the cut. The new Wella Dry Shampoo is easily one of the best, high quality products I've used. It comes in a tall beige-brown spray bottle with a basic nozzle. I must say I love the color scheme of the entire range- very sophisticated and professional.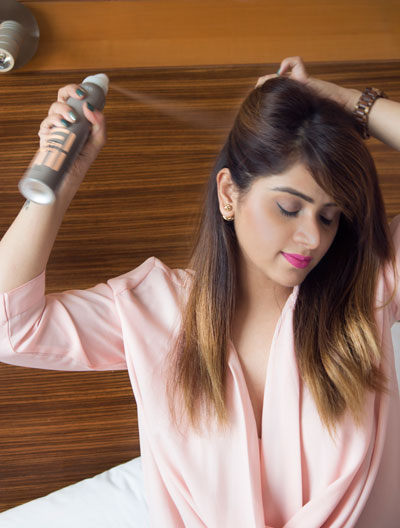 The dry shampoo consists of a tapioca starch formula which effectively absorbs excess oil from the scalp. It not only gives a matte finish but also adds good volume to the crown section. One of the biggest issues I face with dry shampoos is that they leave a white residue on my darker roots. However, the Wella EIMI Dry Shampoo works well with dark hair and does not result in the same issue. I usually spray the product from a bit of a distance, massage it a little with my fingers and Voila, I'm done!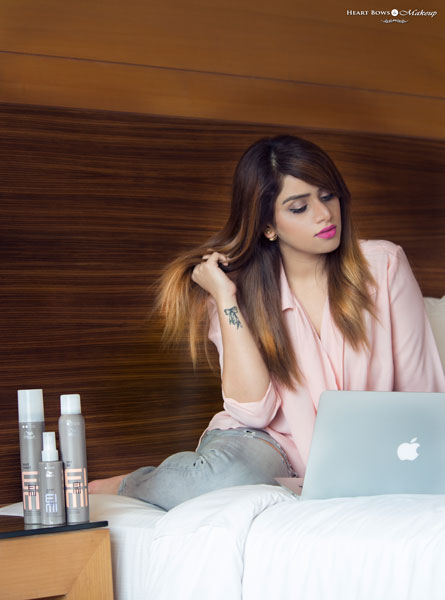 It also has a beautiful floral fragrance which is a life saver if your hair smells bad, which it obviously will after day 3 or 4. This Wella EIMI Dry Me is competitively priced high quality product and you NEED this in your life if you have an oily scalp or just plain lazy like me to not bother washing your hair every other day.
Wella Professionals EIMI Perfect Me BB Lotion Review, Price & Buy India
Price: Rs 900
Quantity: 100 ml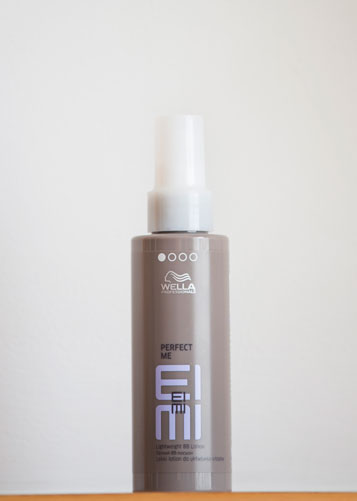 BB Lotion for hair? You've gotta be kidding me. Well that was my first reaction when I heard of the product and boy did my opinion change the very first time I used it. It has a light creamy consistency which has the most beautiful fragrance, similar to the Dry Me. All I need are a couple of pumps for my mid length and thick hair and one can feel an instant transformation upon application. My ends are extremely dry due to pre lightening and this product magically transforms it, making my hair feel softer and silkier.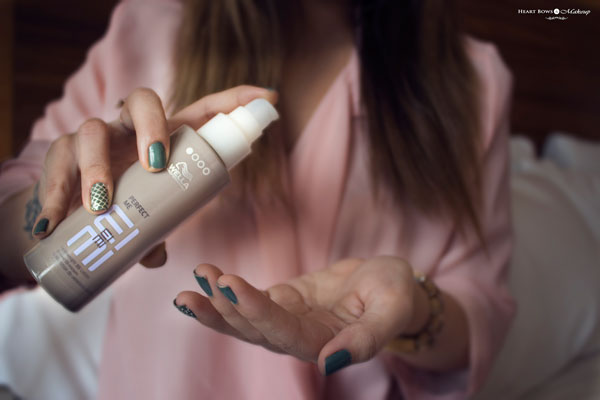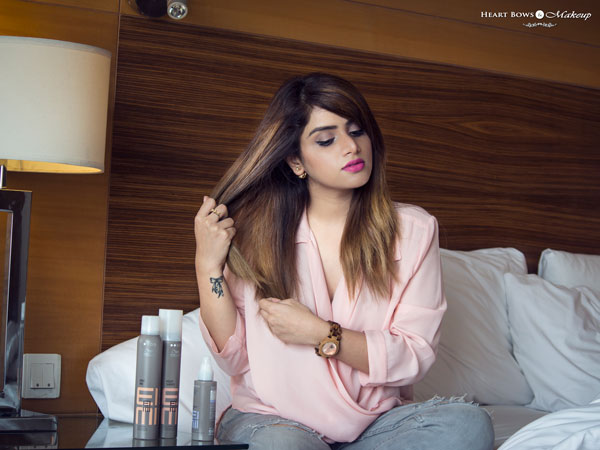 Wella EIMI Perfect Me BB Lotion is the next level hair serum which not only tames flyaways, controls frizz and makes the hair feel softer, but also acts as a heat protectant product. I use it immediately after washing my hair and especially before heat styling it. You only need the smallest quantity and a little goes a long way. This BB Lotion for hair also adds a kick of hydration to dry and dull hair and is the best product for damaged hair. It's truly my SOS for bad hair days.
Wella EIMI Root Shoot Mousse Review, Price & Buy India
Price: Rs 900
Quantity: 200ml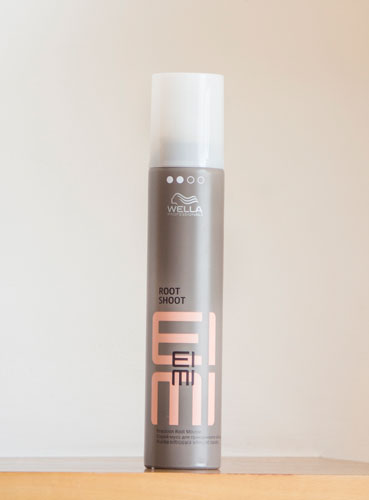 I've always steered clear of hair mousse before as I assumed it made the hair very stiff and sticky. However, the Wella EIMI Root Shoot, which is basically a moderate hold mousse, is not only very lightweight but also makes for a great root lifter. I spray some on my hands and then apply the mousse to somewhat wet yet dry hair. Despite having very thick hair, it ends up weighing down and I barely get any volume on the roots. Sp now I Just apply a bit of the Root Shoot to the roots before a blow dry and hello gorgeous bouncy hair.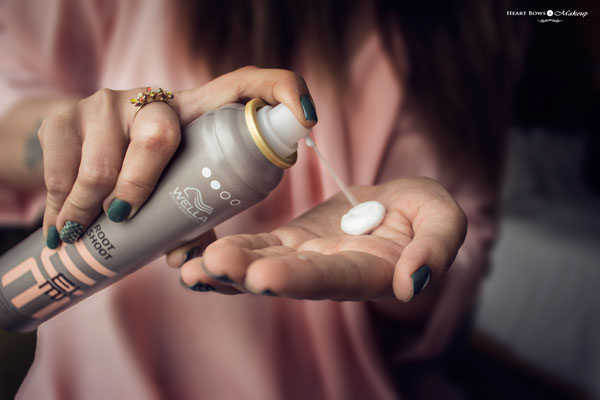 Just like the other products from the range, it smells fabulous and I must emphasize that it does not make the hair sticky like other hair mousse. The new Wella EIMI Mousse adds volume, provides a good hold and makes your hair smell amazing. What else does a girl want?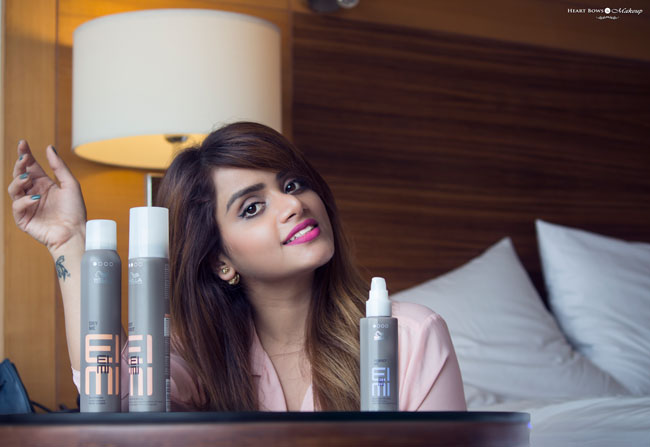 Be it some sassy texture, a sleek and polished look, crazy volume or silky shiny hair, the new Wella EIMI range caters to every need. These amazing range of products help create the best style that one desires and after using these products, I can easily say it's a class apart. The range is well priced and delivers on its claims. The 31 products are divided into 5 categories: Volume, Smooth, Texture, Shine & Finishing Sprays making it convenient to choose the products according to one' s hair type and style.
Availability: Available in all Wella Professional salons. Simply ask your Wella Professional stylist for more information.
Photography: Sumit Baloda, Location: Courtyard by Marriott, Gurgaon