Nykaa Disinfectant Sprays & Veggie Cleaner Review, Price & Buy Online
Nykaa Home Safe & Travel Safe, Nykaa Veggie Cleaner Review & Prices
Hey everyone!
Nykaa recently launched their new Multi Purpose Disinfectant Sprays & Veggie Cleaners. I think this is the perfect timing for this launch but I honestly see myself and others using these product more often for a very long time to come. If there is one thing, the covid pandmeic has taught us, is how imperative it is to be hygienic and how public places and shared spaces can be a huge breeding ground for various illnesses. Read on to find out if this is the best affordable disinfectant spray in India.
Nykaa Disinfectant Spray Review, Prices & Buy Online: Home Safe & Travel Safe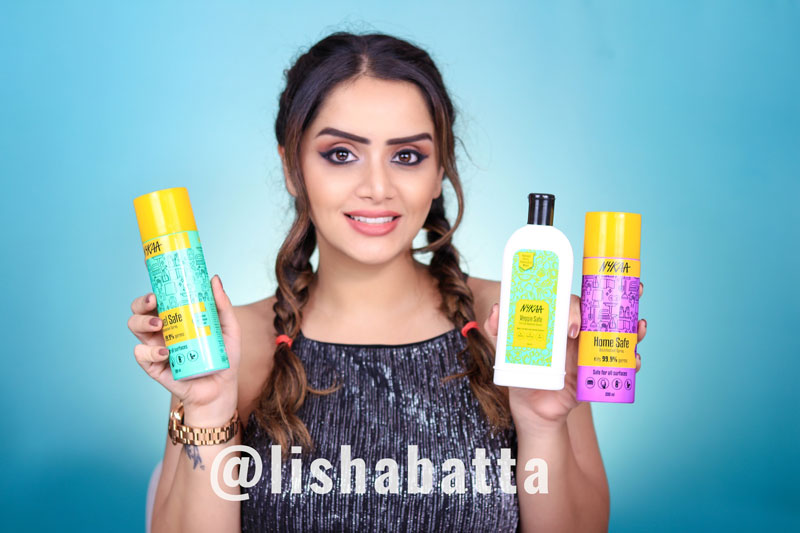 Price: Rs. 199 for 200ml
Can be bought on Nykaa
So coming to the disinfectant sprays, they are priced at Rs. 199 for 200ml. It is quite an affordable disinfectant spray compared to other brands. Lifebuoy costs about 150 bucks for jusy 75 ml, Dettol costs 200 and Savlon costs about Rs 160.
The Nykaa sprays come in a home variant and the other is a travel variant. I honestly bought both because of the packaging. I find this the coolest looking disinfectant spray in the market right now. But what I was really curious to know about was the difference between the two variants. I even reached out to the brand on Instagram and they told me the difference was in the ingredients. So they said the home variant has lavender and the travel variant consists of neem which is a stronger fighting agent. Now that makes no sense to me because both of them contain the same quantity of absolute alcohol which is 84.4% and both claim to kill 99.9% of germs. Plus neem is a very safe ingredient so it's not as if it can't be uses at home or you know in smaller not se ventilated spaces. \
Check out the video below for the detailed review and final recommendation on the product 🙂
Nykaa Veggie Cleaner Review, Price & Buy Online
Price: Rs. 149 for 200ml
Can be bought online on Nykaa
Now coming to the veggie cleaner, it can be used on both vegetables and fruits. But pls don't use this directly. The instructions on the pack clearly state to dilute 2 tsps of the liquid with 2 liters of water. And then you can soak yours veggies and fruits in it for 5 mins.
I bought this because it is impossible to leave out veggies or fruits for 24 hrs or leave them out in the sun. And I wanted to find a solution to make sure it doesn't consist of any germs or anything that can pass on covid 19 considering the veggies are touched by alot of ppl by the time it reaches the consumer. So the Nykaa veggie cleaner claims to remove harmful germs, chemicals and waxes.
The full detailed video can be found found on my Youtube Channel.
Follow Me
Instagram
Youtube
Facebook
Twitter