My Envy Box Products: January Edition!
My Envy Box Products: January Edition!
Hello Girls!
I'm not a fan of beauty sampling boxes as most of the times you end up receiving one or two products which aren't according to your liking hence I never subbed to any. However, I was pleasantly surprised when I received My Envy Box today. I got 6 products ranging from skincare, haircare,makeup and perfumes! I must say I am highly satisfied with the products I got and the best part is that the sample sizes are good enough to help me make up mind over buying the full size products!
The January My Envy Box comes packaged in a classy and pristine white cardboard box with a magnetic flap. I love the box and I'm definitely keeping it for storing my blushes in this! My Envy Box costs Rs 850.
I got samples from Luxury brands like Ellie Saab,Thalgo, Organic Beauty, Rene Furterer & Eminence Organic. I also got discount cards to redeem if I want to buy the full size products.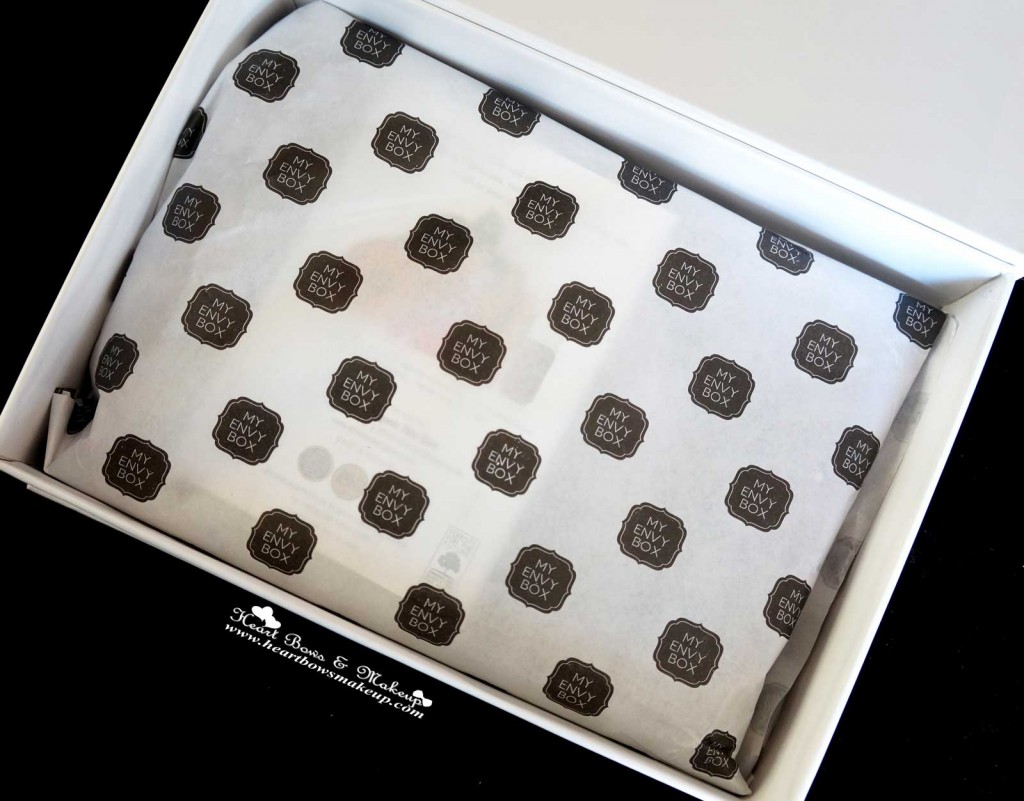 A look at the products I got in My Envy Box January Edition!
Discount Coupons which also contain information regarding the products and directions of use
Ellie Saab Le Parfum EDP- Rs 2950 for 30ml
Its said to contain a beautiful harmony of floral as well as woody notes and I received 4 cut out samples of it. I couldn't help opening one as soon as I got the box and I really loved how sensual yet sophisticated the scent is. However, its a wee bit strong for me so I'm gonna give this for my mom to travel with.
Rene Furterer Karite Intense Nourishing Shampoo – Rs 1320 for 150ml
Rene Furterer is a french brand which is popular all over the world for their hair care products. I got a 15ml sample size which is good enough for 2 washes. I'm super excited to try this out as it claims to deeply hydrate and replenish the hair which is exactly what my dry and frizzy hair needs right now. Also, the info card claims that you can notice a huge difference as soon you start using it!
Rene Furterer Karite Intense Nourishing Mask 100ml- Rs 2200
This also sounds very hydrating for dry hair and I'm super excited to try it this weekend. I'm sure this 15ml sample will adequately cover my mid-back length hair!
Eminence Organic Tinted Moisturiser SPF 25- Rs 3993 for 35ml
I have never heard of this brand so I did what any girl would do. Take the help of google baba! 😀 Eminence Organic is a luxury organic brand based in Hungary and I'm stocked to receive a tinted moisturiser in my box. The 6ml samples will definitely last me 2-3 uses.
Thalgo Unizones Clearing Corrector- Rs 2350 for 30ml
Thalgo is one brand that I've always wanted to try and I got such generous samples of it. I received 2 sample tubes of 2ml each. This sounds great for evening out the complexion and reducing pigmentation of marks. If this works well for my skin then this will be one product I shall certainly buy!
Thalgo Brightening Regulating Essence- Rs 3700
Another skincare product that I'm really excited to try as it claims to even out the complexion. I got 2 sample tubes of 2ml each of this one as well.!
The whole point of subscribing to a beauty box is to try out luxury samples so that you don't end up spending a good amount of money for something that doesn't work for you. I believe My Envy Box is one of the best beauty boxes available in India and it is a total value for money! Currently the subscription is on invite basis so if you're interested you can request an invite here