Maybelline Lip Polish Glam 13 Review: The Best Nude Lipgloss!
Maybelline Lip Polish Glam 13 Review, Swatches & Price
Hiya Gals,
I'm sure you all must have tried atleast one the Maybelline Lip Polishes by now, if not you are seriously missing out! Today, I have Maybelline Lip Polish in Glam 13 under the limelight which is one of the prettiest and wearable n*de lipglosses I've tried! You can check All Maybelline Lip Polishes Swatches here and buy them online at Nykaa
Product Description
A TRIO of CONCENTRATES:
1)Potent Color Extracts: Pure saturated color pigments that provide deep intense color like a lipstick.
2)Concentrated Liquid Balm: Moisturizing Liquid Conditioning Balm gets the lips ready for 3)Intensely Rich color. Gives a soft Cushiony feel & care to the lips.
4)Glossy Shine Serum: Built-in glossy top-coat, that makes lips look fuller & more luscious.
5)Specially designed Leaf-shaped applicator which makes application quick & precise.
Price: ₹450
Available online at Nykaa

Packaging
The Maybelline Lip Polishes come in a transparent rectangular lip gloss tube with a silver cap. Due to the transparent packaging it is easier to identify a particular color incase you own more than 1 (which you most probably do!) The packaging is quite unique as it looks like an inverted lipstick. I'm also quite fond of the its petal shaped applicator which applies the product evenly.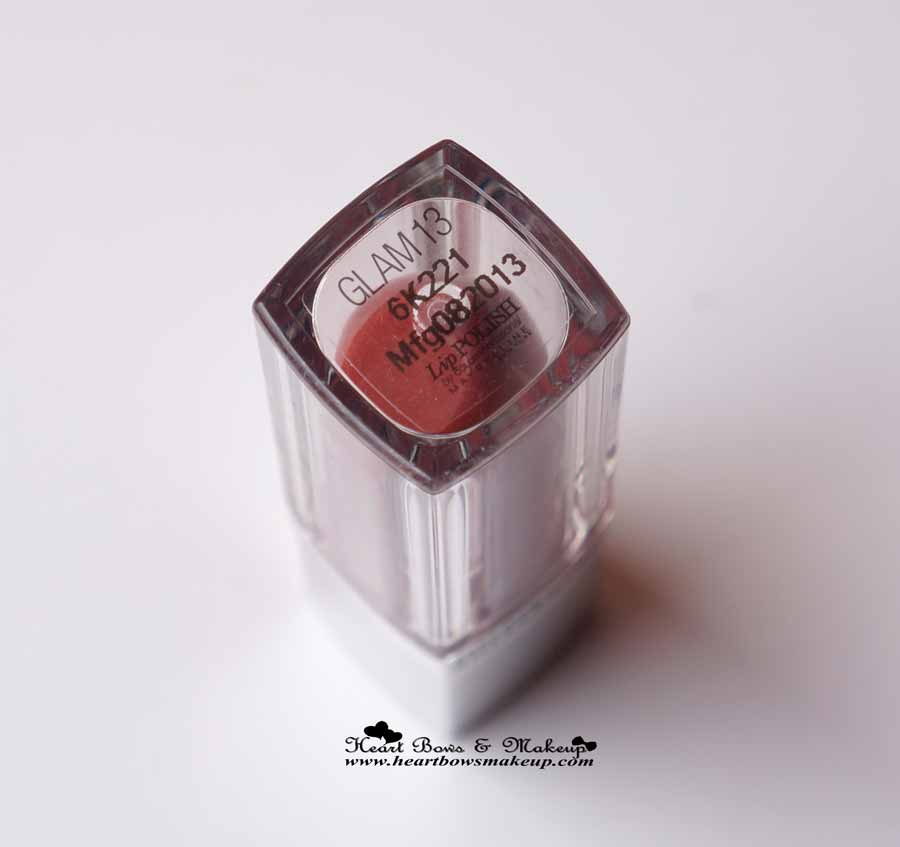 Shade
Maybelline Lip Polish Glam 13 looks like a really dark brown in the tube but it is a gorgeous nude pinky brown upon swatching. It contains minute gold shimmer which hardly shows up and just adds to the juicy finish. If you're like me who judges a color by looking at the tube then you really shouldn't and just swatch this as its one of the prettiest everyday shades. Glam 13 will suit all skintones be it light,medium or dusky!
Texture
Maybelline claims thats its a trio of lipstick,lipgloss and lip balm and I couldn't agree more! It is slightly thick but does not feel sticky and my hair certainly doesn't stick to it. Its very hydrating and feels extremely comfortable on the lips! Unlike Maybelline Glam 9 this does not settle into fine lines. It gives a juicy and glossy finish to the pout and makes them look fuller. Being a gloss it does transfer and that might be a con for some.
Pigmentation & Staying Power
Maybelline Lip Polishes are well pigmented and provide a pretty good coverage. These are not liquid lipsticks so they do not give an opaque finish but it will adequately cover pigmentation of lips. They also last a good amount of time. Maybelline Lip Polish Glam 13 has a wear time of about 3-4 hours on me and fades evenly. It does survive a small snack or a drink but being a gloss it does not last a full meal.
Pros
1) A gorgeous pinkish brown which will flatter all skintones
2) Thick smooth and buttery texture which does not feel sticky
3) Instantly hydrates the lips and feels very comfortable
4) Makes the lips look glossy and fuller
5) It is decently pigmented
6) Lasts a good amount of time and survives small snacks
7) Has a great quality applicator which applies the product evenly
8) Easily identifiable packaging which resembles a lipstick 😀
Cons
1) Transfers a bit(not exactly a con for me as most glosses do transfer)
HBM Rating






4.5 / 5(Reviewed by Lisha B.)Maybelline Lip Polish Glam 13 Review: The Best Nude Lipgloss!
HBM Recommendation:Maybelline Lip Polish Glam 13 is a flattering nudish pinky brown which will flatter most skintones and will not wash you out. It has an hydrating texture and feels very comfortable on the lips. Maybelline Lip Polishes are one of the best glosses I've tried in terms of texture,pigmentation and staying power. I strongly recommend it!