L'Oreal Rouge Caresse Lipstick 04 Rose Mademoiselle Review & Swatches
L'Oreal Rouge Caresse Lipstick 04 Rose Mademoiselle Review & Swatches
Hello Beauties!
As you know I picked up 3 L'Oreal Rouge Caresse Lipsticks on my recent trip to the mall and today I'm going to review Rose Mademoiselle. Don't forget to check out L'Oreal Rouge Caresse Lipstick Swatches here BTW this review is really special as it marks my first century! Yep this is my 100th post on HBM. Though I will rejoice once I manage to publish 100 posts written by myself which excludes all PR posts :p
Related Posts:
L'Oreal Rouge Caresse Aphrodite Scarlet Review
L'Oreal Rouge Caresse Dating Coral Review
Product Description
The Rouge Caresse lipstick has a flutter of kissable, soft, colour. Its delicate texture glides onto lips creating a veil of colour with a luminous shine. It adds a desired pop of color with a meltingly soft application.
Price: ₹ 499
Buy online at Nykaa & Flipkart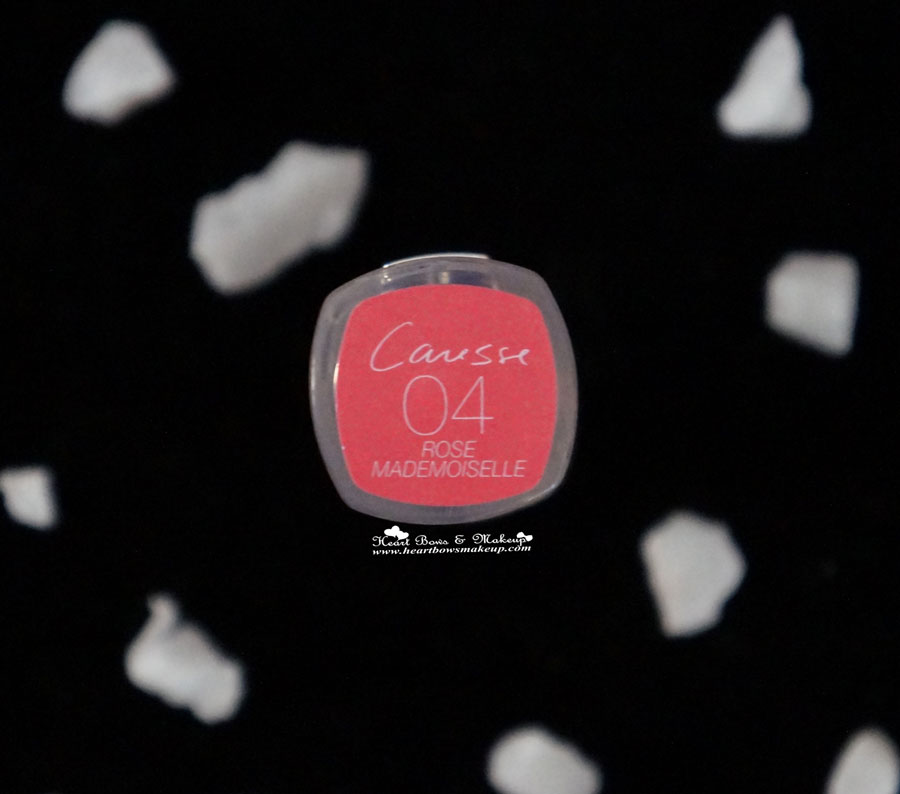 Packaging
The L'Oreal Rouge Caresse Lipsticks come in a transparent packaging with a silver bullet.Its reminiscent of their Infallible Lipsticks. The lipstick has a color coded sticker below which eases identification and is really helpful in choosing a particular color in hurry. The packaging is sturdy and travel friendly as the cap shuts tightly and won't come off on your handbag.
Shade
Rose Mademoiselle is a girly cool toned pink with a slight mauve undertone. The shade is suitable for everyday wear and perfect for young girls who can't rock bold and pigmented shades. This is the sort of shade I can wear pretty much everyday and am quite fond of it. However, I think it will suit only light to fair skintones and will definitely wash out the deeper complexions.
Texture
The beauty of the L'Oreal Rouge Caresse Lipstick lies in their texture. It has a light and buttery texture which glides effortlessly on the lips. Rose Mademoiselle is moisturizing and comfortable to wear but I still needed a dab of lip balm to adequately hydrate my extremely dry lips.
Pigmentation
I'm a huge fan of sheer lipsticks and glosses as there are only a few places where I can rock my bright & pigmented lip colors so when I saw that the Rouge Caresse Lipsticks were sheer (yet buildable) I knew I was going to like these alot.
However, it will look horrible on pigmented lips so I suggest girls with issues of lip pigmentation to skip this. Its perfect for girls who prefer a wash of color and don't like wearing saturated lip colors.
Staying Power
Rose Mademoiselle has an average staying power and lasts upto 3 hours on me with full intensity after which it fades into a strong pink lip stain.Due to the creamy texture it does not survive snacks or meals which is a bit of a bummer. Since it leaves a nice pink stain behind you do not need an immediate touch up!
Pros
1) A gorgeous cool toned pink which is pretty and 'oh so beautiful'
2) Creamy texture which does not tug or pull
3) Does not settle into fine lines and is moisturising
4) A perfect everyday wear shade
5) Sheer to buildable pigmentation
6) A pretty and travel friendly packaging
7) Comes in a good variety of shades
Cons
1) The pigmentation is sheer which many ladies abhor(not an issue for me though)
2) The wear time could've been better
HBM Rating






4 / 5(Reviewed by Lisha B.)L'Oreal Rouge Caresse Lipstick 04 Rose Mademoiselle Review & Swatches

HBM Recommendation: L'Oreal Rouge Caresse Lipstick is a pretty blue based pink which gives a nice wash of color and adequately moisturizes the lips. Its perfect for young girls or people just starting to dabble in makeup. However, those who prefer pigmented lipsticks should steer clear of this.