Lakme Absolute Illuminating Range Review, Swatches, Price & Buy Online India
Lakme Absolute Illuminating Products Review, Swatches, Price & Buy Online India
Lakme recently unveiled their Illuminating range (both makeup & skincare) at the Lakme Fashion Week which I shall be reviewing and swathing today. The new makeup range is all about shimmer, sparkle and radiance. Think luminous skin, metallic eyes and bold shimmer lips and nails. The Lakme Absolute Illuminating Range consists of the following products
11 Lakme Absolute Gel Stylist
3 Lakme Absolute Precision Artist Eye Liner
2 Lakme Absolute Illuminating Eye Shadow Palette
15 Lakme Absolute Illuminating Lip Shimmer
Lakme Absolute Precision Artist Eye Liner Review, Swatches, Price & Buy Online India
Price: Rs 850
Available in 3 shades: Burnished Brown, Emerald Green, Blue Sapphire
The Lakme Absolute Precision Artist Eye Liner is a retractable pencil with a rubber grip. These twist up and down from the middle and not the color coded bottom like I initially thought. The Lakme Artist Eye Liners have a soft and creamy formula and the tip doesn't break despite the hot weather. These are kajal + eyeliners hence safe to be used on the waterline though I would not recommend it as using shimmer on the waterline is never a good idea.
Burnished Brown: A beautiful deep metallic brown
Emerald Green: A jewel toned green which flatters the Indian skintone really well
Blue Sapphire: A mid toned metallic blue which will not look OTT on warm skintones
Lakme also recently launched 3 new metallic shades in the Lakme Eyeconic Kajal range but the formula of this one is obviously much better. The Lakme Absolute Precision Artist Eye Liners show up well say in a swipe or 2 and are long lasting. I get a wear time of about 6-7 hours on me after which it starts smudging. The only drawback I feel is the high price tag which should have been a bit lower. If I had to recommend one shade then it would be Lakme Burnished Brown which has become my favorite brown liner.
Lakme Absolute Illuminating Eye Shadow Palette Gold Review, Swatches, Price & Buy Online India
Price: Rs 995
Available in 2 shades: Gold & Silver
This was the one product that I was the most excited about. Its so rare to come across an eyeshadow palette by an Indian brand and the Lakme Absolute Illuminating Eyeshadow Palette looked very promising. I have the shade gold, which is a warm toned variant and has the perfect mix of neutrals. I know the palette has not been receiving alot of love from bloggers which really surprises me as I love it to bits.
It has a soft and smooth texture and can be a bit chalky because of it. Most of the shades are well pigmented though I've only used this with an eyeshadow base. I love the shades in the palette as it is perfect to do a neutral everyday look to bold smokey eyes. For this bold smokey eyemakeup, I only used the Illuminate palette for it. Hence, I can easily say its a very versatile product. It is one of the best eye shadow palettes available in India.
When used with a good base like the Kryolan Derma Color Camouflage Creme, the eye shadows stay put for a decent 5-6 hours without creasing. For a change, I think the price of the palette is quite justified as the eyesahdows are not only good but the black packaging is very classy and stylish.
Lakme Absolute Illuminating Lip Shimmer Review, Swatches, Price & Buy Online India
Price: Rs 700
Available in 15 shades: Rose Gold Dust, Copper Spark, Burgundy Beam, Metal Rust, Crimson Blink, Pink Flash, Bronze Flake, Orange Glitz, Ruby Glimmer, Wine Gleam. Tinsel Peach, Chestnut Shimmer, Sunkissed Salmon, Scarlet Magic, Tropical Shine
The Lakme Lip Shimmers come in a black translucent packaging with the shade names mentioned on the bottom. It has a creamy formula and contains reflective fine shimmer particles. Some of the shades also have a very frosty finish. I'm not a huge of shimmer lipsticks but luckily the shimmer does not travel all over the mouth like most lipsticks do.
The Lakme Absolute Illuminating Lip Shimmers make my lips look full and plumper. For those who love shimmer, this the perfect range to rock at a party or wedding. I have 3 shades from this range and all of them show up easily. The new Lakme lipsticks provide good coverage and hides lip pigmentation well.
Pink Flash: This is a pretty fuchsia pink with fine shimmer
Tropical Shine: This is a frosty and shimmery peachy rose-gold lipstick. Its the sort of shade that I felt will look more flattering as a cheek highlight but I decided to experiment and wore it for this look and boy does it look good!
Crimson Blink: This is a shimmery red which looks quite nice on the lips
The lasting power is great for a creamy formula and it stays put for about 5-6 hours depending on the amount I drink or eat. Some of the darker colors like Lakme Absolute Crimson Blink also tends to stain the lips. Of course, the price of this one is also on the higher side.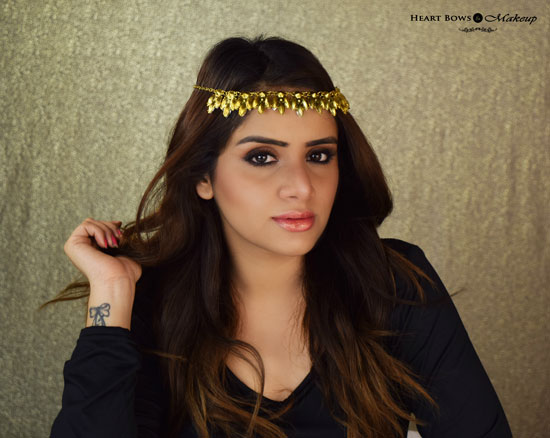 Like I mentioned before I created this look with Kareena Kapoor's Lakme Illuminate look as an inspiration. I shall be posting more detailed pictures tomorrow with the complete list of products.
Overall, the Lakme Absolute Illuminating Range is a delight for those love shimmer and bling. The range consists of high quality eye pencils, eye shadow palettes and lipsticks. In my experience, they apply well and last a great amount of time. My personal favorite is the Illuminating eyeshadow palette which I felt was a great deal.
PR Samples. However, my opinion remains honest and unbiased.