Dress Your Monotones The Indo-Western Style!
Indian Fashion Blog: How To Wear A Monotone Outfit Indo-Western Style
Fashion trends may come and go but there is one trend that has stayed for all this while- The very famous Monotone outfit. From our Bollywood celebrities like Deepika Padukone, Sonam Kapoor, Priyanka Chopra to Hollywood beauties like Kim Kardashian and Taylor Swift, everyone has been donning a monotone outfit. Monotone dressing looks effortless but can be very difficult to pull off. One tiny mistake and you can end up making a huge fashion faux-pas. If you want to know how to wear a monotone outfit and still look stunning, then keep on reading.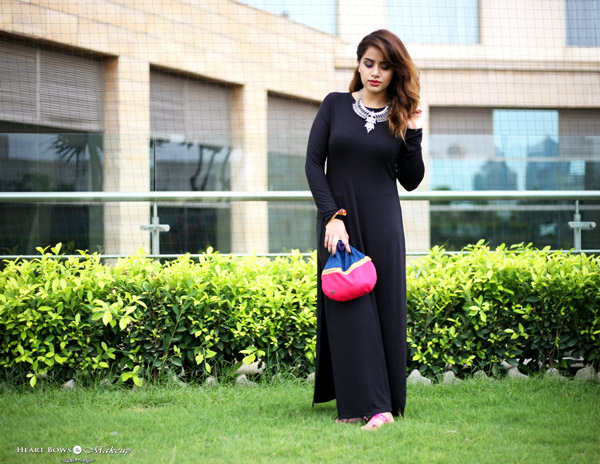 What is the monotone trend?
The monotone trend is all about pairing clothes in the same color family together. From a simple all black tee paired with a black jean to a mint blue top along with periwinkle blue skirt, everything becomes a part of the monotone outfit. Paired with some contrasting accessories and flawless makeup, you are good to go.
Indian Fashion Blogger: How To Style Monotone Outfits Without Looking Boring
Follow these 4 simple steps and you will be ready to rock your monotone dress: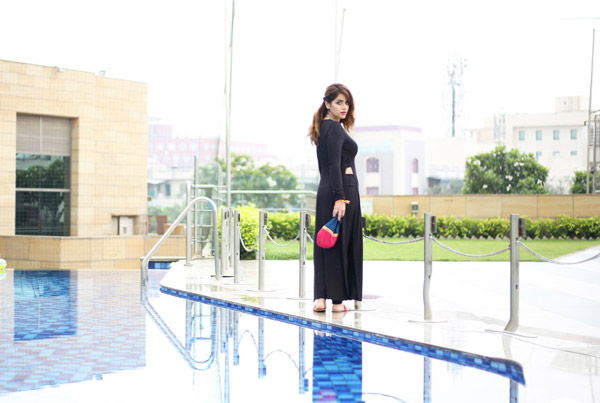 1. Do the basics : Don't jump into the bandwagon of monotone dressing with bright or poppy colors. Instead, start with neutrals colors like blacks, greys, browns or dark blues.
Just like Lisha, who paired her waist high slit maxi top with her jet black leggings. The Indo-western outfit is comfortable yet stylish. It looks effortless, like she has just wore her favorite clothes together and made this gorgeous outfit. You can also pair your neutral tops or kurtas with jeans, shorts and jeggings.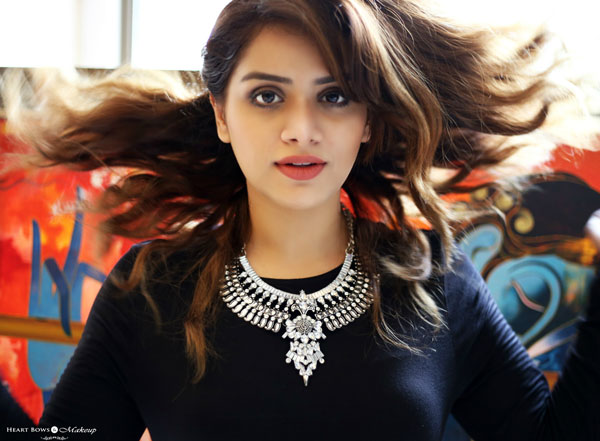 2. Accessorize : Accessorizing a monotone outfit is a must. Without which the outfit can look very dull and plain. So, grab your favorite hat or open your stash of jewelry and pick out a contrasting necklace or a pair of beautiful earrings!
Lisha, has perfectly accessorized her all-black monotone outfit with a big, chunky Bohemian necklace. The necklace adds the right amount of oomph to the outfit and makes her look well put together. A statement neckpiece is the easiest way to perk up a casual outfit from a day to night routine.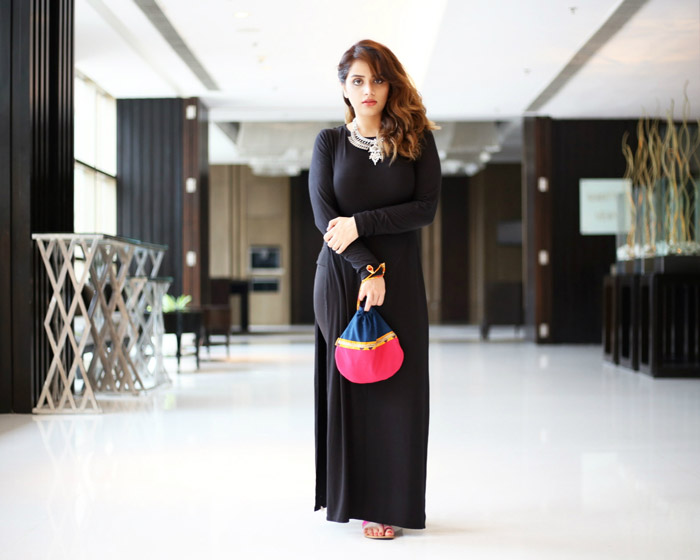 3. Coordinate your shoes and bag : A very important factor in the monotone outfit are the shoes and the bag. They are the *real deal breakers*. Make sure the bag and the shoes you wear with your outfit fall in the same family of colors and compliment your monotone clothing.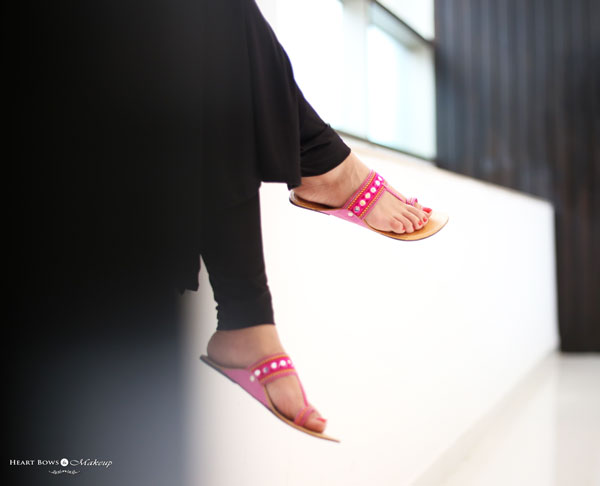 Lisha added a pop of colour in her all-black Indo-Western outfit with a fuchsia pink and blue Potli bag carefully coordinated with poppy pink Kohlapuri sandals. The pink not only brightens up her look but also adds the required glam.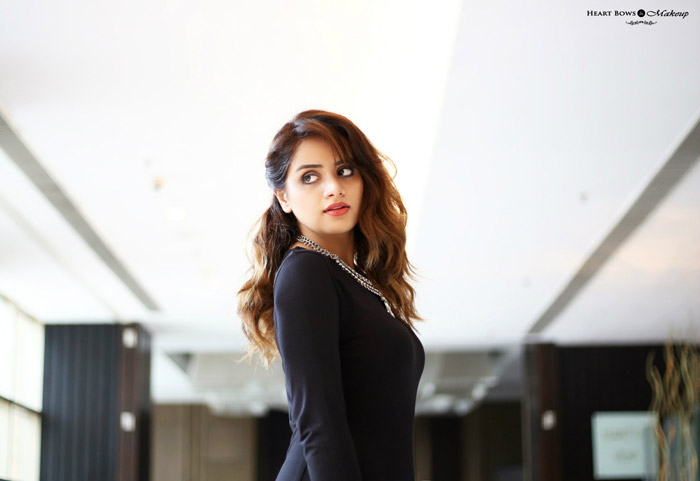 4. The Right Makeup : Now that your outfit is on point, the makeup should fit the look seamlessly. Remember the rule, focus on either the eyes or lips. You can pair your monotone outfit with a bright lip and simple eyes. Or else, take cues from Lisha, who paired a nude lip color- L'oreal Maple Mocha with earthy-brown smokey eyes. Her side swept loose curls complete the look perfectly.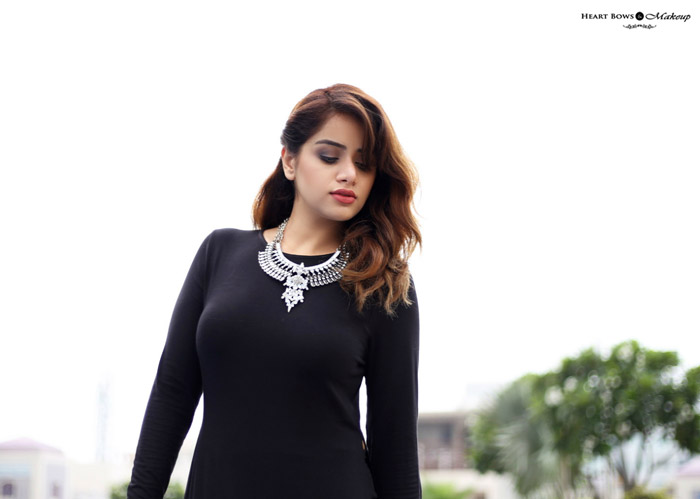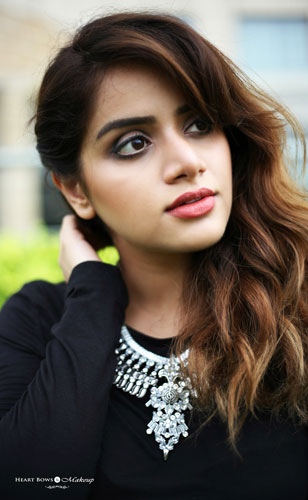 With these 4 tips, you can never go wrong with your monotone outfit. Now, run to your wardrobe and start pairing your monotone clothes with the desired accessories to look perfect!
Location: Courtyard by Marriott, Gurgaon