Wills India Fashion Week Spring Summer 2015 Collection- My Top Picks!
Wills India Fashion Week Spring Summer 2015 Collection & Highlights
Hello Girlies,
The WIFW SS '15 concluded a couple of weeks back and I was really excited to attend it. I miss the frenzy, excitement and all the stress of deciding what to wear every morning. The thing about fashion week is that company matters alot because you will up end spending quite a bit of time waiting between shows and ofcourse taking selfies. Luckily for me I had Anshita & Shreya for company and these girls are an absolute blast. Our personalities are quite similar and we always hit it off really well so they made fashion week all the more memorable.
Well, it might be a little late but I really wanted to showcase the highlights from Day 1 to 5 of WIFW Spring Summer 2015. A few shows always stand out and I shall showcasing my top picks and trends from each day!
Wills Lifestyle India Fashion Week SS 2015 Day 1 Highlights
Peru by Aneeth Arora
The fashion week was kick started by Aneeth Arora's Peru. The collection's theme was floral which showed not just in the outfits but on the runway as well which was turned pretty much into a garden with saplings and flowers. It was aimed at the woman who would rather wear flowers in her hair than diamonds around her neck. I loved the sheer tops with lace detailing and the bright flower embroidery. The hand crochet blouses and the beaded top were the highlights for me.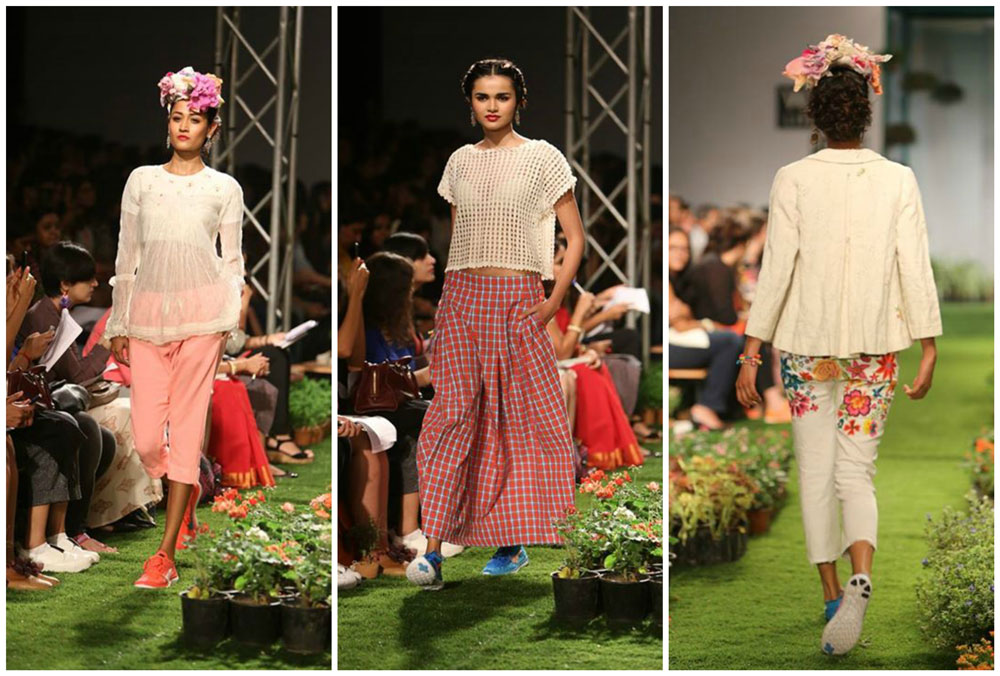 Alpana-Neeraj
Designer duo Alpana-Neeraj's collection at WIFW 2015 was heavily influenced by the popular culture of "Kawaii" Lean structural details, sharp lines juxtaposed on softer curves and bows, large floral patches, waist sashes and tie-up elements all found their place. The attention grabbing headgear and bows on the dresses added an aura of fantasy and extravagance.
Tarun Tahiliani
The most awaited collection of the day was by the master of couture- Tarun Tahiliani. The collection was inspired by the British-Indian artists Amrit and Rabindra Singh vivid paintings and the show was called The Singh Twins. He showcased a burst of color right from the skirts, dresses, saris to dhoti pants, harem pants, gilets and jackets. He mixed traditional motifs with his signatures silhouettes and borders with Persian motifs were used for skillful layering.The master certainly didn't let us down and managed to wow us all.
Wills Lifestyle India Fashion Week SS 2015 Day 2 Highlights
Rajputana By Samant Chauhan
On Day 2, I attended a creative delight –Rajputana by Samant Chauhan. Known for his extensive handwork and detailing, the collection showcased sheer dresses, long skirts and hand weaved lehenga cholis with floral embroidery. The color palette was mostly white and pastels beautifully complimented with hues of blue, red and yellow embroidery. The show stopper was literally dressed as a bouquet and the sheer creativity bowled me over
Gauri & Nainika
Gauri & Nainika are known for their stylish, chic and wearable dresses. Their Spring Summer Collection 2015 consisted of semi formals and the inspiration behind it was global warming. The pristine and whimsical collection consisted of maxi gowns, mermaid dresses and empire waist dresses. The inspiration was clearly visible in the prints and the clean tailored, silhouettes were impressive.
Malini Ramani
Malini Ramani certainly stole the show on day 2 of WIFW SS 15. Her collection primarily consisted of hues of black, brown and gold. The play of sheer fabrics, sequins,plunging necklines and cuts was striking. The collection mostly consisted of kaftans, playsuits, and dresses
Wills Lifestyle India Fashion Week SS 2015 Day 3 Highlights
Rajesh Pratap Singh
Rajesh Pratap Singh's Spring Summer Collection 2015 'Blue Blood' was an ode to denims. While romancing with ikat, he innovates the fabric with stainless steel, khadi linen weaves and Jacquard stoles with selvedge details. The collection aimed at celebrating the purity as well as the versatility of his much beloved fabric- denim.
Masaba
My most awaited collection was 'Patakha' by Masaba Gupta. The models not only sashayed down the runway with patakhas in their hair but the collection saw many fireworks prints as well zodiac designs. Besides the quirky designs and laidback silhouettes what caught my eye were those jaw dropping accessories! <3
Wills Lifestyle India Fashion Week SS 2015 Day 4 Highlights
Sahil Kocchar
On day 4, I attended many shows and I had a tough time choosing my picks. I chose Sahil Kocchar's 'Dhoop Chaun' not only for his splendid collection of classic designs and embroidery but also for the fun and electricfying atmosphere that he created which had us all hooting in the end with models daning to 'Yeh Jawani..' with illuminated paper lamps. Talking about the collection, Sahil paid tribute to the beautiful craft of Mathura known as Sanjhi with beautiful 3D floral motifs and petal embroidery.
Wendell Rodricks
Wendell Rodricks showcased 'Yoga Calm' depicting the benefits of yoga on the mind and body. The collection consisted of pristine white dresses, tunics, kaftans and wraps. Fabrics like khadi, cotton, linen and satin silk were used and the whole collection was fresh and subtle.
Wills Lifestyle India Fashion Week SS 2015 Day 5 Highlights
Nida Mahmood
The last day of the fashion week and my 2 favorite designers showcased their collection. First up is Nida Mahmood– the queen of quirkiness. I have always stated that quirky doesn't necessarily have to be ugly and her beautiful and bright collection along with some funky head gear proved it. Taking Irani Cafes as an inspiration and with models dashing down the runways with dubbas we were in for a colorful show with a "happy" vibe
Rohit Bal
The finale of WIFW SS 2015 'Gulbagh' by Rohit Bal was nothing short of brilliant. With Qutub Minar as the back drop and Kashmir's Mughal Gardens as inspiration, Rohit Bal left everyone mesmerized. The collection consisted of subtle white, gold and red flowy anarkalis to grand peplum cholis and lehengas. The attention to detail and the exquisite designs surely made it a perfect end to the fashion week.
So thats it folks. Pastels, quirky and loud prints, a pop color and quirky shoes seem like the trends that will be ruling the season. I know that was one long post and it took me 2 days just to get all the pictures and make them into collages. Hope you all enjoyed it 🙂