OOTD: A Laidback day feat Shilparamam, Hyderabad!
Indian Fashion Blog: How to style a crop top!
If you've been following me on Snapchat or Instagram, then you would know that I recently visited Hyderabad. I had a very hectic itinerary and all I wanted to do was explore the city in my most comfortable outfits. The first day, we decided to explore Shilparamam and Hitech city as I was really tired from the shoot before and wanted more of a laidback yet touristy day.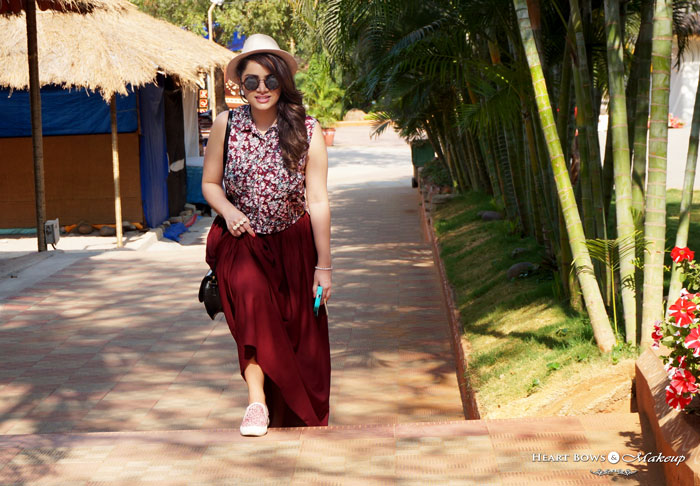 I decided to wear a very flowy maxi skirt with a floral crop top which was comfortable yet chic. I am ofcourse, no size zero or have a taut tummy but who says you need the perfect body to rock a crop top? Crop tops are going to trend majorly this season and there is no reason why you should shy away from them. Go for solid colours and something looser as figure hugging crop tops have a knack of highlighting the paunch.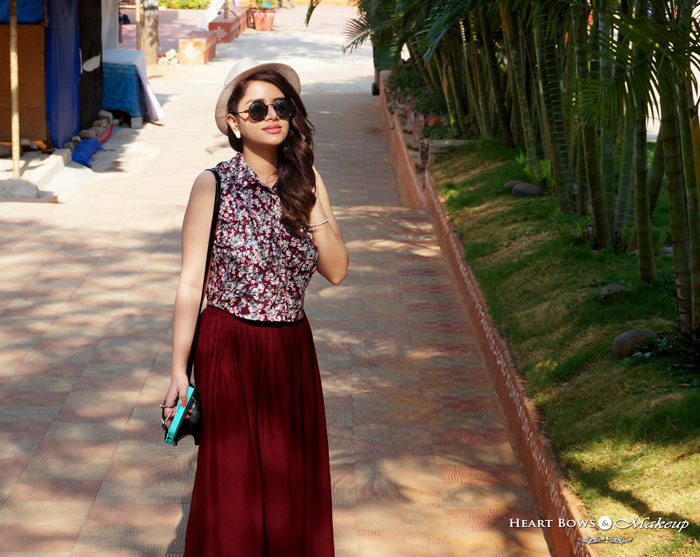 For pairing the crop top, opt for a pair of high waisted trousers, shorts or a skirt. I chose to pair mine with a flowy maxi skirt since my main focus while travelling is always comfort. Choosing the same color palette, in my case bordeaux also makes one look longer which is always a yay for us petite girls.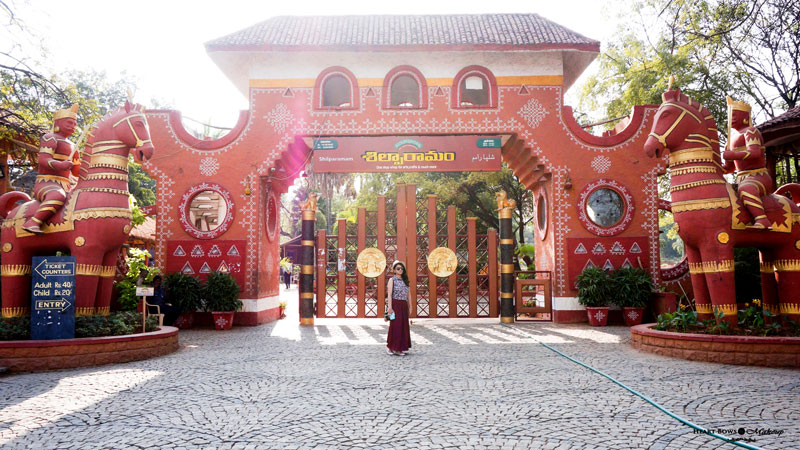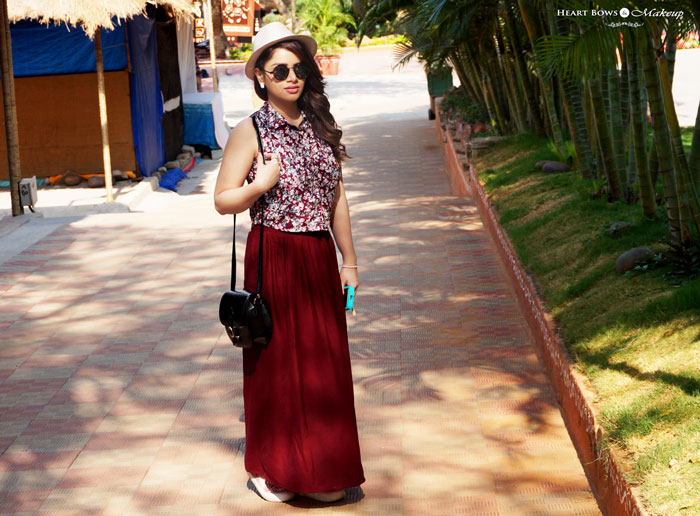 Now coming back to Shilparamam, its like Hyderabad's version of Dilli Haat. Its an arts and crafts "village" where artisans from India showcase and sell their craft. The cultural village has baked clay huts along with a museum which was sadly closed at the time I went. Shilparamam offers boho jewellery, traditional fabrics, beads, handloom clothes, furniture, pottery ware etc.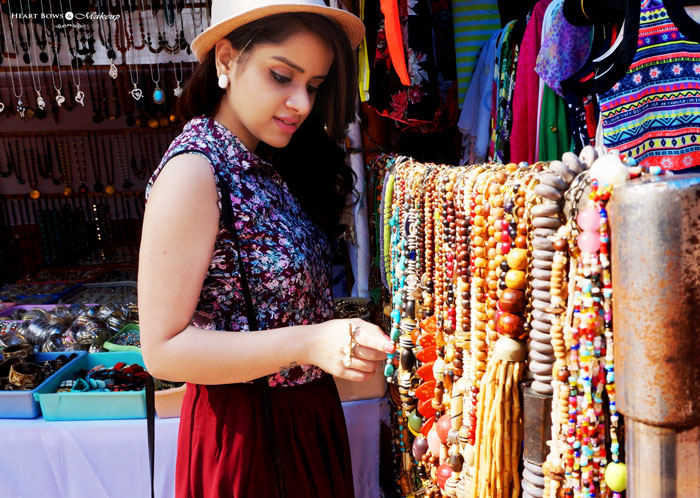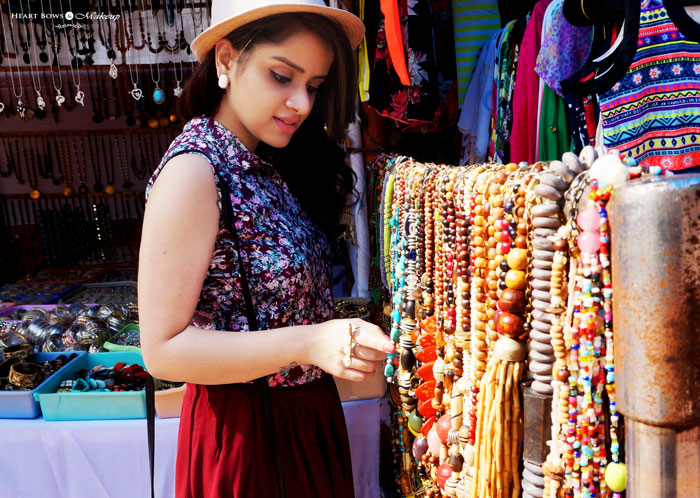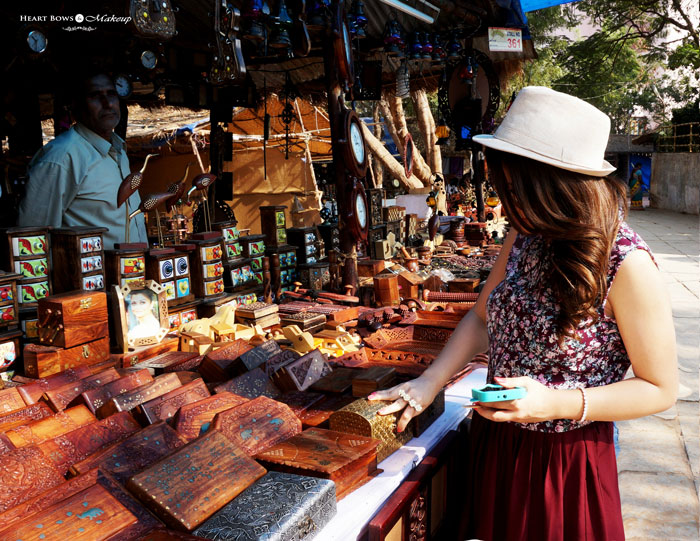 It was a bit hot hence I decided I opted for a nice pair of sunnies and my favorite hat to help beat the heat. We had a great time exploring its amphitheater, sculpture park, shops and ofcourse the food. They also had a mini lake where you could just sit around and chill.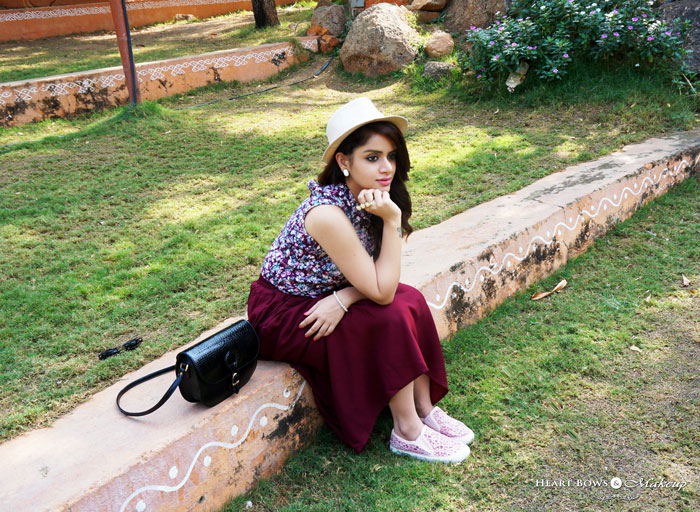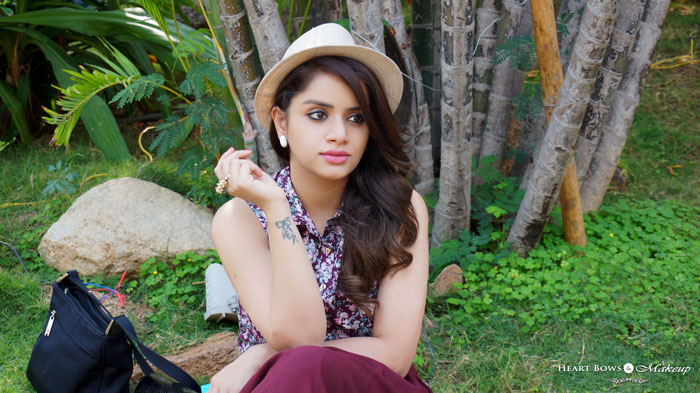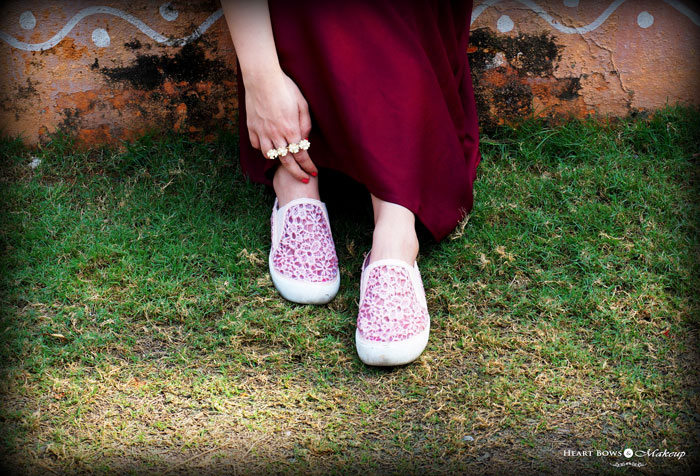 I'm not a huge accessories person and while travelling I always prefer keeping it light. I carried a basic black sling back, some light white studs and a floral ring. As for my footwear, I wore this gorgeous pair of pink lacey flatforms. This girly pair is so comfortable to wear and sure looks pretty!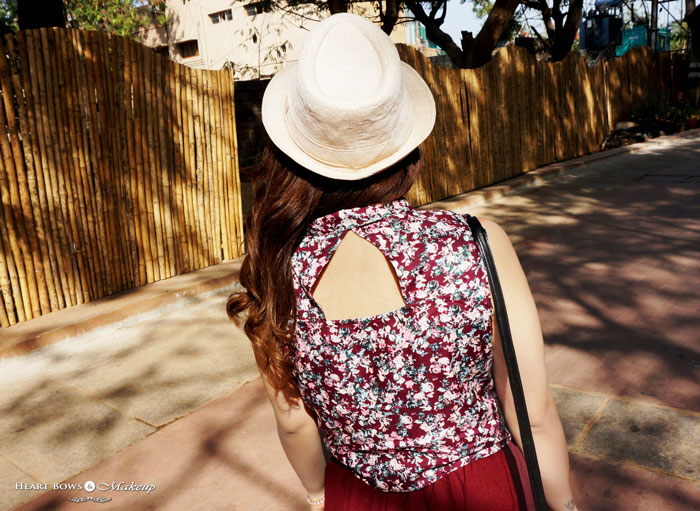 Later, for lunch we went to Chutneys at Inorbit mall for lunch and I had this humungous dosa with 6 delicious chutneys. We even managed to squeeze in an experience at Dialogue in the Dark which was one of the most humbling experiences of my life. My respect for the blind increased manifold and its something one must experience atleast once in their life. Besides that, it such an eye opening experience relying on your other senses. I don't want to give much away but if you're ever in Hyderabad, Bangalore or Chennai then you MUST visit it.
Outfit Details
Crop Top: Westside
Skirt: Oxolloxo
Loafers: Intoto
Slingbag: StalkBuyLove
I've been addicted to the South Indian pickles, filter coffer and the bondas thanks to this trip. Shall share more outfits and travel stores in the upcoming days. Stay tuned 🙂
PS: A big shout to Ramya of the The Style Plaza for being the perfect host and taking me around her city. Thank you so much for being my kickass photographer as well!