OOTD: A Casual Day Out at Golconda Fort, Hyderabad
OOTD: How to dress up casually for travel
Hi Lovelies,
I once again need to apologize for the delay in posting my outfits from the time I went holidaying in Hyderabad. I wanted to make this a weekly feature since we traveled and explored this city for almost a week and there is so much to share. After spending a lazy day at Shilpa-Ramam, we were ready for some adventure and off we went to Golconda Fort. This majestic fort which once held the famous Kohinoor and other precious stones is a marvel on it own.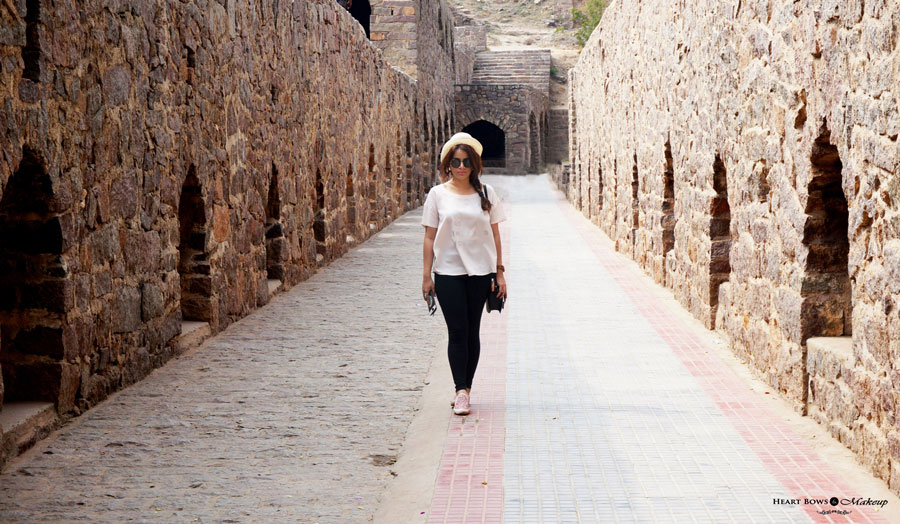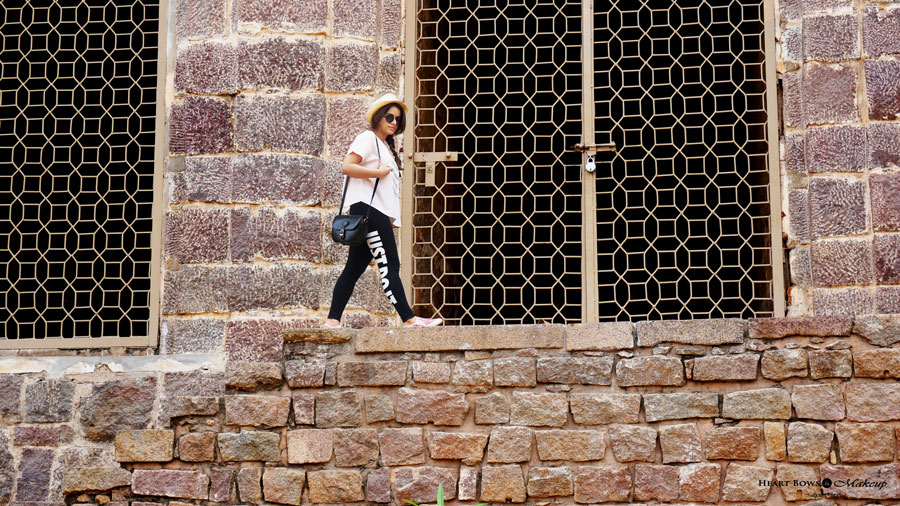 Golconda consists of 4 forts and is one engineering marvel. We spent hours exploring the ruins, gateways, royal halls, stables and even the canons. If someone claps at a certain point under the dome at the entrance, it can be heard up till the highest point of the fort and was used as a warning signal incase of an attack. The fort is spread over 11 kms and it would take a full day if not more to properly explore it. A trip to the City of Nawabs is surely incomplete without visiting this majestic fort.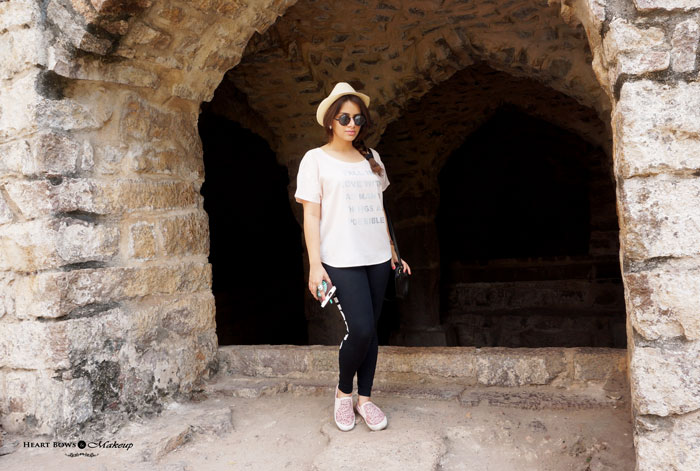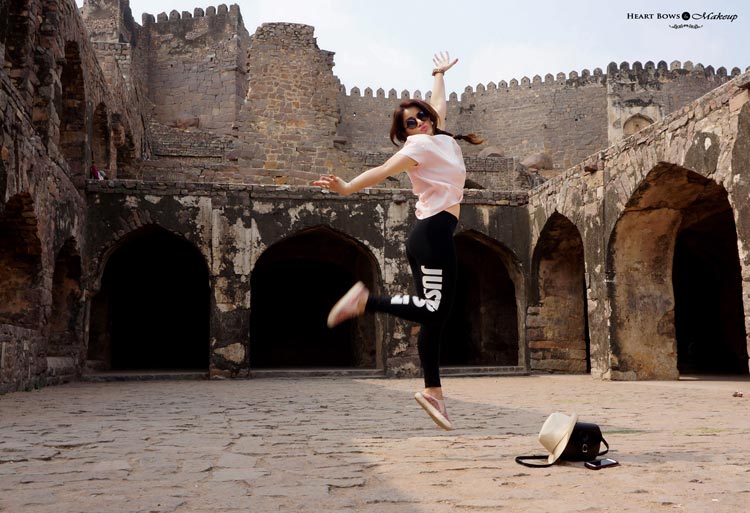 Now enough of my tales about the fort, lets move on to the outfit. Since the weather was brutally hot that day and we planned on being out pretty much most of the time, I opted for a casual, laidback and comfortable outfit. I chose a pair of black leggings with the Just Do It graphic. Yes these are very much like the Nike ones, but I got them off Aliexpress at a dirt cheap price yet the quality is amazing.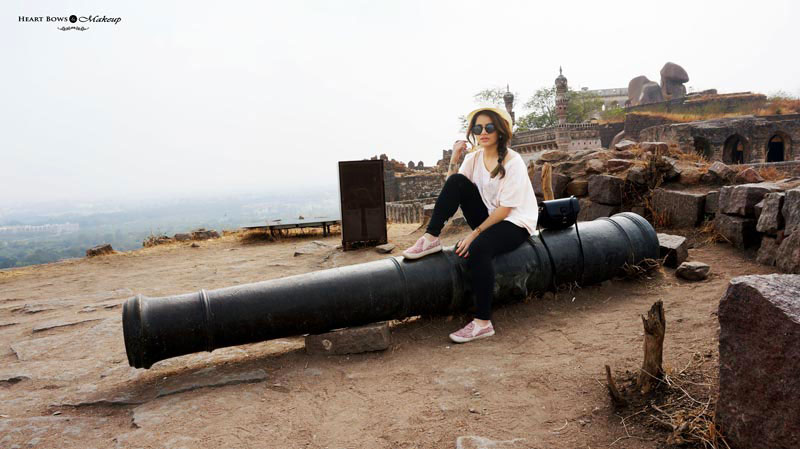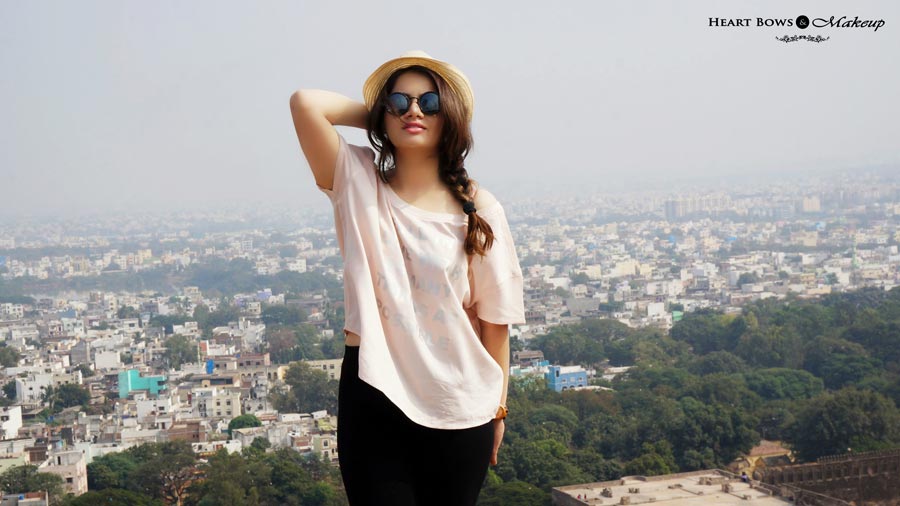 Paired the leggings, with an oversized and pale pink crop top from Westside. If you are looking for cool crop tops in different cuts and prints then you must check out Westside as they have a trendy yet affordable range in stores. To survive the hot weather tied my hair in a side braid, borrowed my friend's Accessorize Hat and a pair of sunnies.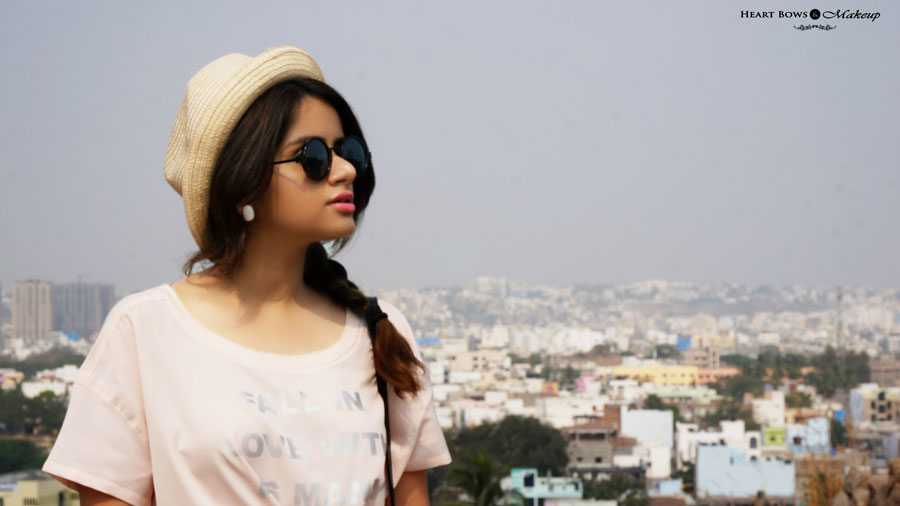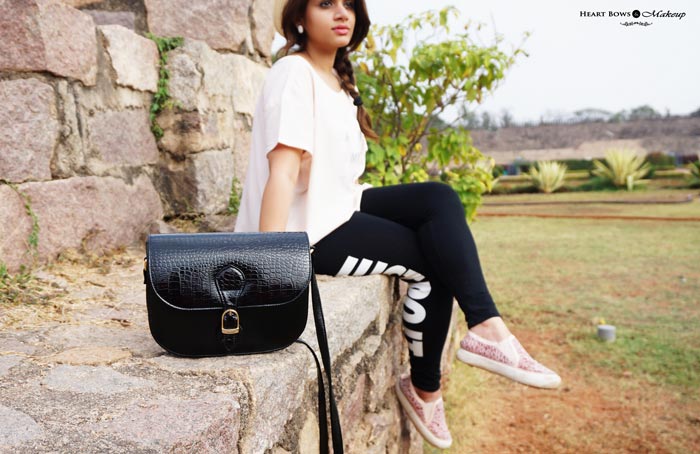 The biggest thing one should take care of while traveling is to wear your most comfortable and trusted pair of footwear. I stuck to this gorgeous lace flatforms by INTOTO for my trip and they lasted me well. For the accessories, kept things minimal with my rose gold JORD WOOD watch, a pair of white stone earrings and a black StalkBuyLove slingbag.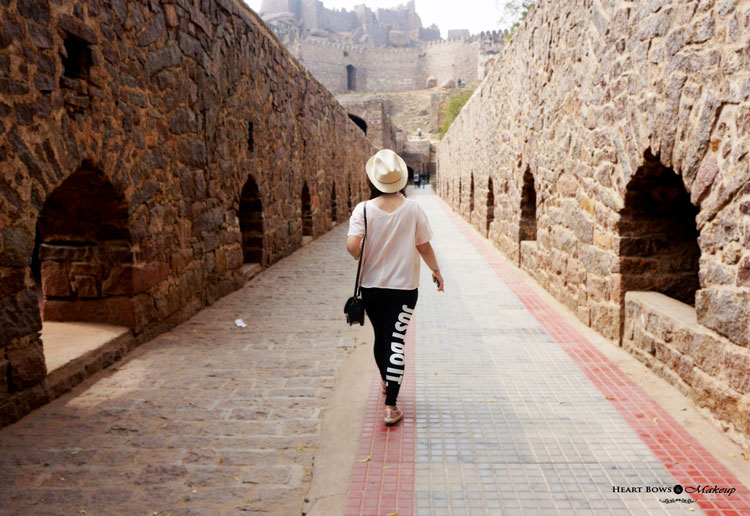 Outfit Details
Top: Westside
Leggings: Aliexpress
Footwear:Intoto
Watch: Jord Wood
Bag: StalkBuyLove
Hat: Accessorize
I must say having visited quite a number of historical monuments in Hyderabad, ASI is doing a great job maintaining our cultural gems. Nothing feels better than revisiting history and seeing it preserved so well.