Maybelline Pink Alert Lipstick POW 4 Review- The Best Coral Lipstick in India
Maybelline Pink Alert lipstick POW 4 Review, Swatches & Price
Hola Chicas,
With spring just around the corner its time to paint the town pink with Maybelline Pink Alert Lipsticks! uh did I sound like an advert? :p I really can't get 'nuff of the latest launch by Maybelline and today I'm going to review POW 4! Don't forget to check out Maybelline Pink Alert Lipstick Swatches Here.
You're bound to find your favorite pink in the Maybelline Pink Alert Lipstick range so if you like hot pinks then you must check out Maybelline POW 2 Review or if you prefer rocking pretty barbie pinks then check out Maybelline POW 3 Review
Product Description
Amp up your lips in the hottest pink
In 4 bright pink shades
Passionate Pink color only from our vivid color pigments
Creamier feel only from our nourishing honey nectar
Price of Maybelline Pink Alert Lipstick: ₹ 375
Buy Maybelline Pink Alert Lipsticks online at Nykaa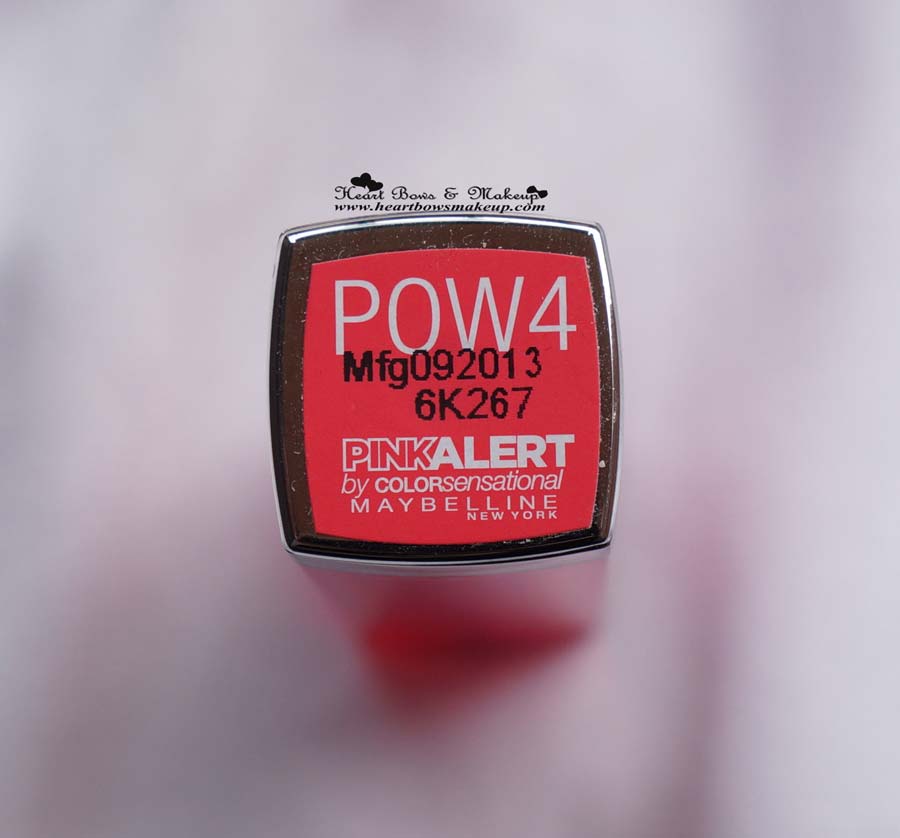 Packaging
The Maybelline Pink Alert Lipsticks come in a pretty pink lipstick packaging with a plastic wrapping screaming "Pink Alert". It has a color coded sticker below along with the shade name to ease identification. I really like the pink packaging and find it girly and attractive. The cap shuts tightly and won't come off in your bag.
Shade
Maybelline Pink Alert POW 4 is a summery and bright coral pink with a slight neon undertone which looks 'oh so gorgeous'. I can see myself wearing it often this coming summers to add that pop of color. Maybelline POW 4 instantly perks up my complexions and will look absolutely stunning on most Indian complexions!
Texture
Unlike Maybelline POW 2 & POW 3 this isn't buttery or very creamy, It has a soft and smooth texture which does not tug upon application. It settles into a semi matte finish and might be a wee bit drying for extremely dry lips after a couple of hours.
Pigmentation
The lipstick is well pigmented which can be built up to get an opaque finish. You can layer Maybelline POW 4 in 2-3 swipes to adequately cover pigmentation of lips! It is definitely more pigmented than Maybelline POW 3 so those with pigmented lips should definitely pick this up!
Staying Power
It has an impressive wear time and stays put for about 4 hours after which it fades into a coral lipstain. Its quite similar to Maybelline Pink Alert POW 2 Lipstick in terms of staying power. The lipstick easily survives small meals and snacks but fades after having a full meal.
Overall, I'm quite impressed with Maybelline Pink Alert Lipsticks. The pigmentation,texture and staying power is commendable especially considering the price tag. Kudos to Maybelline for always coming up with such affordable knockouts. It has definitely become my favorite brand now!
Pros
1)A super pretty coral pink which is perfect for summers
2) Does not tug and settles into a comfortable semi matte finish
3) Does not settle into fine lines
4) It will suit most complexions though those averse to the neon undertone might not like it
5) It is well pigmented and can be built up to an opaque finish
6) Impressive staying power
7) Super Affordable! Can't praise Maybelline enough for pricing it so well
Cons
1) Some might not like the neon undertone
HBM Rating


HBM Recommendation: Maybelline Pink Alert POW 4 is an extremely coral pink lipstick with a slight neon undertone. Its a perfect shade to rock this spring/summer while adding a bright pop of color! It scores well in every department be it texture,pigmentation,staying power or price. Highly recommended for coral lovers!