L'Oreal Rouge Caresse Lipstick 301 Dating Coral Review & Swatches
L'Oreal Rouge Caresse Lipstick Dating Coral Review, Swatches & Price in India
Hiya Girls,
I'm back with another L'Oreal Rouge Caresse Lipstick and this time with a pretty coral shade which is rightly named 'Dating Coral' I'm a huge fan of sheer lipsticks hence I ended up picking up 3 of these.
Related Posts
L'Oreal Rouge Caresse Lipstick Swatches
L'Oreal Rouge Caresse Rose Mademoiselle Lipstick Review
L'Oreal Rouge Caresse Aphrodite Scarlet Lipstick Review
Product Description
The Rouge Caresse lipstick has a flutter of kissable, soft, colour. Its delicate texture glides onto lips creating a veil of colour with a luminous shine. It adds a desired pop of color with a meltingly soft application.
Price: Rs 499
Can be bought online at Nykaa & Flipkart
Packaging
The L'Oreal Rouge Caresse Lipsticks come in a transparent packaging with a silver bullet.Its reminiscent of their Infallible Lipsticks. The lipstick has a color coded sticker below which eases identification and is really helpful in choosing a particular color in hurry. The packaging is sturdy and travel friendly as the cap shuts tightly and won't come off on your handbag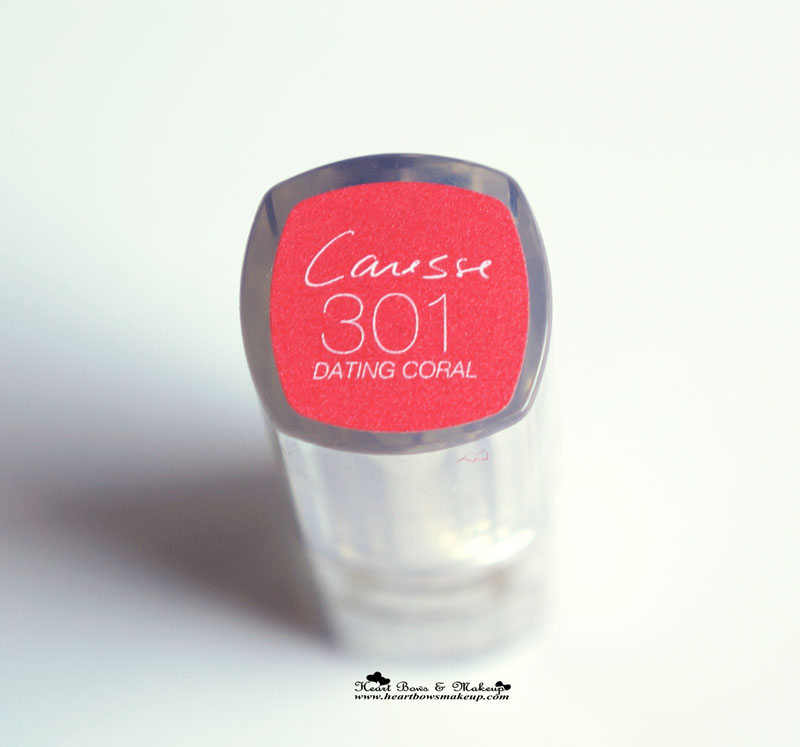 Shade
L'Oreal Rouge Caresse in Dating Coral is a gorgeous nude coral color which will look amazing with a heavy smoky eye makeup! This is the sort of shade I can wear everywhere including college 😀 It will suit pale to light-medium skintone but it will definitely wash out the deeper complexions.
Texture
L'Oreal Rouge Caresse lipsticks have a beautiful texture-soft and smooth which is quite hydrating. They apply quite smoothly and do not dry out my lips at all. It gives a nice glossy finish which I adore! I found it more moisturizing than Rose Mademoiselle and did not require a lip balm underneath.
Pigmentation
I'm a sucker for sheer lipsticks and this is definitely quite sheer. I would've liked it be more buildable(like Rose Mademoiselle) because it ends up looking like a tinted lip balm on me. It gives a wash of color only in 2-3 swipes hence I'm not really impressed with the color pay off.
Staying Power
One of the main reasons why I wasn't bowled over by Dating Coral was because of the staying power. It lasts only upto 2-3 hours and will not survive a snack or a meal. It does not leave a stain behind so for 500 bucks I think I'd be better off with a tinted lip balm.
Pros
1) A gorgeous nude coral which will look great with heavy eye makeup
2) Creamy texture which does not tug or pull
3) Does not settle into fine lines and is moisturising
4) A perfect everyday wear shade
5) A pretty and travel friendly packaging
6) Comes in a good variety of shades
Cons
1) Low staying power and does not survive snacks or drinks
2) Terrible pigmentation. Gives only a wash of color
3) Too pricey for the quality
HBM Rating






3 / 5(Reviewed by Lisha B.)L'Oreal Rouge Caresse Lipstick 301 Dating Coral Review & Swatches

HBM Recommendation: L'Oreal Rouge Caresse Dating Coral is light coral lip color which looks extremely good with heavy eye makeup. However, because of the terrible pigmentation and low staying power I find it too pricey. I'd rather buy a Maybelline Baby Lips Lip Balm which gives a much better color pay off and staying power than spend 500 bucks for a mediocre lipstick.