L'Oreal Paris Mat Magique Matte Powder: A boon for oily skin?
L'Oreal Paris Mat Magique Matte Powder: Best Compact For Oily Skin

Hey everyone,
As you all know L'Oreal Paris came out with an amazing product a few months back – The Mat Magique All In One Matte Transforming Powder. I've already reviewed and swatched the entire range so don't forget to check that out. Personally, I was really impressed with new compact by L'Oreal Paris however being a beauty blogger I get the chance to test out quite a number of products. There are some that impress us while other leave alot to be desired from. Hence, I decided to do test how well the L'Oreal Mat Magique Powder compared against another compact from an Indian drugstore brand which also claims to the keep the face shine free.
Packaging wise, the L'Oreal Paris Matte Transforming Powder is super convenient and attractive. Half of the time when I'm rushing off to another event, I rely on this to mattify my base and give me decent coverage. Nowadays, when I'm some what avoiding makeup, the L'Oreal Mat Magique Pressed Powder evens out my skin to a good extent. This definitely gives better coverage than the compact I decided to compare it with.
Coming to my main requirement- A matte but not flat finish! I did this experiment almost a month back and I'm so mad at myself for not finding the time to share with it you guys sooner. Anyhoo, on day one I decided to use the pressed powder compact by a drusgstore brand which costs near about the same price as the L'Oreal variant. I used the same foundation, concealer, the works so that I could clearly tell the difference and efficacy.
It was Raksha Bandhan when I did this look so went out, came back, travelled in the humid weather and after 5 hours as you can see my face had alot of shine and my T- zone had become very oily. August is pretty humid in Delhi so I wasn't surprised when I noticed that the compact couldn't keep my face shine free for more than 3-4 hours.
The next day, I had an event to attend and I decided to wear the L'Oreal Paris Mat Magique Transforming Powder on top of my foundation. After 5 hours, there was a hint of shine on the nose but overall my face was completely matte. I didn't feel the need to blot or touch up my base. The L'Oreal Mat Magique All In One Powder contains Volcanic Perlite Minerals which basically has a high water absorption ability hence keeps the face shine free much longer compared to other compacts.
After the event, I decided to shop a bit, check out some new makeup launches and as you can see my base is still as fresh without any touch-ups. I changed my lipstick as I was trying out some new shades at a makeup counter but after 7 hours I still did not feel the need to blot my face which is commendable as I usually blot my T-zone every 4 hours or so when I'm out and about.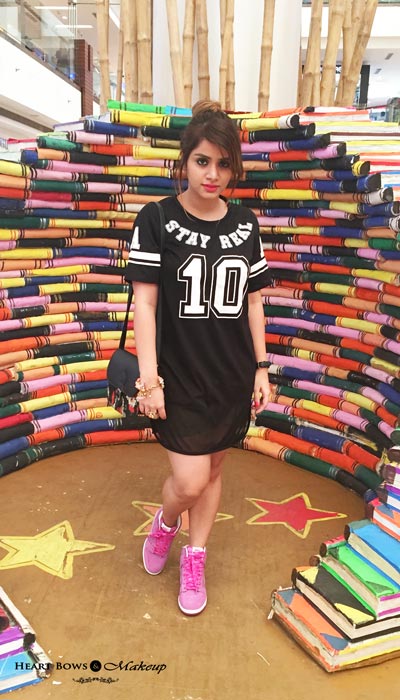 The L'Oreal Mat Magique powder is perfect for everyday wear as it has a light texture, makes the skin look better, provides protection against the sun, gives decent coverage and most of all keeps the face shine free for long hours. Its definitely the best budget compact for oily skin especially for use in summers! At Rs 399, its quite a great deal.