KAMA Ayurveda new launches: Dhanwantaram & Nalpamaradi
Kama Ayurveda introduces Dhanwantaram & Nalpamaradi Thailam
~a pre-post Natal treatment for radiant and de-stressed skin and a medicated oil exclusively for skincare~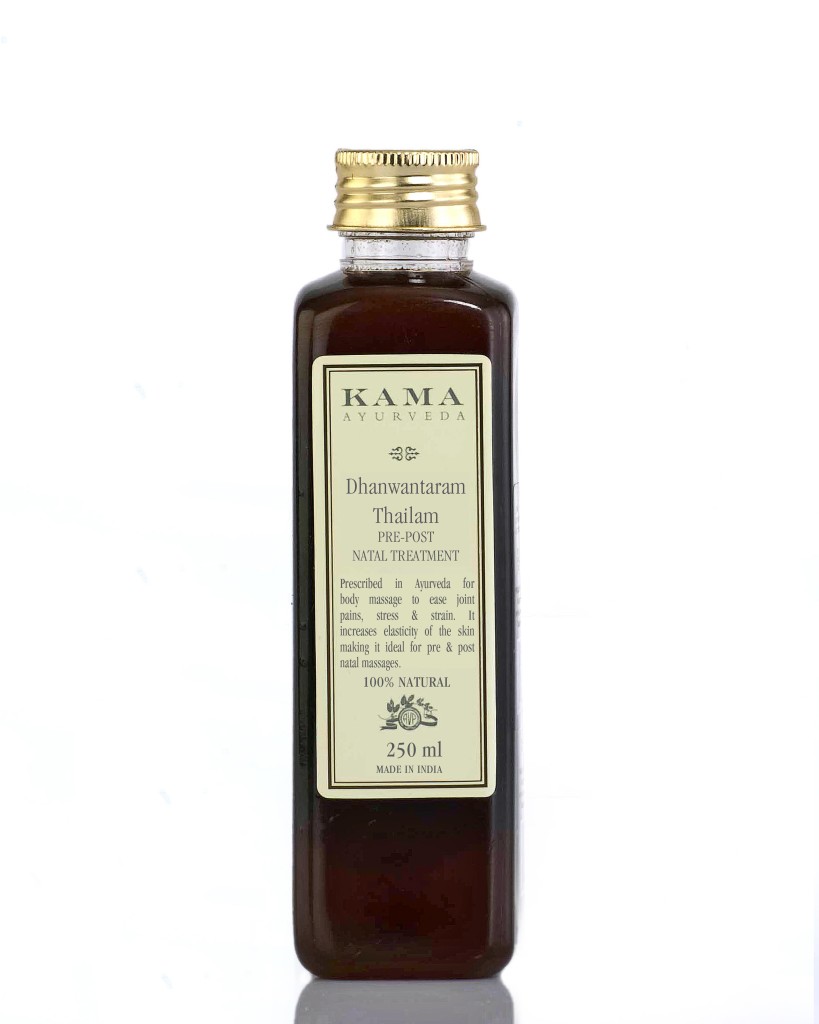 Dhanwantaram Thailam Pre – Post Natal Treatment
Named after the patron deity of Ayurveda, Kama Ayurveda Dhanwantaram Thailam is ideal for pre and post natal care. It prevents stretch marks and eases muscle pain during pregnancy.
Dhanwantaram Thailam is a blend of numerous beneficial ingredients namely Sesame Oil, Gooseberry, Vetiver, Indian Madder, Cow's Milk, Liquorice, Cardamom, Ashwagandha, Jujube and Sida Cordifolia also known as Bala in Ayurveda and refers to strength. This is one of the main active ingredients of Dhanwantaram Thailam.
The potent anti-oxidant effect of this Thailam rejuvenates the body and skin and increases immunity. Dhanwantaram Thailam also helps to strengthen the muscles making them strong enough to hold the foetus and facilitate easier child birth. Dhanwantaram Thailam improves the elasticity of the skin thus helping to prevent stretch marks during pregnancy.
Directions: Gentle light massage into body concentrating on the stomach and back. The treatment works best if left on for 30 minutes. Cleanse post treatment with a mild cleanser.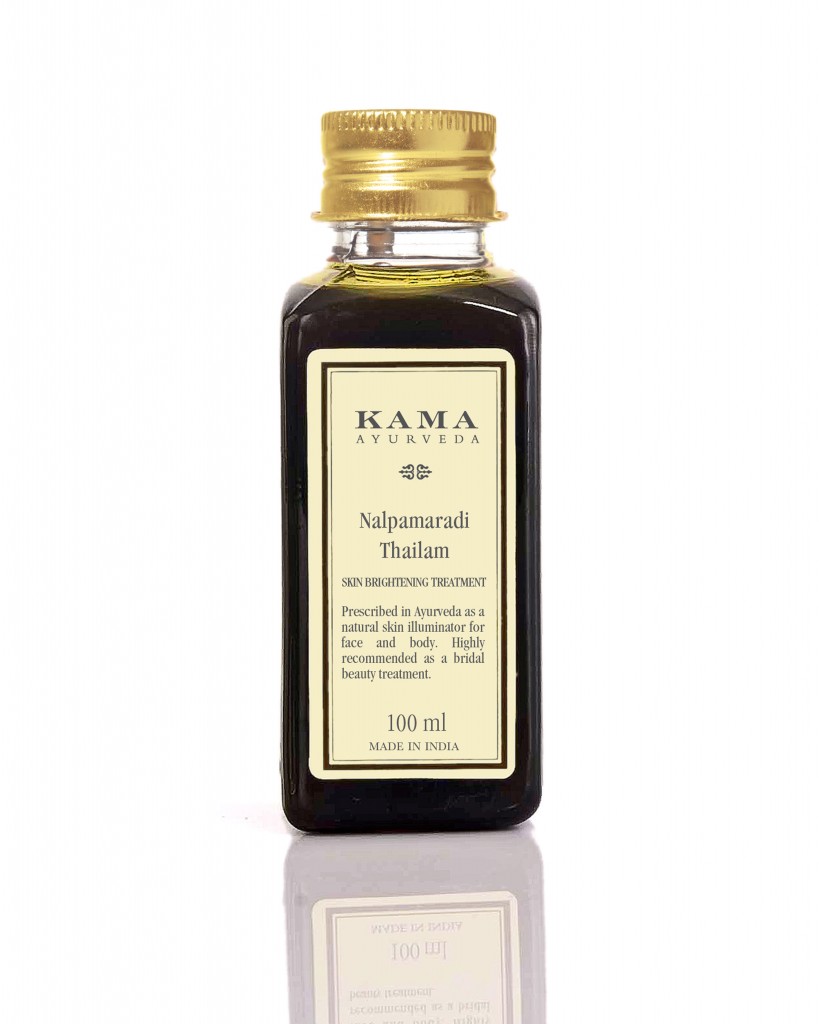 Nalpamaradi Thailam Skin Brightening Treatment
Prescribed in Ayurveda as a natural skin illuminator and de-tanning oil for face and body, Nalpamaradi Thailam consists of numerous effective ingredients such as Sesame Oil, Vetiver, Turmeric, Gooseberry and Indian Madder.
Highly recommended as a comprehensive skincare routine, Nalpamaradi Thailam consists of 4 types of Ficus; Religiosa, Bengalensis, Microcarpa and Racemosa. The unique combination of these main active ingredients clear almost any blemish leaving the skin healthy and glowing. It is an ideal bridal beauty kit. Start using 90 days before the big day for best results
The Sesame Oil in Nalpamaradi Thailam moisturizes the skin, acts as a natural sunscreen and also prevents ageing while Turmeric & Gooseberry reduces blemishes and cures acne with its antiseptic and antibacterial properties. Vetiver with its regenerative power rebuilds skin surface, supports and strengthens the connective tissues in skin reducing skin sagging that happens with ageing. Indian Madder keeps the skin lustrous.
Directions: Gently massage into the skin specially the affected body parts. The treatment works best if left for 30 minutes. Cleanse post treatment with a mild cleanser.
As the oil might stain due to ingredients like turmeric, suitable precautions must be taken with fine fabrics.
KAMA Ayurveda harnesses the power of nature, using ancient wisdom and well being traditions of Ayurveda. KAMA Ayurveda partners with the Arya Vaidya Pharmacy (AVP) in Coimbatore, which ensures strict quality control, tested effectiveness and highest standard of research and development. . All the while following and expanding ancient Ayurvedic texts.
Today Kama's beautifully designed and packaged products are used in select Retail stores, resorts and spas worldwide including: The Oberoi Hotels & Resorts, Aman Bagh, The Imperial, The Four Seasons Hotel Maldives, Island Resorts Mauritius and Good Earth.
Kama has recently won multiple prestigious awards such as the Images award for the 'Most Admired Launch' of the Year for a Beauty Retailer, the 'Best packaging design' by the Confederation of Indian Industries and the National Institute for Design (CII-NID) and the CII-NID Environmental Graphics Award for the design of the Kama store in Khan Market, their first exclusive store in the country.
The KAMA Dhanwantaram Thailam is priced at MRP: 825/- for 250ml and 475/- for 100ml
The KAMA Nalpamaradi Thailam is priced at MRP: 475/- for 100ml
It is available at: