Gillette Venus #SubscribeToSmooth Challenge Update #2
Gillette Venus #SubscribeToSmooth Challenge Update #2: Shaving Myths Busted!
Hey Guys,
I'm back with another update on the #SubscribeToSmooth challenge. It has now been two weeks that I have been using the Gillette Venus Razor and I have some really exciting news for you!! As you guys might already know, I've decided to give shaving a shot since I was not getting enough time for my regular wax and since I did not face any initial hurdles with it, I decided to go a little further on the razor test drive to see if it really doesn't harm me. I already saw so many results and definitely debunked a few myths, you can read about my first shaving experience here!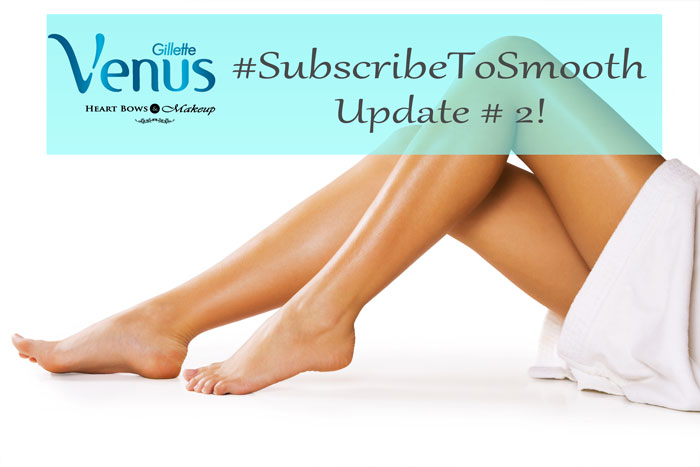 So since I've been on a shaving roller coaster, I decided to do a little research on the right ways to shave. Though the process is super easy and super efficient, since we do not pluck out the hair from their roots, shaving does need to be done more frequently since regrowth is fast too. This meant that I would be needing to shave more often and I happened to come across a thousand different shaving problems while looking it up online.
Well, I definitely did notice that dry skin is a complete utter myth and does not happen to me at all if I take the necessary steps so I didn't completely believe all the misinformation that I read online about shaving. The second most common fear that I saw was darkened skin and patchy skin texture due to continued shaving. Keeping in mind that I was already shaving for a week by the time I read all of these fears and I obviously didn't notice any change in my skin texture or color by now, I thought I should continue and see for myself what happens.
I have seen a lot of people going on and on about hair growing back thicker. I'll tell you what…how can hair grow thicker if the root size is the same?? How can hair grow back thicker when you don't even go near the root of the hair and change it? I definitely did not notice any change in my hair thickness or texture, shaving and waxing give me the same hair regrowth. Identical!! So that's another MYTH debunked!!
Coming to skin darkening, I have been shaving religiously with the Gillette Venus Razor for almost fifteen days now and I see no change in my skin color. My skin looks just the same as before, in fact with all the moisturizing that I do, my skin texture has actually improved and looks so much better and since Shaving is sooo easy, I don't even have to put up with the regrowth hair, I can just shave it all off and have even toned smooth, hair free legs always!! Nope, skin doesn't darken with shaving at all.
I wonder where people come up with all the random issues that they apparently see with shaving. If we follow the right way to shave, I feel shaving is much better as an alternative to waxing…hassle free, mess free and less time consuming.
I have literally gotten addicted to seeing hair free legs with minimal effort!!
Team HBM
Image Source: 2