My Envy Box February Products & Review
February My Envy box Products & Review
Hello Girls,
How was your Valentine's Day? I hope you all enjoyed celebrating the day of love and don't forget to check out my Valentine's Day Makeup & Outfit here! Today I'm unveiling My February Envy Box which has once again managed to bowl me. After receiving my January Box the bar was set quite high and I must say they have exceeded my expectations!
My Envy Box costs Rs 850 wherein you get 5 international luxury brand samples. Currently, it is invite only and you request an invite here. Also, for every friend that you invite to subscribe to their box they give a month's free subscription. Isn't that great?
February's My Envy Box is a peachy orange box with a magnetic flap. Since it was the month of love I was expecting something in pink or red but anyway I really like the great quality of the box and I'm using it for storing my makeup these days.Inside,the products were packed in a colorful cloth pouch which I really liked.
BTW yours truly got quoted in their latest note among Elle, Grazia & Corallista!! I don't know if I' making way too big a deal about it but it certainly made my day 😀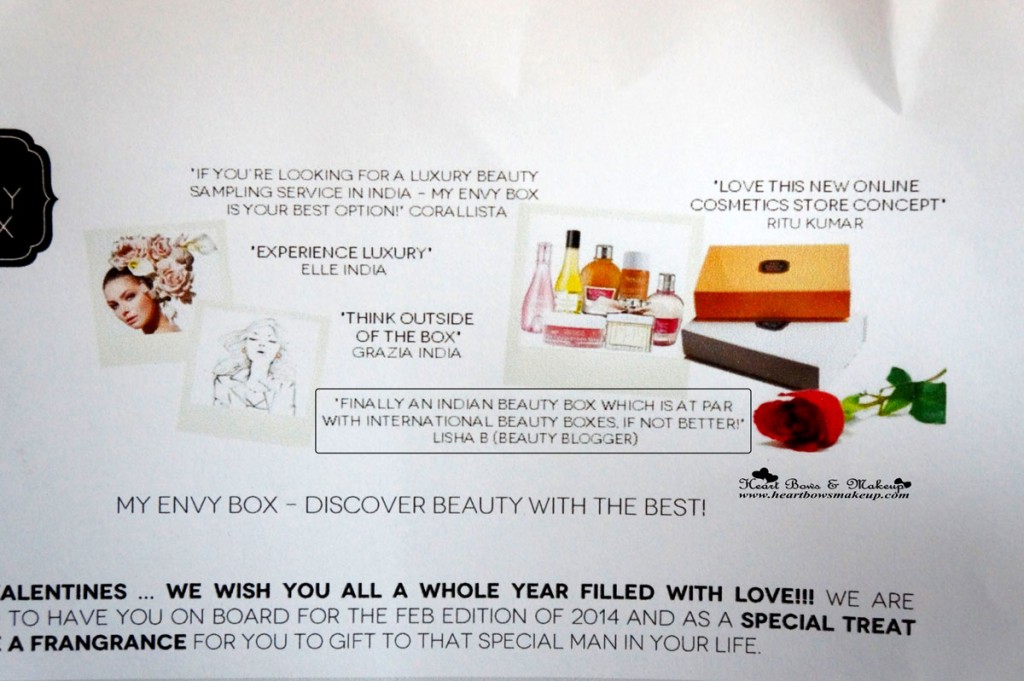 Lets have a look at what I got in my February My Envy Box
Forest Essentials Sugared Rose Petal Lip Balm – Rs 595 for 5gms
I was quite surprised when they sent me a full size FE Lip balm which costs almost 600 bucks. Though I got it without the fancy flip packaging but nevertheless I was quite impressed. I also love the cream colored potli it came in. Initial thoughts: Total Love! It instantly nourished and hydrated my chapped lips. I now understand why all bloggers have raved about it! I shall be reviewing this in a few weeks.
Givenchy Dahlia Noir Leau- Rs 4745 for 50ml & Givenchy Gentlemen Only- Rs 4110 for 50ml
I got a vial each of the above mentioned perfumes. One is a men's perfume for your significant other which was quite thoughtful of them considering its the month of love. I prefer this vial packaging compared to the Ellie Saab Perfume sachets. I'm absolutely loving Givenchy Dahlia Noir Leau these days. It has a beautiful and refreshing floral scent without being too strong.
Crabtree & Evelyn Hand Therapy- Rs 1295-1395 for 100gms
I've always wanted to try Crabtree & Evelyn hand creams and I was quite happy to receive a deluxe size sample of it. This should last me a good amount of time and smells really pleasant to the senses. I've already started using this and loving it to the core!
Eminence Organic Chocolate Mousse Hydration Masque – Rs 4393 for 60m
This was love in first taste sniff. It smells and feels like chocolate. I swear I haven't been more tempted in my life to taste a product!! Again, I'm very happy with the quantity and I can easily get 3 uses out of it.
Thalgo Oxygen SOS Serum- Rs 3125 for 30ml
I'm really pleased to get Thalgo skincare samples again as I really loved the previous ones that I got. This claims to add radiance while detoxifying & repairing the skin so I'm looking forward to using this.
Additionally, they also gave me a coupon for a complimentary makeover and consultation from Givenchy's make up expert which I'm definitely going to redeem. My Envy Box is definitely the best beauty sampling box in India where you get to try decent sized samples of international luxury brands. The February box in particular contains products worth much more than what we pay for so I definitely recommend subscribing to this box as its a great value for money!