Best Delhi Stores for Bridal Lehengas & Trousseau Shopping
Top 5 Best Delhi Stores & Markets for Bridal Lehengas & Trousseau Shopping- Affordable & Designer Boutiques!
Are you getting married this year or is it your friend's wedding happening in a few months? Or even if it's a marriage in your family, you must be panicking about where to buy your perfect outfit or help out the bride with her bridal trousseau. Well, fret not! Delhi is one of the most popular places in North India for wedding shopping. Hence today, we will tell you about the best markets & stores in Delhi for bridal lehengas and trousseau. It becomes really important to approach the right stores or boutiques when you are shopping as a bride or for a bride to be to ensure the guarantee, quality and at times the budget whenever concerned! So read on.
5 Best Markets & Boutiques For Bridal Lehengas & Trousseau in Delhi
Karol Bagh: Best Shops For Bridal Shopping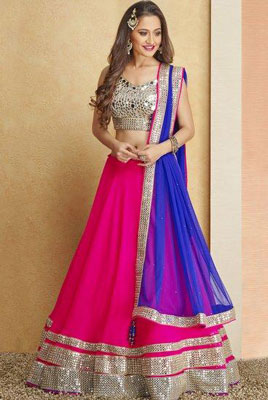 Once you step into this most sought after bridal shopping spots, you'd be introduced to multiple shops that will fulfill your shopping needs. This is a pretty old location for wedding shopping in Delhi where you will find everything that a bride would need for her wedding day! From Meena Bazaar, Frontier Bazaar, Frontier Raas and Chhabra 555 to Karol Bagh Sari House (KBSH), you will find elegant and on trend designs for any bride to be! Stores in Karol Bagh offer more affordable options compared to the other markets in Delhi and have something to offer for every budget.The price range can vary from Rs 8,000 and can go upto lakhs.
Also Read: The Ultimate Wedding Checklist for a Bride To Be
Best Stores for Bridal Lehengas in Chandni Chowk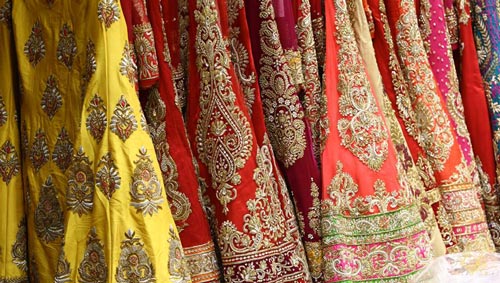 A very popular name when it comes to bridal shopping, Chandni Chowk is one of the most sought after places by brides to be. It's not a huge spacious emporium selling lehengas and sarees to its customers; rather it's a congested and crowded place with its narrow lanes and galis. But what will surprise you is the elaborate line up of gorgeous bridal wear that you most probably saw on a ramp. The shopkeepers are well versed with the latest designs and will perfectly guide you through your bridal shopping. You can take along some inspiration pictures or get an exact replica made of some designer bridal lehenga be it a Sabyasachi or a Manish Malhotra. Some of the most popular stores for bridal shopping in Chandni Chowk are Asiana Couture, Om Prakash Jawahar Lal, Kamal Bhai Saree Sangam & Ram Kishan Sarees.
Best Boutiques in Hauz Khas Village For Bridal Trousseau & Shopping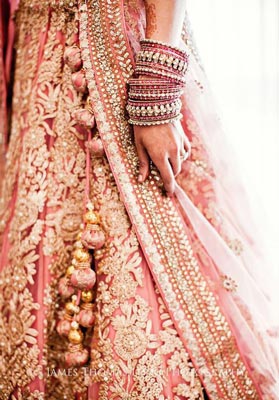 This place is all about a relaxed shopping time where you can walk down the wonderful alleys lined with various designer boutiques. The most popular bridal stores you should head for are- Ogaan owned by Kavita Bhartia which sells designer wear ranging from lehengas, sarees and even jewellery. The prices start from Rs 1 lakh. Another great deisgner boutique in Hauz Khas is Ole couture that has an assortment of exquisite bridal wear starting from INR 50,000 all the way up to INR 2 lakhs and above. Rewaz by Dolly J is another trending boutique with some really gorgeous anarkalis and gowns. Once tired of the walking and a day of hectic shopping, relax and enjoy the amazing food at one of the cafes which has made HKV such a popular destination in Delhi.
Also Read: Best Wedding Hairstyles for Short & Fine Hair
Best Store to Buy Affordable Bridal Sarees & Lehengas in Lajpat Nagar, Delhi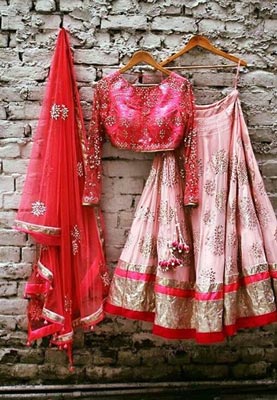 Lajpat Nagar is a well visited and famous shopping destination for ethnic wear. From a moderately priced bridal lehenga to classy gown for your engagement or even a simple chanderi suit for your mehendi, you'll find them all in this hustling bustling market of Delhi. Besides bridal wear, you'll also find affordable imitation jewellery and bangles here to match any outfit. Some of the best stores in Lajpat Nagar for bridal trousseau shopping are Libas, Malhotra's, Rudrakshi, Shakuntalam, Meena Bazar and CTC Plaza. These stores are priced well and have some amazing designs in their kitty. If you are inclined towards buying a heavy piece for the wedding then visit Kapil & Mmonika's store which is located near the Lajpat Nagar metro station. Besides these showrooms, you'll also find some great fabric shops like KC Creations & Ramji Sons if you'd like to design some of your outfits yourself. The choice here is truly endless.
Shahpur Jat: Best Designer Boutiques For Bridal Shopping, Delhi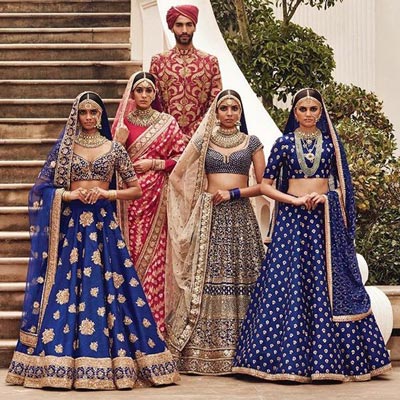 Shahpur Jat consists of boutiques by new and upcoming designers hence the prices aren't unbelievably high for a designer piece. You need to explore the place a bit to find the right shops so we suggest going to Jungi House. It houses numerous boutiques that cater to all bridal trousseau options like gowns, sarees, anarkalis, jewellery etc. You might not find great options for your D-Day here but you'll come across great pieces for the other functions and outfits to add to your wedding trousseau. A very popular boutique in Shahpur jat is Madsam Tinzin which is an origination of four NIFT graduates that offer great elaborate pieces starting from 45,000 INR. Besides this, we recommend checking out stores like House of Ombre, 1600AD, Nikasha & MonikaNidhii.
Also Read: Best Wedding Makeup & Skincare Tips
These were some of the best trending stores and markets for bridal shopping in Delhi. You are bound to find a piece which you desire at these places to make your wedding all the more special. Let us know if you'd like us to do similar posts for other cities in India.
Contributed by Pratishtha
Image Source: Pinterest