Amazon India Fashion Week AW' 2016- Day 4
Amazon India Fashion Week AW' 2016- Day 4
Fashion week is one of the most exciting times of the year for every girl. Besides the trending collections and hottest styles to watch out for, the street style fashion and hot updates on social media keeps one hooked! As the spring arrived in the city, Amazon represented its five-day fashion week from 16-20 March, 2016 held at a new venue this time, Jawahar Lal Nehru Stadium. This year, the designers were a class apart and left everyone, the media, guests and the buyers wanting for more. The theme was #IndiaModern and the designers added a contemporary twist to ethnic wear. Most of our favorite collections were from Day 4 so here are the highlights.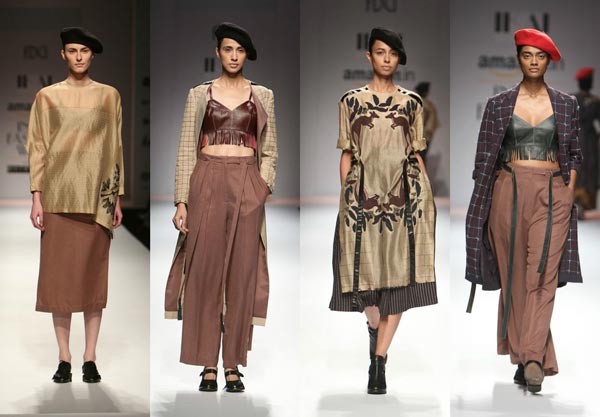 Ikai by Ragini Ahuja: Day 4 of AIFW AW'16 was kicked off by the fabulous Ragini Ahuja. The collection was inspired by an illustrator's notebook which included doodles and sketches. The sepia tones mimicking the fading of old paper was prominent in the collection. With her signature anti-fit silhouette, the collection majorly saw alot of effortless layering and slouchy boxed dresses with jackets and trench coats.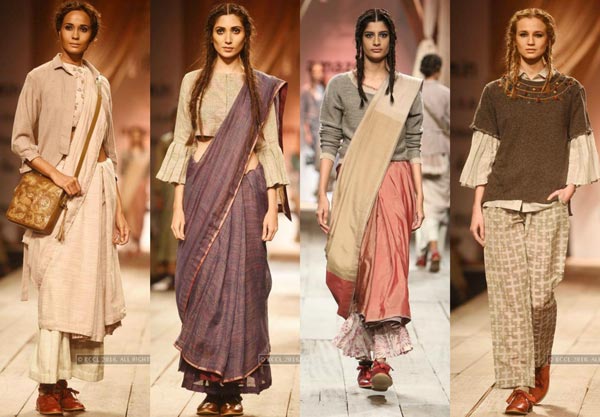 Anavila: This year, Anavila's collection gave a modern twist to the Indian silhouette. Models walked the ramp in nonchalantly draped sarees paired with cardigans and munga silk blouses. Besides the sarees, the collection also included pleated printed trousers, midi dresses and wool kaftans paired with brogues. Inspired by an eternal free spirited woman who travels through the times, the collection was contemporary yet classic.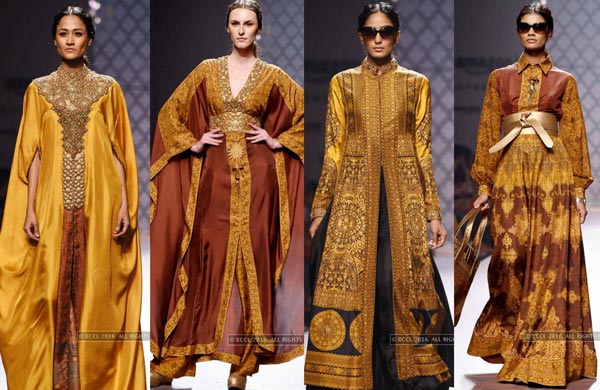 Ashima-Leena: Ashima-Leena are one of our favorite designers and they did not disappoint this time either. Their collection mainly included sarees, kaftans and skirts in hand woven fabrics with warm sunset hues like mustard, orange, green and black dominating the line. Print on print and applique work on flowy silhouette was prominent in the the collection which was inspired by Persian carpets. We loved the pairing of lehengas with capes and jackets, sarees cinched with belts and the combination of Indian silhouette with oxford shoes.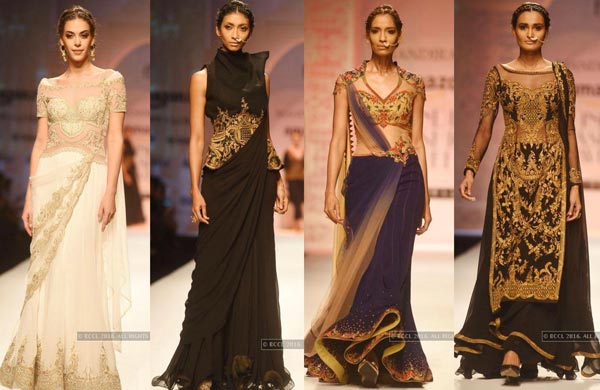 Mandira Wirk: Next on schedule was Bollywood's favorite designer, Mandira Wirk. The show saw Malaika Arora Khan walking the ramp as its show stopper. The collection which was inspired by Rococo art, originating in Paris, included exquisite embroidery in ivory, beige and black. We loved the layered anarkalis, floor length gowns with a pallu and paneled palazzos. The collection was all about ethnic silhouettes mixed with contemporary grace.
Niki Mahajan: Niki Mahajan's collection was one of our favorites from all the 5 days and received a resounding response from everyone that witnessed the show. This was a collection which showcased some excellent craftsmanship with delicate floral embroidery and intricate designs. It consisted of fabrics like tulle, brocade and sheer voile. From tunics with lehengas, flowy palazzos to sheer sarees in classic vibrant shades like red, yellow and ivory, there was just so much to adore! At the end of the show everyone was memorized by her play of threadwork, fabrics and colors which spelled elegance and glamor.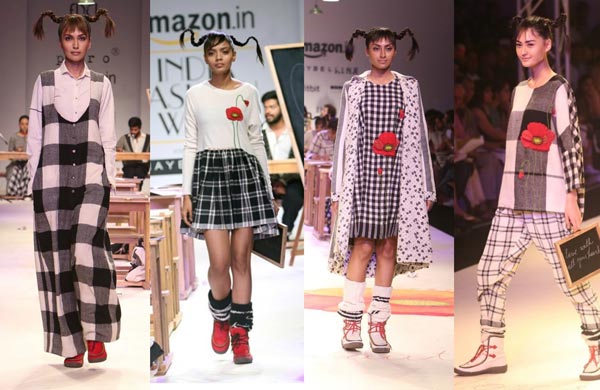 Pero by Aneeth Arora: This was the most awaited show of the day as Aneeth Arora is known to do things differently. It saw the ramp being transformed in a classroom with models having fun just like schoolgirls in a class. She weaved a charming little story of a girl Pippi Longstockings, who goes to visit poppy fields since she's bored with school. The collection consisted of woolen jumpsuits, skirts and maxi dresses in checkered patterns, reversible jackets and poppy applique added a pop of color to the otherwise monochrome line. The show saw a majority of woolen fabrics like angora, pashmina, gingham and merino being used which was complimented with khadi, denim and lace.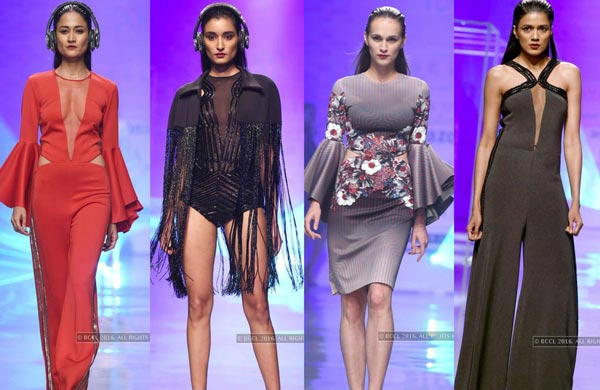 Namrata Joshipura: Namrata's collection was an ode to New York's fashion and saw models sashaying down the ramp in stylish evening wear. From gorgeous floor length gowns to wrap dresses and sheer jumpsuits, everything was embellished with perfection which was further complimented with the lights. Her show stopper was Athiya Shetty, who wore a shimmery black jumpsuit with angel wing sleeves. At Namrata Joshipura's show models rocked a reverse cat eye look which we loved. The glossy liner was winged from the lower lash line instead of the lids in a thin precise style. It could be a hot trend with can't-live-without-kajal-girls