Why Aishwarya Rai's Purple Lips at Cannes 2016 is The Dopest Thing You'll See Today!
Aishwarya Rai's Purple Lips at Cannes 2016 & Lipstick Dupe Options
This year, Aishwarya Rai celebrated 15 years of attending Cannes Film Festival. Over the years she has faced alot of flak as well as adoration for her red carpet appearances. This year, Aishwarya Rai has definitely pushed the boundaries and has experimented with her looks much more. Be it her blue eyemakeup that she rocked with her Ali Younes couture gown or her bold purple lips that she flaunted on the red carpet yesterday, the lady has been raising some eyebrows at French Riviera.
Aishwarya Rai's purple-lilac lips at the premiere of From The Land Of The Moon shocked everyone and the twitterati had a field day. From calling it the Asian Paint Lip pout to wondering if she had too much of kala-khatta, the Indian actress faced alot of criticism for this bold move. We however, loved it and more than anything the lady deserves alot of props for having the guts to rock it.
When a mainstream Indian actress chooses to make such a daring move for one of the biggest star studded events of the year, she should be applauded and not dissed. We have always complained about how she always sticks to her neutral smokey eyes and a bold red lip color and this time when she is trying to do something new, all I see is people bringing her down. Its very rare to see Bollywood beauties do something edgy be it with their makeup, hair or outfits and Aishwarya's recent appearance at the red carpet of Cannes 2016 was not only completely unexpected but had us at HBM, really excited!
Aishwarya Rai wore a blush pink Rami Kadi gown with delicate floral work. She surely looked a bit washed out in some pictures but if you go through the high quality images, one realizes that the color beautifully compliments her dress. Yes, the color might have been a bit too edgy for the feminine dress but I think it goes really well. What didn't work for her however, was the eyemakeup. It makes her look dull, giving the appearance of deep dark circles. A bold winged liner with false eyelashes and a nude eye pencil on the waterline would've been a much better combination with the lilac lips.
Also Read: Alia Bhatt's Lipstick in Saturday Saturday Song
Aishwarya Rai Purple Lips at Cannes 2016 Images & Pictures
We still live in a society where girls need to think twice before rocking a red lip color outside. With Aishwarya Rai's sporting purple-lavender lips, this might just set a precedent for days to come. Makeup is and always be a form of self expression and tearing her down for rocking a purple lip color seems a bit harsh. Lipcolor shades like lavender, blue, green, teal and even black have been trending all over the world and its high time we see celebrities in Asia experiment with the new trends.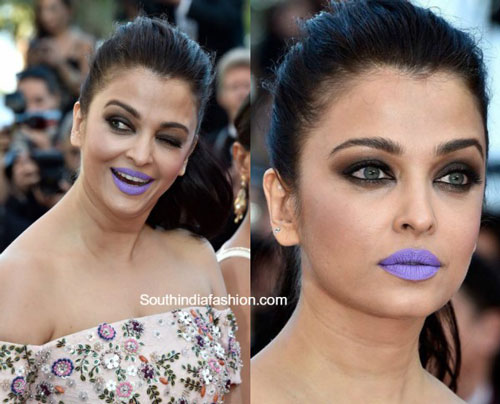 Aishwarya Rai's purple pout is the dopest thing we saw today and if you too want to give it a try here are a possible dupes of Aishwarya's purple lips. Despite being a L'Oreal Paris ambassador I'm pretty sure they do not have such a color in their range.
Aishwarya Rai's Purple Lips Possible Lipstick Dupes
Jeffree Star Velour Liquid Lipstick Blow Pony: This is a neon matte lavender color and possibly the closest dupe of the lip color rocked by Aishwarya's at Cannes. I bet this is the color that she wore for the red carpet.
Kat Von D Coven Studded Lipstick: This is a cool toned lavender with a matte finish. This is another close dupe of the color but isn't as neon.
MAC x Kelly Osbourne Dodgy Girl Lipstick: MAC has a host of possible dupes for this color, the closest being Dodgy Girl which is a hint more pink. A few more dupes could be MAC Lavender Jade, Strutting Fabulous which were all sadly limited edition.
NYX Liquid Suede Cream Sway: Possibly the cheapest dupe to Aishwarya's Purple lips is this one by NYX. This is matte lavender color with blue undertones. A few more closer dupes are NYX Macaron Lippies in Violet and Lavender.Maybelline Rebel Bloom Lilac Flush Lipstick: This is the best affordable dupe to the color even though it has a creamy finish. However, I don't think its launched in India yet.
Colorpop Lippie Stix Brills: This is a pale lavender color with a satin finish. A close dupe of the lilac lips that Aishwarya Rai rocked at Cannes. Colourpop Ultra Matte Lip Koala is also close though it's more lilac and less blue.
Kudos to Aishwarya Rai for making a bold statement at Cannes. Some experiments work and some don't. Let us know your thoughts on her look below 🙂